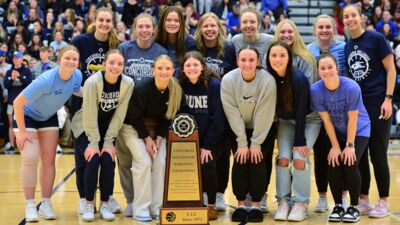 When at its best, the 2022-23 Bulldogs mirrored vintage Concordia Women's Basketball teams of recent years that have made deep postseason runs. The full-court press ramped up enough to put the Bulldogs atop the GPAC in terms of average turnovers forced per game. In the backcourt, Abby Krieser and Taysha Rushton made it a chore at times to advance the ball past half court. Things clicked when the Bulldogs won at No. 19 Jamestown in the GPAC tournament and then dominated Columbia College (Mo.) in the first round of the national tournament.
The final record of 20-12 fails to tell the complete story for a squad that was challenged with the NAIA's 11th most difficult schedule. Concordia was also done no favors in being paired with defending national champion Thomas More University (Ky.) in the national round of 32. When it came to an end, Head Coach Drew Olson could feel satisfied with the progress made from October through March.
"We had an incredible schedule again," Olson said. "All 12 of the losses were to teams in the field of 64 at the national tournament. Seven of the losses were to teams that made it into the round of 16. We did a great job throughout the season to get to 20 wins. We had some awesome wins. The one at Jamestown is probably the one that resonates the most because it's most recent and for what we went through to accomplish it. There was a lot of great growth from our team. It was so fun to see our team mature and come together and become the team that we were. They had so much fight in every game. It was so fun to be part of that journey with them."
Coming off a 16-14 campaign that ended with a national tournament first round loss in 2021-22, the Bulldogs made strides forward over the year that followed. There seemed to be a closer connection between teammates and the growth of the class of third-year players was evident. That group featured leading scorer Taysha Rushton in addition to Kendal Brigham, Sadie Powell and Mackenzie Toomey. They set the tone for a scrappy bunch that developed into one of the GPAC's stingiest defensive outfits. After a 1-3 start to conference play, Concordia went 11-2 over its next 13 league contests.
The emergence of several Bulldogs helped lighten some of the offensive burden on Rushton, who enjoyed her best collegiate season yet from a percentage standpoint. She poured in 26 points in the victory over Columbia and turned in season percentages of 42.5 from the floor and 41.1 from beyond the arc. Early in the campaign, she went past 1,000 career points. After Rushton, it was all about balance in terms of scoring. Rushton averaged 14.0 points per game followed by Krieser (9.8), Brigham (9.7) and Powell (9.7).
Each of those players will be back in 2023-24. Similar growth over the next calendar year figures to make for a dangerous group next March. The trip to Crestview Hills, Ky., for the first two rounds of this year's national tournament will serve the program well going forward.
"It was an awesome experience for our team," Olson said. "I was so excited for them to get the win in the first round. I thought we played awesome basketball against Columbia. It just showed the type of team that we are. The second day we ran into a team that played phenomenal. They're the defending national champions and when they play the way they did, nobody can beat them. I don't think I've ever seen a team shoot that well. It definitely does not take away from the season we had and the team that we became."
It was a rare year without much on the roster in the form of seniors. The eldest members of the program this season were fifth-year player Mackenzie Koepke and fourth-year senior Taylor Farrell. Both faced adversity in their careers – and both remained committed to the program. Koepke played for the 2018-19 national championship team and ultimately returned in 2022-23 after missing the entire 2021-22 season due to injury. As for Farrell, she too has been challenged by injuries. On top of it, "Willy" lost her brother to tragedy.
Fittingly, Koepke and Willy walked off the court with their arms around one another at the immediate conclusion of the loss to Thomas More. It was symbolic of not only their friendship but also the bonds built within the team as a whole.
Said Olson of Koepke and Willy, "They're just incredible people. I'm so thankful they decided to play this year. Nobody would have said anything if they decided not to, but they decided to stay committed. Both of them have been so resilient through injuries and with what Willy and her family went through with the loss of her brother. It just shows the toughness they have. I think they did so much for our team and cared for each other. I just love them so much and am sad to see them go, but I'm very thankful for the time we had together because they're incredible people."
There were plenty of other key contributors beyond the five Bulldogs who earned All-GPAC awards. As freshmen, Megan Belt and Kristin Vieselmeyer found their way into the rotation from the very start. Unfortunately, Belt suffered an injury at CIT and missed the stretch run of the season. The group of sophomores was led by Krieser, in addition to starter Abby Heemstra and Hailey Kleinschmit. A Lincoln North Star alum, Krieser is a rising star who appears poised to reach an even higher level as a junior.
The wins over Jamestown and Columbia were major highlights of the season. So too was the Concordia Invitational Tournament, which had been put on hold in 2021 and 2022. The event returned in 2023 with near capacity crowds inside Friedrich Arena. The Bulldogs were thoroughly dominant in winning by scores of 100-49 over Concordia Wisconsin and 85-33 over Concordia Chicago. In adding to the atmosphere, Olson even donned the mascot costume and led the student body in performing the "Interlude Dance."
Trips to Texas and then out to Kentucky brought the team closer together. This wasn't a 30-win season like Concordia has put together six times in Olson's tenure, but the rewards were just as enriching because of the people involved. As Olson said in the aftermath of the season-ending defeat, "They love each other and you could see it on the court with how hard they played for each other. It was tough to end the season because we loved being together. Our toughness was without question. We were tested throughout the year and our players continued to respond."
Olson added, "I'm looking forward to being with my family and spending a lot more time with my kids and (my wife) M'Leigh. We're excited about next year. I know we're going to be a really good team and we're going to keep taking steps forward."