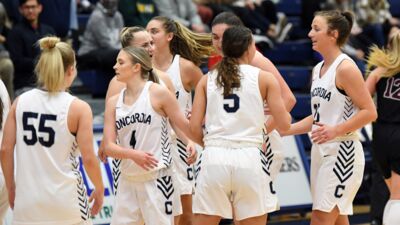 A season that culminated in the opening round of the NAIA Women's Basketball National Championship already has the Concordia University Women's Basketball program looking ahead to the 2022-23 campaign. A team led by a large class of second-year players in 2021-22 showed it could compete with just about anybody. There were plenty of learning experiences along the way as the Bulldogs went up against a schedule rated by the NAIA's official formula as the most challenging in the nation.
The experience of reaching the national tournament and playing the very best teams the NAIA has to offer will serve Head Coach Drew Olson's program well moving into the future. This past season was one of ups and downs, but Concordia proved its not far from the elite level of play it has become known for.
Said Olson, "I think that was a great thing for our team moving forward, to get to the national tournament for the 11th straight time. It really says a lot about our program and the fight our team had this year. Unfortunately, we didn't win the game, but I thought we played well early on. We got down early, but we showed a lot of competitiveness and built up a decent lead. We just couldn't hang on. I think we're going to take away a lot of things from that game. We're really looking forward to next year."
Led by must-watch, do-it-all guard Taysha Rushton, the Bulldogs finished at 16-14 overall with five wins coming over teams that qualified for the national tournament. The highest of highs included a Thanksgiving weekend win at third-ranked Wayland Baptist (Texas), a home stomping of eventual GPAC tournament champion Dakota Wesleyan, 90-58, and an overtime triumph over 12th-ranked Northwestern. As part of the trip to Honolulu, Hawaii, Concordia played teams ranked Nos. 1 and 2 in the nation, including a Thomas More (Ky.) foe that wound up winning the national title.
With two collegiate seasons in the books, Rushton is just shy of 1,000 career points. The native of Midland, Texas, averaged 17.7 points per game and played stellar defense in the process of earning First Team All-GPAC accolades for a second season in a row. She was also recognized as an NAIA Honorable Mention All-American. Her sophomore campaign included nine games of 20 or more points (career high 32 versus Bellevue) and a buzzer beater that lifted the Bulldogs over Jamestown.
"Taysha was phenomenal," Olson said. "She was an incredible scorer. I also think that defensively she's one of the best in the league. She showed incredible growth, especially late in the season with her leadership. That was a big reason why our team made some good strides at the end. I think that's going to carry over into next year. She has a positivity and competitiveness that she instils on the team. That (second year) group as a whole is ready to do something great."
The class featuring Rushton and including Kendal Brigham, Bailey Conrad, Sadie Powell, Hanna Spearman and Mackenzie Toomey was vital to the team's success this past winter and will be again next season. Powell took a big step forward in ranking as the team's second leading scorer (9.4 ppg) while Conrad led the GPAC in assists per game at 4.5. The best basketball is likely still to come for Brigham and Toomey, who both showed the ability to come through with big performances. Said Olson, "We're really excited about that class. They've shown great growth over their two years. I know that group is going to get even better and will get a lot closer this summer staying around Seward."
As for the seniors, the group was strongly affected by injury as Abby Aplaca (former starter at Concordia University, Portland) and Mackenzie Koepke were sidelined all season. A rock for the program over the past four years, Rylee Pauli finished her career by averaging 7.0 points and 6.9 rebounds this season. Her contributions went beyond the statistics. Pauli gave relentless effort throughout her time as a Bulldog, which included a national title run in 2019. Chloe Schumacher and Courtney Merryweather were also part of the senior class.
"The senior class is awesome," Olson said. "I just love them. I really appreciate all they did for our team. It was a hard thing for Abby Aplaca and her injury. She was so fun to have on the team for the year-and-a-half we had her. Chloe Schumacher showed incredible growth going from JV to varsity and the selflessness she had. The Marian game Rylee Pauli's junior year is going to stand out, but there were other games where she carried the team for a bit. I loved her work ethic, consistency and selflessness. It was never about her. It was always about the team. She was willing to come off the bench. She was definitely a key player for our team."
Another who made significant strides was Kayla Luebbe, who shot 58.3 percent from the floor and produced a 20-point outing versus Morningside. Fellow classmate Taylor Farrell was inserted into the starting lineup late in the season and continued to knock down perimeter shots. There were also contributions made by the freshmen. There's plenty of potential still to be fulfilled form the likes of Lauren Baker, Abby Heemstra and Abby Krieser. Baker and Heemstra got starting experience this past season and Krieser came on strong down the stretch while showing what a pest she could be in the press.
A lofty standard has been set by the program, which has appeared in three national championship games and has reached the national semifinals five times under Olson's direction. The 2021-22 season was a rare one in that Concordia came up short of reaching the national tournament final site in Sioux City, Iowa. The Bulldogs are determined to get back to that point. This offseason will lay the foundation as they turn the page. A boost will come from Koepke's return to health and an overall more experienced roster.
Said Olson, "It was a challenging season playing the No. 1-ranked strength of schedule in the country. We had our ups and downs. We had some great moments like winning at Wayland Baptist and winning against Northwestern and some other really good teams. I think we learned a lot and it will help us for next season. I just can't say enough how we're looking forward to it."