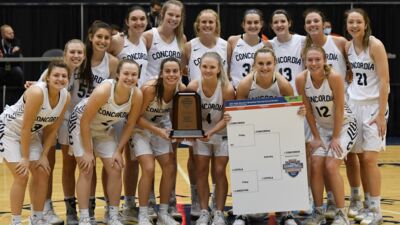 Head Coach Drew Olson knew the 2020-21 edition of Concordia Women's Basketball would be a remarkably different one than the 2019-20 team that finished the gone-too-soon campaign ranked No. 1 in NAIA Division II. Olson seemed to relish the challenge of remaking a squad that said goodbye to a talent-rich senior class. By February, the Bulldogs had jelled and became a dangerous foe with the ability to do damage on the national stage.
Along the way, Concordia avoided any significant COVID-19 issues, regrouped after an 0-3 start (each loss at home) and made another run at the national tournament in Sioux City, Iowa. This may have been one of Olson's best coaching jobs in 15 seasons at the helm of the program.
"We were so thankful and blessed to be able to have a season to grow together," Olson said. "It was a lot of fun. The group was very coachable. They handled everything probably much better than I did. I'm so thankful for them and for the fun that we had."
To ever underestimate Concordia Women's Basketball is to engage in a perilous act. As Olson stated prior to the start of the season, "We're excited to prove that we're still Concordia." The Bulldogs benefited greatly from the return to health of All-American Taylor Cockerill (following knee surgery) and the arrival of sensational freshman Taysha Rushton from Lubbock, Texas. Cockerill, Rushton and a strong nucleus of role players carried the Bulldogs all the way to the NAIA national quarterfinals, a feat made even more impressive considering the change to one division of NAIA basketball.
Ultimately, Concordia saw its run end at the hands of rival Morningside on March 20. The national tournament journey included an opening round, come-from-behind victory over 21st-ranked Loyola University New Orleans and then the team's crowning achievement: a 73-67 upset of fifth-ranked Marian University (Ind.) in the round of 16.
"That was an awesome game to be a part of," Olson said. "I'm just so proud of our players and what we did to win that game. Marian's an awesome team with a dominant post player and well-coached. Looking at it on paper, we were in trouble – but we have a lot of toughness, a lot of fight. It came down to us executing and sticking to the game plan and they did that amazingly."
Rushton showed she was ready for primetime while dropping in 27 points in the win over Marian. In the post, Rylee Pauli enjoyed one of the best games of her career in posting 17 points and six rebounds. Meanwhile, Cockerill came alive in the second half and displayed her usual leadership and fiery competitiveness. Cockerill then nearly notched a triple-double (17 points, 13 rebounds, nine assists) in the season's fourth matchup with the Mustangs.
Though the Bulldogs came up on the wrong end of the score, the GPAC tournament championship game at Morningside will stand as a memorable contest. Concordia appeared to be outclassed when it trailed 36-15 in the second quarter, but Rushton caught fire while pouring in a flurry of 3-point field goals. The Bulldogs came all the way back and led in the fourth quarter as Rushton and Cockerill (19 points in the second half) supplied the fuel. The Mustangs escaped with a 67-65 victory in a game that came down to the very last second.
Olson has certainly left the door open for Cockerill (junior athletically, senior academically) to return for the 2021-22 season. Whether she does or not, she will have left a lasting mark on the program. She currently ranks 14th in school history with 1,374 career points. Cockerill (14.7 ppg) and Rushton (14.4 ppg) were both named first team All-GPAC honorees. The Women's Basketball Coaches Association also recognized Cockerill as an All-American.
Said Olson of TC, "She was fantastic this season. Everything she's done in her career is amazing. I think about her freshman year when she carried us at times and helped us win some big games. Sophomore year she wins a national title and scores 19 points in a quarter when we really needed it against Cardinal Stritch. She had a terrible knee injury when we were about to beat Creighton. To be able to bounce back and get herself to the point where she is an All-American player just shows her work ethic, her toughness and just what an awesome player and person she is."
Mackenzie Koepke joined Pauli with honorable mention All-GPAC accolades (the third and fourth leading scorers on the team, respectively). Both veterans were regulars in the starting lineup as part of the core that extended beyond Cockerill and Rushton. On any given game day, a host of different Bulldogs were capable of providing a lift. Another freshman in Bailey Conrad earned a starting role and flashed exciting potential. Sharpshooter Taylor Farrell (36.9 percent from 3-point range) saved Concordia's bacon with 11 points in a rough offensive first half of the opening round game versus Loyola.
There were also contributions made by the likes of Kendal Brigham, Rebecca Higgins, Averie Lambrecht, Kayla Luebbe, Mackenzie Toomey, Sadie Powell, Chloe Schumacher and Faith Troshynski. In addition, former Concordia University, Portland starter Abby Aplaca joined the team for the second semester and added depth to the roster. There were 15 different Bulldogs who scored in double figures in at least one game throughout the course of the season.
After early growing pains, Concordia got on a roll. It was ranked 11th in the NAIA in the preseason before falling out of the national rankings in December. The Bulldogs returned to the national radar by going 16-4 over the season's final 20 outings. From game-to-game, Olson sometimes made drastic changes to the game plan. Concordia used the press less than in the past, but unleashed it at just the right times (such as the game versus Marian).
Olson often remarked about how much he enjoyed coaching this particular team. It was certainly a blast from a fan perspective. The Bulldogs remained an aggressive defensive team that averaged more than 12 steals per game. They also hoisted a whole lot of treys (186 more than their opponents) and ranked eighth nationally in 3-point field goals per game (10.1).
There will be fewer question marks heading into next winter with a more veteran team. The experience at the national tournament should prove invaluable for the younger players on the roster. There is also a fine incoming freshman class on the way.
Said Olson, "I think that experience (at the national tournament) is definitely going to help. They know what they're capable of and hopefully it makes them hungrier to take a step or two more. I think it's going to be another great group. We've got so many players returning and a really good class coming in. We're looking forward to it. Every year is a unique challenge, but I think we're set up to be really good."