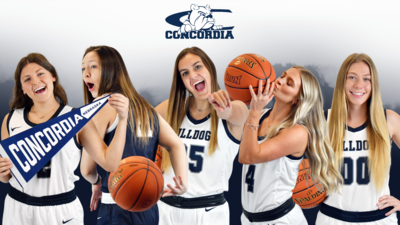 2021-22 Record: 16-14 overall, 13-9 GPAC (T-5th); NAIA national qualifier.
Head Coach: Drew Olson (423-121, 16 years; 14 national tournament appearances; 12 GPAC regular season/tournament titles; five national semifinal advancements, including two runners up; 2019 national champions).
Returning Starters: F Sadie Powell; G Taysha Rushton.
Other Key Returners: G Kendal Brigham; G Taylor Farrell; F Abby Heemstra; F Hailey Kleinschmidt; F Mackenzie Koepke; G Abby Krieser; G Mackenzie Toomey.
Key Losses: G Lauren Baker; G Bailey Conrad; F Kayla Luebbe; F Rylee Pauli.
2021-22 GPAC All-Conference: Taysha Rushton (First Team); Rylee Pauli (Honorable Mention); Sadie Powell (Honorable Mention); Mackenzie Toomey (Honorable Mention).
2021-22 NAIA All-American: Taysha Rushton (Honorable Mention).
Outlook
Last season's Concordia University Women's Basketball team navigated the NAIA's most challenging schedule (according to the official NAIA strength of schedule metric), took some lumps at times and then managed to extend the program's run of consecutive national tournament berths to 11. Those that experienced the national quarterfinal run of 2021 have a hunger to get back to the biggest stage in Sioux City, Iowa, and show they have grown through the ups and downs of the 2021-22 season. It wasn't long ago that this program reigned atop NAIA Division II.
Head Coach Drew Olson's outfit will miss the senior leadership and grit of Rylee Pauli, but the bulk of the major players from last season have returned to give this team a more veteran look overall. It's a group that features a core of third-year players including returning Honorable Mention All-American Taysha Rushton. This has been an important preseason of development for Olson's crew.
"It's hard to tell," said Olson of where this team might end up. "I think we've got a really good team. At the same time, we know in the GPAC it's really tough, especially this year. We know there are so many teams that are going to be senior heavy or fifth-year heavy. It's going to be a challenge. I feel like there are eight or nine teams that are really good. It's going to be a battle, but I do really like our team. When we have the toughness that we've shown so far and how hard we play, I think good things are going to happen."
It starts with the do-it-all combo guard Rushton, who can score points in bunches and wear opponents out with her tenacity on the defensive end. The development of other scoring options will be key for a program that has typically scored at a higher clip than it did last season when it averaged 74.1 points per game. Olson believes strongly that Cedar Rapids, Iowa, native Sadie Powell is ready to take a big leap forward. A lot will be expected of the junior class (academically) that includes not only Rushton and Powell, but also Kendal Brigham, Hanna Spearman and Mackenzie Toomey.
One missing ingredient last season was Mackenzie Koepke, who played a significant role coming off the bench for the 2018-19 national championship team. After missing all of 2021-22 due to injury, the Lincoln Lutheran High School alum decided she wasn't going out like that. Koepke brings outside shooting (757 career points), length and championship experience as a fifth-year member of the program. Meanwhile, the lone fourth-year senior on the roster is sharpshooting Taylor Farrell, who is still working her way back from offseason surgery.
It's those veterans who are attempting to help set the tone this offseason. They have to ensure that everyone knows what the standard is for this program. They are determined to learn from last season's hard lessons. Said Olson of Koepke's return, "She's going to be a huge addition on the court. She also gives us leadership and competitiveness."
So what area of this team has seen the most growth? Answered Rushton, "I think our dedication overall. Last season we had a lot of tough losses in the seven-point range that we couldn't get over the hump and win. This year we're all very committed to each other and love what we're doing. Practices have been fun. We've been getting better. You can see the dedication this team has and how bad we want to win and see each other succeed."
Rushton's star power alone makes this Concordia team dangerous. She's already racked up 959 points over two seasons and averaged 17.7 points per game in her second year. She's the type of player who always believes the next shot is going in, and she never relents on the defensive end. There are moments when the terrific Texan can carry a team, but the Bulldogs don't want her to feel that pressure. Enter the 6-foot Powell. She's flashed vast potential, like when she put up 19 points on eventual national runner up Dordt.
In the backcourt, Brigham and Toomey continue to grow their games. Both are capable of scoring 15 in any given game while playing solid defense. Brigham might be as good of a shooter as any on the team, and Toomey is a scrapper who's never afraid of risking bodily harm for a loose ball.
Says Olson of the group of third-year players, "I think maturity is the right word with that group. You can tell they're just a little bit different this year. They've gone through some of the growing pains through losses and also being expected to be leaders at such a young age. It was really kind of a tough task to ask of them. I think now that they are juniors and have been through it, they're doing an awesome job of leading. You can see there's a different mindset about them, and their work ethic is phenomenal."
Then there's the class of sophomores who got their feet wet last year: post players Abby Heemstra and Hailey Kleinschmit and guard Abby Krieser. Heemstra started 16 games last season and still has a lot of potential to unlock. As for Krieser, she's an athletic and physical guard who was meant to play in that dogged Concordia full-court press. Finally, Kleinschmit has the opportunity to see her minutes increase after she saw action in 12 games in 2021-22.
Sensational guard play has been a common denominator for successful teams under Olson, but that's not to say the frontcourt isn't a key component. As a whole, this area looks to be improved as Powell steps into a starring role and others begin to make their mark. The frontcourt adds 6-foot-1 freshman Kristin Vieslemeyer (younger sister of former Bulldogs Erin and Megan) to the mix. Vieselmeyer helped Holyoke High School win a Colorado state championship in 2022.
"That group's doing a great job," Olson said. "Sadie is a big-time player as well. I think she's ready to take another step in her game. I think Abby and Hailey are finding their roles for the team. Kristin is going to be a really good player. She's going to have her moments of being a freshman, but so far what we've seen is very impressive. I love her worth ethic as well."
Millard South High School product Megan Belt is another freshman to watch. There will likely be others who contribute when and if Olson does decide to deploy the program's frantic patented full-court press, which requires frequent substitutions. When it's at full throttle, the press is about as fun for opponents as a swarm of gnats at a picnic. In terms of how often this team will press, Olson says, "We'll see what our group does this season. The main thing is that we're going to play really, really hard."
Both Olson and Rushton have commented about how intense practices have been this preseason. There was a level of understanding that last season would come with growing pains, but the final results did not live up to the standard this program has set. In some ways, the growth process has been about not just building up basketball skills, but also strengthening the intangibles. Toughness. Grit. Togetherness. Team chemistry. Work ethic.
Says Rushton, "I'm a big believer that team chemistry can really get you over the hump and help you even win games that maybe you shouldn't win. Stuff like loving each other and loving your teammates can really help. I'm playing with my best friends, so it's fun."
Added Olson, "I think the biggest thing is just our attitude and effort every day. Our team has been phenomenal. It's been a really fun group to work with. They play super hard, and I'm really proud of how hard they're working so far … I think we gained a lot of toughness and we're very motivated because of what we went through last season."
The 2022-23 season will officially tip off at the 23rd annual Cattle Classic (Nov. 4-5). As part of the event, the Bulldogs will take on Bellevue University and Dakota State University (S.D.).