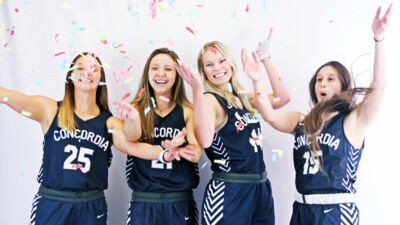 2020-21 Record: 22-9 overall, 17-5 GPAC (2nd); reached NAIA national quarterfinals.
Head Coach: Drew Olson (407-107, 15 years; 13 national tournament appearances; 12 GPAC regular season/tournament titles; five national semifinal advancements, including two runners up; 2019 national champions).
Returning Starters: G Bailey Conrad; F Mackenzie Koepke; F Rylee Pauli; G Taysha Rushton.
Other Key Returners: G Abby Aplaca; G Taylor Farrell; F Kayla Luebbe; F Sadie Powell; F Chloe Schumacher; G Mackenzie Toomey.
Key Newcomers: G Lauren Baker; F Charli Earth; F Abby Heemstra; F Hailey Kleinschmit; G Abby Krieser.
Key Losses: Taylor Cockerill; Rebecca Higgins.
2020-21 GPAC All-Conference: Taylor Cockerill (First Team); Taysha Rushton (First Team); Mackenzie Koepke (Honorable Mention); Rylee Pauli (Honorable Mention).
2020-21 NAIA All-Americans: Taylor Cockerill (Honorable Mention).

Outlook
In terms of overall roster experience, the Concordia University Women's Basketball program finds itself in a more advanced state as compared to this time a year ago. Gone is All-American Taylor Cockerill, but Head Coach Drew Olson's program has never lowered its standards no matter how many All-Americans may have graduated the previous May. Taysha Rushton returns as the next big thing after helping lead the Bulldogs to last season's NAIA national quarterfinals.

Olson seems to have a team better equipped to hit the ground running once the season starts. Rushton is the leader of a blossoming backcourt while the frontcourt will have some legit low-post scoring options. As a major plus, 11 players from last season's national tournament roster are back this winter.

"It's been a lot of fun so far," said Olson of preseason practice. "We have some new players that add to the returning group that can really help us. I think we have a lot of really good depth. We're excited to see what our team becomes. It's different right now because we haven't played against anybody outside of ourselves. We're really looking forward to some scrimmages and learning more about our team."
If there's anything that's been learned about Concordia in 15 years under Olson's guidance, it's that it just does not rebuild. It may have looked like a down season when the Bulldogs dropped their first three games of last season, but it was just part of the process of finding a new identity. Eventually, that happened and Concordia defeated every opponent it saw over the final 15 games, with the exception of Morningside. The upset of fifth-ranked Marian University (Ind.) at the national tournament represented last season's most thrilling moment.
No doubt the program will miss Cockerill, one of the heroes of the 2018-19 national championship season. Her leadership and competitive fire were just as important as her scoring ability. From a positive perspective, four starters return with Rushton being joined in that group by backcourt mate Bailey Conrad and four-year members of the program in Mackenzie Koepke and Rylee Pauli. Part of the task for upperclassmen like Koepke and Pauli was to introduce young players like Conrad and Rushton to the program's winning culture.
Said Pauli, "Each team I've been on has been unique and different in some way. I feel like this year we have a lot of talent up and down the roster. It's a lot about the relationships we build and being able to trust each other on the court. I feel like that has a lot to do with our success throughout the last few seasons."
Rushton's rookie season demands a closer look. The 5-foot-4 native of Midland, Texas, averaged 14.4 points while draining 73-of-213 (.343) attempts from 3-point range on her way to First Team All-GPAC honors. At times, Rushton completely took over games, like she did when she poured in 24 points at Morningside in the GPAC tournament championship game and when she racked up 27 points in the national tourney win over Marian. She can also be a major pain for the opposition as a defensive pest. It's scary to think that Rushton's college career is just getting going.
Said Olson, "There's not a lot of change. She was an awesome player last year and she's an awesome player this year. She's just a fighter – super tough – and an incredible shooter. She finds different ways to score. I love to see her defensive intensity. She's going to be another big-time player for us."
The backcourt has a chance to be stellar – not just because of Rushton. Also a second-year player, Conrad's growth just over the course of her freshman season was obvious. Thankfully, Conrad returned to health in time for preseason after suffering an injury in the national quarterfinal matchup with Morningside. In addition, there's excitement about the development of Mackenzie Toomey, who made an immediate impact as a freshman.
The depth in the backcourt is further enhanced by the presence of returnees Abby Aplaca (former starter at Concordia University, Portland), Kendal Brigham and Taylor Farrell. The Bulldogs may not have made it out of the NAIA opening round last season if it wasn't for Farrell, who knocked down three treys to help sink Loyola University (La.). Farrell is a career 41.5 percent shooter from 3-point range.
Koepke can play inside and out due to her length and athleticism. She's totaled 757 points and 181 treys in her first three collegiate seasons. Koepke's Concordia journey has coincided with the careers of four-year classmates in Pauli and Chloe Schumacher. Pauli moved into a starting role last season and responded affirmatively. Her most memorable outing was the 17-point performance versus Marian. Also in the frontcourt, Kayla Luebbe and Sadie Powell are on the rise. Luebbe is virtually impossible to stop when she catches it on the block. As for Powell, she appears to be line in for a strong second college season.
Pauli sees this season as another opportunity to make lasting memories with close friends. Said Pauli, "Basketball is so much fun, but basketball is so much better when you can play with your best friends. Experiencing those big wins like the national championship was awesome. It's always something I'll remember and something we strive for every season. I want all the freshmen and underclassmen to get that feeling that I had too. Being able to play with your friends is an awesome thing."
Olson will wait until he sees them in game action to lavish any praise upon the freshmen, but he's confident he pulled in a group that will help maintain the program's high standards. A freshman to keep an eye on is 5-foot-11 Abby Heemstra, who arrived in Seward via Rock Valley Community High School in northwest Iowa. A number of other freshmen are capable of seeing early minutes.
In other words, Concordia will be able to hit teams with second and third waves of high-quality reserves – or "special forces." Said Olson of the competition in practice, "It's been very intense. We've had some really good practices with ultra-competitive people. When you have two-three teams that can really go at each other it's going to raise the level of play. Iron sharpens iron and I think we have that."
Last season saw the fusion of the two divisions of the NAIA. Despite the increased competition (and the graduation of All-Americans Grace Barry and Philly Lammers), the Bulldogs remained an elite program. Concordia's biggest hurdle last season wound up being GPAC rival Morningside, which accounted for four of its nine losses. Olson and company are looking forward to contending for another potential conference title, hosting CIT and making a trip to Hawaii.
Of course the Bulldogs aspire to get back to Sioux City, Iowa, location of the national tournament's final site. Said Olson, "I felt like it was a fun challenge (going to one division) because there are so many more good teams. In years past when we were a dominant top five team going into the national tournament, you knew there were probably six-to-eight teams that could win in all. Last year there were probably 16-to-20 that could. It just made it a little bit more of a challenge and more fun. We know that we're going to be in the mix again, so we're excited about that challenge."
Added Pauli, "We're looking forward to having more of a normal season this year and getting to go on those fun trips. Last year it was hard not going out as much. We're excited to be able to go to Hawaii and face some good teams on those trips."
Concordia will open its season by hosting Bellevue University on Nov. 1. Later that same week, the Bulldogs will also put on the annual Cattle Classic (Nov. 5-6).