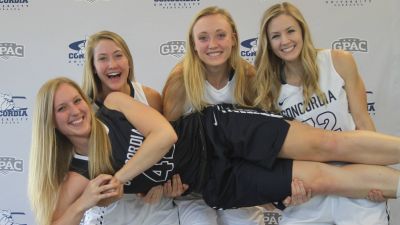 2016-17 Record: 34-3 overall, 19-1 GPAC; GPAC regular season and tournament champs; national semifinalist
Head Coach: Drew Olson (282-91, 11 years; 9 national tournament appearances; 6 GPAC regular season/tournament titles; 3 national semifinal advancements)
Returning Starters: Dani Hoppes (Sr.); Mary Janovich (Sr.); Philly Lammers (So.); Quinn Wragge (Jr.)
Other Key Returners: Brenleigh Daum (Sr.); Colby Duvel (So.); Sydney Feller (Sr.)
Key Newcomers: Taylor Cockerill (Fr.)
Key Losses: Aubri Bro; Devin Edwards: Carissa Gutz; Laurel Krohn; Shelby Quinn; Erin Vieselmeyer
2016-17 GPAC All-Conference: Drew Olson (coach of the year); Mary Janovich (first team; defensive player of the year); Philly Lammers (first team; freshman of the year); Quinn Wragge (first team); Dani Hoppes (honorable mention); Shelby Quinn (honorable mention); Erin Vieselmeyer (honorable mention)
2016-17 NAIA All-Americans: Philly Lammers (second team); Mary Janovich (honorable mention); Quinn Wragge (honorable mention)
Outlook
Since the beginning of the 2011-12 season, only the Concordia University women's basketball program can claim three national semifinal appearances, among all NAIA Division II teams. Four starters return from last season's squad that claimed GPAC regular-season and postseason titles and came within two wins of the program's first-ever national championship banner.
The talent on board is undeniable. Drew Olson enters his 12th season as head coach with a stacked deck. The big names are back, including a trio of Bulldogs that earned some form of All-America recognition in 2016-17: do-it-all guard Mary Janovich, star post Philly Lammers and the always-reliable Quinn Wragge.

The expectations are huge, but that can be said every single preseason for a program that reloads with new stars from year-to-year.

Says Olson, "It's fun to have those kids back knowing what we're capable of. We have our own expectations and we have those same expectations every year. I don't think it's anything new to us. It's probably a little bit more realistic to have high expectations with those kids coming back."

The accolades and the national respect has failed to corrupt the selfless nature of a program that has taken on the winning characteristics of its head coach. The game-to-game focus displayed during last season's 26-game winning streak was remarkable. Using a devastating zone press, Concordia demoralized opponent after opponent. Through the winning, there's been no sense of entitlement.

Says senior guard Dani (Andersen) Hoppes, "We're not going to get overconfident. We back up what people say and the expectations with our hard work. That's what we talk about a lot. We want to be the hardest working team."

It's difficult to pinpoint one primary star on a team with so many enviable individual parts. Why not start with the senior who's been there, done that. Named GPAC defensive player of the year last season, Janovich serves as one of the peskiest of the 'gnats' that ruin other teams' picnics. The Gretna, Neb., native has piled up 186 career steals and is closing in on joining the program's 1,000-point club.

A fierce competitor, Janovich understands the nature of the big stage as well as anyone on the team. She was the GPAC freshman of the year during a 2014-15 run that came up agonizingly short of a national title. She's missed several games due to injury, but she'll play through whatever's ailing her if it means another shot at winning the whole thing.

"It's amazing what she can do for her team," Olson said. "She's such a good defender both on the ball and off. She's an incredible passer. She hits big shots. I think the biggest things are her leadership and competitiveness. It drives the team to wins. It's probably not likely that she's going to be 100 percent this year, but we're going to make due with what she's got."

Lammers and Wragge make each other better by matching up every day in practice. Few freshmen come in as physically prepared as Lammers, often referred to by teammates as a "beast." The Omaha native averaged 13.2 points and 7.0 rebounds while shooting 56.0 percent from the floor as a rookie. Included in Lammers' first collegiate season was a 20-point, 14-rebound performance in a win over Cardinal Stritch University (Wis.) at the national tournament.
Scary, we know, to think that she could be even better as a sophomore. "We don't know exactly what she's fully capable of," Olson said. "We're really trying to expand her game in many ways. Hopefully there's an even better version of Philly this year."

A first team all-conference choice as both a freshman and sophomore, Wragge will give the 2017-18 team whatever it needs. She put up 20 or more points eight times as a freshman, but more scoring options on last season's team freed her up in other ways. Wragge is also a solid rebounder, defender and quiet, confident leader. Without the departed Erin Vieselmeyer (current graduate assistant), Wragge is being prepped to play more minutes this winter.
"I feel like she's capable of even more," Olson said. "She's such a great teammate she has no problem taking a lesser role and less minutes for the better of the team. The great thing with Quinn is she can step up any time. She knows when the team needs her to have a bigger game. She knows when other players are doing well and she can take a step back. I think Quinn's ready for little bit more responsibility."

Hoppes transferred in from Midland and perfectly complimented the talent around her. She can get crazy hot from 3-point range, as evidenced by her seven 3-point field goals in the national semifinal game, and is comparable to the Road Runner in the way that she hounds opposing guards in the press. The duo of Hoppes and Janovich created plenty of the havoc that led to opponents averaging 26.4 turnovers per game last season.

Like Janovich and Wragge, Hoppes is likely to eclipse 1,000 career points. This could be the best season yet for Hoppes, newly wedded and increasingly comfortable within a system and institution that perfectly fits her style and personality.

"I absolutely love our style of play," Hoppes said. "It's so fun just being able to run the court. The fast pace that we do – I love that style of basketball. Coach pulls the team together and he knows exactly what will work in different situations. It's just been awesome."
So who's running the show now that point guard Shelby Quinn has moved on, you ask? Olson might just hand the keys over to true freshman Taylor Cockerill. The 2016-17 GPAC coach of the year can't even hide his excitement over the Waverly High School product. She's gone toe-to-toe with the veteran players in practice without giving an inch. Her talent is obvious to the upperclassmen. Says Hoppes, "It's been so fun to play with Taylor. It's frustrating when you're not on her team. She just has such a quick step. She can get to the hoop so well and finish. It's awesome to have her as a teammate. She has such a sweet spirit yet she has a way of playing the point guard role and commanding the floor. That's going to be so awesome to see her develop and gain confidence as she goes through the season."
Olson will also have experience off the bench in long and athletic guards Brenleigh Daum (149 career 3-point field goals) and Sydney Feller (5.0 ppg over 69 career games), both seniors who have been regulars in the rotation. Sophomore Colby Duvel will also be in the mix. She's a scrapper who never stops hustling.
Sophomore MacKenzie Helman figures to get opportunities at point guard after being acquainted with the college game last season. There may also be minutes to go around for other returners such as sophomore Maggie Goltz and the Pollman sisters, juniors Shelby and Sidney, and sophomore Riley Sibbel.
There's no shortage of talent. No wonder Olson lined up nonconference games with four teams ranked in the top eight of the 2016-17 postseason national poll.
"Every team is unique," Olson said. "Every team is different even though we bring back so many past players. This team is really fun to be with. It's almost like nothing has changed from last year. They picked up right where they left off. We had this two-on-two rebounding drill at practice and it was amazing to see them battling each other and competing at such a high level. To me it just looked like this incredible, competitive team."
The 2017-18 season will officially tip off on Friday, Nov. 3 when Concordia hosts Viterbo University (Wis.) as part of the annual Cattle Classic.