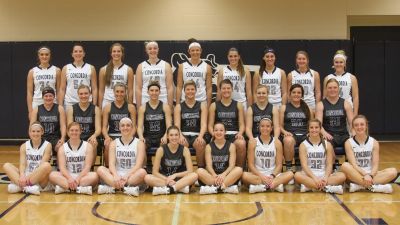 SEASON PREVIEW: 2015-16 Concordia women's basketball
By Jake Knabel, Director of Athletic Communications
At a glance:
2014-15 Record: 35-3 overall, 18-2 GPAC (2nd); GPAC tournament champs; national runner up
Head Coach: Drew Olson (226-78, 9 years; 7 national tournament appearances; 4 GPAC regular-season/tournament titles)
Returning Starters: Mary Janovich (So.), Becky Mueller (Sr.)
Other Key Returners: Brenleigh Daum (So.), Devin Edwards (Jr.), Jade Gottier (So.), Laurel Krohn (So.), Jenna Lehmann (Sr.), Shelby Quinn (Jr.)
Key Newcomers: Maddie Egr, Quinn Wragge
Key Losses: Kelsey Hizer, Bailey Morris, Jericca Pearson, Tracy Peitz
2014-15 GPAC All-Conference: Bailey Morris (player of the year; first team), Tracy Peitz (first team), Mary Janovich (second team), Becky Mueller (second team), Kelsey Hizer (honorable mention)
2014-15 NAIA All-America: Bailey Morris (player of the year; first team), Tracy Peitz (second team)
Outlook
Some of the names will be different, but don't expect a well-established program cultivated by 10th-year head coach Drew Olson to change its ways. Sure the fourth-ranked Bulldogs will miss national player of the year Bailey Morris, second team All-American Tracy Peitz and the rest of last season's heralded senior class, but there's little sense of panic inside the program.
Concordia will still play a frenetic pace, shoot plenty of outside jumpers and put immense pressure on opponents with an aggressive defensive style. Some concern that may have lingered from all of the key departures has been eased during a successful preseason in which the Bulldogs have displayed a potentially prolific 3-point shooting team.
"I think every season is different and unique," Olson said. "Every season you have new players and you've lost some from the previous season. Obviously we lost a lot of key players from last year's team so that changes our team. It's been kind of fun coaching. It's a new challenge. It's a new dynamic. We're all trying to learn new roles and figure out how to win with this team."
Concordia may have lost two All-Americans, but it returns eight players with national tournament experience. The Bulldogs bring back second team all-conference performers in Becky Mueller (10.3 ppg, 3.8 rpg) and rising star Mary Janovich (9.8 ppg, 2.11 spg), the 2014-15 GPAC freshman of the year.
Janovich grew up quickly while following the lead of Morris and Peitz as a key contributor in last season's thrilling run to the national title game. The Gretna, Neb., native started 33 games and proved ready for the big time. At the national tournament she averaged 11.4 points while sizzling from 3-point range, where she went 13-for-24 (.542). Plus she's a major pain, in a good way, on the defensive end.
It's her time to shine, but Olson says Janovich doesn't have to feel like she has to be the go-to player.
"I think she's just going to have to continue to find her owns shots and maybe look to create a little bit more than she did last year," Olson said. "She's an awesome defender. She's very capable of knocking down threes and advancing her game and being a little more aggressive this season."
The standard has been raised to the point where Concordia managed a lofty placement of second in the league's preseason poll as well as its 53rd-straight top 25 appearance. Still, the team has dealt with offseason question marks in regards to how this group will get along without the program's all-time leading scorer. Mueller, who has 737 career points over two seasons, wants to show that the 2015-16 team is able to stand on its own merit.
"We have a lot of talent," Mueller said. "I think we have a lot of talent that people don't realize. It's going to be fun to just go out there and play. There's going to be nothing to lose. It's going to be fun to show people what we've got."
What they've got are several sophomores who Olson believes have made significant strides during the offseason. That group is laden with talented guards in Brenleigh Daum (5.8 ppg, .303 3-pt FG%), Jade Gottier (3.0 ppg) and Laurel Krohn (3.4 ppg, .297 3-pt FG%). All are expected to have much larger roles this season and each will have the green light to shoot.
All three endured inconsistencies as freshmen, but they also showed moments of brilliance. Daum lit it up with five first-half treys in a win over Briar Cliff and Krohn enjoyed stretches of hot outside shooting of her own. Plus the class of sophomores defends and handles the ball.
"All three of them had awesome summers," Olson said. "Jade's really improved her ball-handling skills. She just keeps getting better each day. We need her to be a little more consistent, but I think that's true for most of our young players who don't have a ton of experience. I think Brenleigh Daum is the one who has been the most consistent of those three. When she shoots it you just know it's going in. Laurel is getting there. You could see it in the summer. She's another that has to be a little more consistent, but she can really shoot it. She's a tough ball handler. She's a fighter. She's a winner. I expect all three to help us this season."
For the Bulldogs to make their 15th all-time trip to the national tournament, they will likely need help from their freshman class. Olson expects forwards Quinn Wragge, a 6-foot native of Crofton, Neb., and Maddie Egr, a 5-foot-11 native of Yutan, Neb., to make immediate impacts. Wragge brings especially impressive credentials after having led Crofton High School to three state titles. Olson has seen enough evidence already to know that she's physically and mentally ready for the rigors of the GPAC. Meanwhile, Egr is similarly talented.
Several other returners are likely to factor into the mix, including junior guard Shelby Quinn, the only Bulldog to appear in all 38 games last season. Quinn is a seasoned veteran who can handle the point guard role. Meanwhile, the lone senior on this year's roster is forward Jenna Lehmann, who has played in 89 games in her collegiate career. Junior guards Aubri Bro and Devin Edwards and sophomore guard Sydney Feller also add depth for a team that figures to again go deep on its bench.
As Olson and Mueller admit, the biggest difference between this season and last may simply be the absence of a single dominant player. Olson will not expect any one player on this roster to be the next Morris or Peitz. The 2015-16 Bulldogs expect to win as a team. Winning and doing it the right way are long-ingrained hallmarks of the program.
"I think it's huge," Mueller says of the program's winning culture. "We know where we've been and we know where we want to be. When we get there it's not a whole new experience. We're not going to be deer in the headlights. We're going to know what it's like. We're going to know what to do. I think we'll be able to handle ourselves a lot better."
At the same time, there are undeniable unknowns. So many key pieces have moved on that it makes it difficult to peg this team in the preseason. Says Olson, "You can't expect us to be in the national title game again. I just expect us to get better every day. Hopefully we reach our potential. I don't really know what that is right now until we get into games."
The Bulldogs officially open their season on Friday (Nov. 6) at the 16th annual Cattle Classic when they host No. 24 Mayville State University (N.D.). Tipoff is slated for 6 p.m.