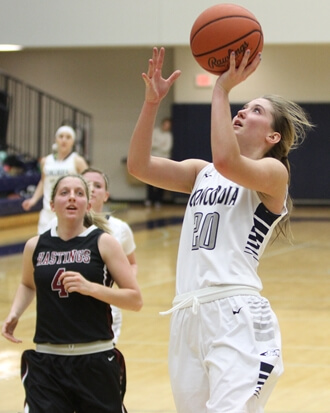 Season preview: 2014-15 women's basketball
By Jake Knabel, Director of Athletic Communications
At a glance:
2013-14 Record: 25-8 overall, 16-4 GPAC (T-1st)
Head Coach: Drew Olson (191-75, 8 years; 6 National Tournament appearances; 2 GPAC regular-season titles)
Returning Starters: Kelsey Hizer (Sr.), Bailey Morris (Sr.), Becky Mueller (So.), Jericca Pearson (Sr.), Tracy Peitz (Sr.)
Other Key Returners: Devin Edwards (So.), Ashley Kuntz (Sr.), Jenna Lehmann (Jr.), Shelby Quinn (So.)
Key Newcomers: Jade Gottier, Mary Janovich
Key Losses: Britney Birtell, Kristin Conahan, Lori Laboda
2013-14 GPAC All-Conference: Bailey Morris (player of the year; first team), Tracy Peitz (first team), Kristen Conahan (honorable mention), Kelsey Hizer (honorable mention), Becky Mueller (honorable mention), Jericca Pearson (honorable mention)
2013-14 NAIA All-America: Bailey Morris (first team), Tracy Peitz (third team)
Outlook
The last two seasons have brought 50 combined wins and another GPAC regular-season title, but also two early exits at the national tournament. That does not sit well with an experienced senior class headlined by 2013-14 All-Americans Bailey Morris (first team) and Tracy Peitz (third team). Both understand what it takes to make a deep March run having been part of the national semifinalist 2011-12 squad.
Morris and Peitz made for a dynamic duo in leading last year's team to a late season eight-game winning streak despite a rash of injuries that sidelined two-time All-American Kristen Conahan and a critical piece in the post in Jericca Pearson.
"There was a successful part of the season, but then we ended sooner than what we wanted," ninth-year head coach Drew Olson said. "I think that really motivated a lot of our kids for this season. The program has high expectations every year. Losing in the first round of the national tournament makes them want another chance and make sure we don't do that again."
While Conahan has graduated, Pearson returns along with four others with extensive starting experience. But there's no doubt who makes this team go. Morris broke the program single-game scoring record with 45 points as part of a signature performance in an 89-78 win over No. 3 Northwestern on Feb. 15. That game helped propel her to GPAC player of the year honors in one of the greatest seasons ever for a Bulldog women's basketball player.
The 5-foot-4 point guard has spent the offseason honing her skills on the defensive end while also focusing on cutting down on turnovers. It's hard to imagine a season much better than the one Morris had as a junior, but Olson won't be surprised if it works out that way.
"She's going to be a different player," Olson said. "There are going to be times when we expect her to score, but with the players we've brought in and the improvement of the players returning, I don't think she'll be relied upon to have a 45-point performance. She has that in her. I think her contribution – the change in her game – is just making everybody better on our team and distributing the ball really well. I think the other thing she wants to be is a better defender this year and be looked at as a great defender."
Morris' desire to be the best is undeniable, but she'd rather talk about what this season might bring from a team perspective. The early returns from practice have been overwhelmingly positive. Morris has a difficult time containing her excitement for what lies ahead.
"We always have high expectations, but with this group especially," Morris said. "The things I see our team doing in practice as a whole, I just know that this is a special group. I can't wait to see some of the things we're going to do this season. Most of all, I just want us to reach our potential. Obviously we have a lot of potential so our expectations are even higher. I believe strongly in this group. I know that everyone on this team is willing to work hard and do whatever it takes and to sacrifice for the team."
Morris topped Concordia last season with averages of 19.3 points and 4.1 assists per game. Meanwhile, Peitz set career highs across the board, averaging 13.8 points and a team high 6.1 rebounds. Pearson was also enjoying a career year until tearing her ACL in game No. 15.
Kelsey Hizer represents the other key piece of a senior class that could account for all five spots on the floor at times during this season. Olson, who needs five victories to surpass Carl Everts (195 wins) as the winningest coach in program history, gushes about his group of fourth-year players.
"It's an awesome class. I've never had any class like this," Olson said. "You go back to the 2005 year where they had seven seniors and look at the success they had. I think this class is very similar. They've been to the national tournament all three years. They have a final four appearance. They've got two conference titles. It's really an impressive résumé. Hopefully they can continue to build on it this year."
One key to adding to that résumé is the continued blossoming of Peitz, last season's GPAC defensive player of the year. Olson sees potential for the 5-foot-11 forward to become an even bigger star.
"Tracy's one of the scariest players in the conference just because of her versatility and athleticism," Olson said. "She can guard any position. I think she's really expanded her game this summer to be more of an offensive player. I just wish she would realize how great of a player she is. If she can figure out how good she is, there's going to be a breakthrough like what Bailey has realized."
Last season the Bulldogs also broke in several freshmen such as Becky Mueller, Shelby Quinn and Devin Edwards. Mueller was one of only two players to start every game. She provides an outside shooting presence and appears even more confident, according to Olson, heading into her sophomore campaign. She averaged 11.4 points and shot 41.0 percent from 3-point range in her first collegiate season.
Like Mueller, Gretna High School product and first team all-state selection Mary Janovich will have a shot to start from day one. Janovich brings plenty of speed and quickness and an advanced defensive game. Former Boone Central High School star Jade Gottier is also a key member of the class of freshmen. Both figure to get plenty of minutes.
"They add a lot of potential – great athleticism," Olson said. "They're different players. Mary is a little bit more defensive-minded and she's going to score without really needing plays called for her. She's a great defender. Jade's a little bit more offensive-minded. She's a great attacker with the ball – great passer, great vision."
In terms of depth, this Bulldog squad might even rival the 2011-12 team that went 34-3. With better fortune health-wise, Morris won't have to go through a stretch of playing 36 or more minutes in eight of 12 games as she did last season.
"It's going to be great," Morris said. "If no injuries happen, this is the deepest team I think we've had since my freshman year – if not deeper. We can sub five in, five out and there's no change in our press or energy level. Everybody's just going hard all the time and everybody's got highly-developed skills. We mesh well together. Coach Olson can throw any five on the court and you know it's going to work."
Morris and company will get an idea early on about where they stand. Concordia begins the season against three-straight opponents that reached the national tournament last season. That will lead into the GPAC grind, which appears to be as brutal as usual.
Last season Concordia shared the GPAC regular-season crown with perennial powers Hastings, Morningside and Northwestern. Olson does not expect any drop off for any of those teams.
"It's going to be really difficult," Olson said. "With those three teams – Hastings loses a lot, Northwestern loses a lot. I don't see them missing a beat. Everybody counts out Northwestern every year after they lose one of their key players, but you just know somebody's going to step up. They have great coaching on both staffs. Then Morningside's a beast. They return a ton. They bring in a ton. Jamie Sale's a great coach and they're going to be really good."
The same will be expected of Concordia, built around its senior nucleus. This season it's not just about getting back to Sioux City. It's about what happens there.
Says Morris, "I can't wait to see what happens this year."
Olson's squad opens the season Friday, Oct. 31 when it plays at Mayville State University (N.D.) at 7 p.m. The Bulldogs also take on the University of Jamestown (N.D.) on the road the following day.