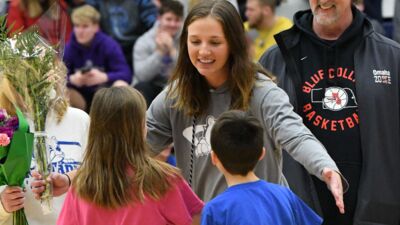 A Millard South High School alum and a soon-to-be Concordia University alum, Rylee Pauli can provide a unique perspective on Bulldog Women's Basketball. A four-year varsity player whose role increased with each successive season, Pauli exemplified what Head Coach Drew Olson looks for in student-athletes. She may have been undersized in the post, but Pauli's relentless effort and grit helped make up for it.
Said Olson at the conclusion of the 2021-22 season, "The Marian game Rylee's junior year is going to stand out, but there were other games where she carried the team for a bit. I loved her work ethic, consistency and selflessness. It was never about her. It was always about the team. She was willing to come off the bench. She was definitely a key player for our team."
As part of her career, Pauli experienced a national championship run, the heartache of a repeat attempt thwarted by COVID-19, a decidedly abnormal 2020-21 campaign and a season of growth and working towards building up the next great Concordia team. Pauli did not get the All-America accolades like some of her teammates did during her four seasons, but she was comfortable in her role. Pauli was one of the "glue players" that have helped make the program one of the nation's elites.
A few weeks after the 123rd and final game of her collegiate career, Pauli reflected upon four years as a Bulldog.
First memories of Concordia – After collecting more than 500 career rebounds at the high school level, Rylee Pauli took her time making a college decision. A February 2018 tweet from @patriotsgbball (her high school team) included a photo of Pauli wearing a Doane t-shirt. All is forgiven now.
Recalls Pauli, "In high school I wasn't sure if I wanted to play basketball or not. I visited Concordia and I was like, 'I think I really like it here. I think I can go far in this program.' I kind of fell in love with it after talking to Coach Olson and going around the school. Just knowing Mackenzie (Koepke) and some of my other teammates now – I played summer ball with some of them – so there were some familiar faces.
"Mackenzie committed pretty early. I kind of committed a little later. I knew of her. We played summer ball, but we weren't extremely close as we are now."
Immediately upon her arrival, Pauli got an education on what it was like to go up against one of the best post players in the nation. As her welcome to college basketball, Pauli went head-to-head with Philly Lammers at practice. It was no picnic, but it did prepare Pauli for her future role as a starter in the frontcourt.
"I felt every emotion," Pauli said of her first days stepping on the practice court at Concordia. "I was nervous, I was scared, I was excited. The program has such high standards so you want to fulfill those. The girls I was going up against like Philly, Colby (Duvel) and Riley (Sibbel) – they are competitors. It was just awesome to play with them.
"Coming in as a freshman you just never know. You don't have a set spot. My mentality was to do what I could and understand my role and try to do the best I can."
Continued Pauli, "I played against Philly when I was in high school – I went to Millard South, she went to Millard West. I knew of her. She was the same then, just such a beast inside all the time. I think it was cool to play with her. I still got beat up sometimes being a freshman. On the court, she was a competitor and it was awesome to play with her. Off the court, she's an awesome person."
Winning the national title – While practice may have been a challenge during the 2018-19 season, the games were somewhat pressure free for Pauli. She didn't have to step in right away and be a star for a team that started the likes of Grace Barry, Taylor Cockerill, Philly Lammers, Riley Sibbel and Quinn Wragge. Pauli still carved out a role off the bench and scored 11 points in the first-round win over Wilberforce (Ohio) that season.
Said Pauli, "It was awesome being part of it as a freshman. Not a lot of freshmen get to experience something like that. It really set the bar high to try to win it again. That was just a great team. Throughout the whole year it was just awesome to be part of it."
Yes, Pauli is the owner of a national championship ring. It'll always be a reminder of that special season and special team. Does she ever wear it though? Answered Pauli, "I have it framed up in my room."
March 2020 – Because of the COVID-19 outbreak in March of 2020, Pauli and the Bulldogs were robbed of a chance to defend their national title. Concordia was primed for another deep tournament run with Barry and Lammers leading the way. On March 12, 2020, the team got the news that stopped everyone in their tracks. The remainder of the national tournament had been canceled. Just the day before, the Bulldogs had defeated Wilberforce (again) in the first round. In a room full of Bulldogs at the South Sioux City Marriot Riverfront hotel, tears were plentiful.
Recalls Pauli, "It was really hard, especially for the senior class. They worked so hard. After the season we just had, I felt like we could definitely repeat another national championship. It was really heartbreaking for them to have that ending. I remember we were all in the hotel together and Coach Olson told us the news. It was like, 'What's happening?' There were so many unknowns. It was really sad for that to be the goodbye. The season to follow was weird because there wasn't that normal sense to basketball. I didn't realize how much we would miss the crowds and people being around. It was a weird couple years." For Pauli, the story wasn't over yet. In fact, the finest individual performance of her career was yet to come.
The Marian Game – You wouldn't have been off base to have looked at the 2021 NAIA National Round of 16 matchup between Concordia and Marian University of Indiana and thought it looked like a bit of a mismatch in favor of the Knights. Marian was ranked No. 4 in the NAIA and featured 6-foot-4 All-American Imani Guy. Pauli and the Bulldogs weren't about to back down. Of course, Concordia had some standouts of its own such as guards Taylor Cockerill and Taysha Rushton.
But the 73-67 upset pulled off by Concordia wouldn't have happened without Pauli, who notched 17 points, six rebounds and a blocked shot. Pauli had learned how to be effective, even when she went up against much taller opponents.
Explained Pauli, "Me being a post, a lot of times I was undersized height-wise. I just accepted my role and knew what I needed to get done – just run the floor and get boards. I did what I could. That was just a really good team win, offensively and defensively. We were the underdogs in that game, but we knew we could win."
2021-22 season – This past season ended sooner than the Bulldogs had hoped, but it was an important year of growth and learning. Pauli's leadership will stick with the returning group that will aim to get Concordia back to the national tournament once again. Pauli played on the national stage in each of her four seasons. She summed up her final season with the following thoughts: "The season was really up and down. It wasn't the best record-wise, but there was a lot of growth in each individual player and as a team. We had some bumps in the road and were able to recover and get back to the national tournament."
Unfortunately, Pauli wasn't able to play alongside close friend Mackenzie Koepke this season. Koepke sat out the entire winter due to injury. Said Pauli, "It was really hard. I loved playing with her. She's one of a kind. She's a great shooter and works really hard. It was tough to see her out from a friend perspective because I know she loves the game. I'm really happy for her that she gets another year to play, and I know she's going to do something great next year."
Pauli's career totals included 608 points, 530 rebounds, 169 steals and 124 assists.
Playing for Coach Olson – Those who come to play for Coach Olson can expect an intense competitor and someone with a burning desire to win each and every game. What they will also get is a coach who truly cares about them as people. When it comes to Olson and Pauli, there is an obvious respect between the two. As Olson wrote about Pauli as part of a senior day tribute, "Pauli defines what it means to be a Bulldog."
Pauli acknowledged that such compliments mean a lot to her. Said Pauli of Coach Olson, "I loved being able to play for Coach Olson these past four years. He's such a great guy and such a competitor. What I love about him is he has the same values and standards that he holds each player to. Him being a big family guy, I know it's hard with five kids at home. I can't imagine that's easy, but he puts so much time into us and he loves us. I hope he knows that doesn't go unseen."
Moving on – Anyone who played during the 2020-21 'COVID season' essentially got a free year in terms of athletic eligibility. In other words, Pauli would have eligibility remaining for 2022-23, but for her, the time is right for the next step of her journey. However, Pauli will continue to be around the game in a coaching capacity. She also plans to be in attendance for Concordia games next winter.
Said Pauli, "I was ready to start my real job. I'm starting my master's come August. I'm going to get it in school counseling (through Concordia online classes). I had a great four years and I just wanted to start my real life, I guess. I'm coaching an eighth-grade basketball team. It's a little bit different perspective of the game. We just started practices the beginning of April. It's just different being a coach. I think I want to go somewhere with that."