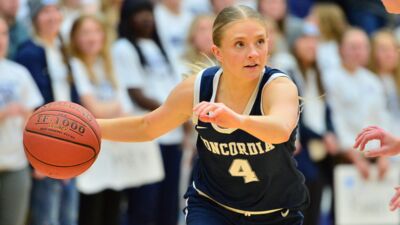 CRESTVIEWHILLS, Ky. – Three-time First Team All-GPAC guard Taysha Rushton played like she was on a mission in the first round of the 2023 NAIA Women's Basketball National Championship. Rushton racked up 26 points in spearheading eighth-seeded Concordia's 77-50 win over No. 9 seed Columbia College in Crestview Hills, Ky., on Tuesday (March 7). While Rushton shouldered a large offensive load, the collective effort of the Bulldogs defensively was tremendous in holding the Cougars to 29.0 percent shooting.
Concordia is in the midst of the program's 22nd all-time appearance at the national tournament. Head Coach Drew Olson improved his own national tournament record to 27-12 while the 2022-23 Bulldogs have bumped their overall mark to 20-11.
"Our team had a lot of confidence early on," Olson said. "It helps when you hit a couple shots early and build a lead. I loved how well we played defensively. We adjusted throughout the game at times and did an awesome job taking away everything they wanted to do. We caused them problems with the press and got them out of rhythm. It was good to see a lot of people for us get involved."
Rushton buried a trey in the opening minute on Tuesday and Concordia never trailed all night while stepping on the throttle. It was a reasonably close game at the half (38-29) before the Bulldogs turned on the jets in the third quarter. Abby Krieser kickstarted a 13-3 run with a pair of buckets and Mackenzie Koepke rained in one of her three triples as part of the spurt. Concordia led 51-32 at that juncture and eventually grew the lead to as many as 30 points in the rout.
Rushton scored in just about every way possible – off the dribble, spotting up from three and pulling up in the face of defenders. The 26 points were one shy of a national tournament personal best for the Midland, Texas, native. In a fine outing of her own, freshman. Kristin Vieselmeyer came through with 12 points and five rebounds in her first career national tourney game. Kopeke (3-for-4 from 3-point range) finished with nine points and four rebounds while Krieser chipped in with eight points, four rebounds and three assists. All 12 Bulldogs who made the trip saw the court with 11 of them registering in the scoring column.
Said Olson of Rushton, "Taysha played really well. She made some shots early and had really good rhythm throughout the game. She's a big-time player and she's always going to respond really well."
Concordia did its damage (44.8 percent shooting and only eight turnovers) against a Columbia side that won the American Midwest Conference title and entered the contest riding a 14-game winning streak. First team all-conference performer Mallory Shetley was limited to five points on 2-for-6 shooting. The only Cougar to reach double figures was Allison Stiers with 13. Columbia (26-5) couldn't overcome a 27-2 disadvantage on points off turnovers while making the program's 19th national tournament appearance.
Next up, the Bulldogs will have the challenge of taking on top-seeded and defending NAIA national champion Thomas More University (27-3) on its home court, the Connor Convocation Center in Crestview Hills. The matchup is set to tip off at 6 p.m. ET (5 p.m. CT) on Wednesday. The winner will earn a spot in the national round of 16 and will book a trip to the Tyson Events Center in Sioux City, Iowa. Concordia met up with the Saints last season in Hawaii where Thomas More came away with an 84-67 victory.
Said Olson of the matchup, "They're really well-coached and they do a lot of things offensively with good action that's hard to guard. They won the national title last year so they have that experience. They're a different team than last year, and we're a different team. I'm excited to see us go at them because I think it's going to be a really fun matchup."
Live coverage on Wednesday will be available via the following links: streaming (pay-per-view) | stats.