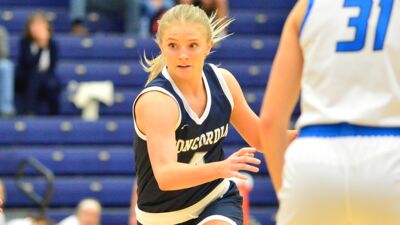 SEWARD, Neb. – Even as the Bulldogs work to discover an offensive rhythm, they found ways to win in the opening weekend of the 2022-23 season. The scoring of Taysha Rushton and the collective defensive performance of the Concordia University Women's Basketball team resulted in a 71-61 victory over Dakota State University (S.D.) on the second day (Nov. 5) of the 23rd annual Cattle Classic. Both Rushton and Mackenzie Toomey were recognized with All-Cattle Classic awards.
Head Coach Drew Olson's squad also claimed a 74-52 win over Bellevue University on Friday. The Bulldogs held both weekend opponents well below 40 percent shooting.
"I thought defensively we were good again, just in little different ways," Olson said. "Dakota State did such a good job of getting the ball out of the net and playing really fast. We couldn't find them, and it was some tough matchups because of their athleticism. They basically played five guards. It was a little more difficult for us today, but I thought we did a nice job adjusting, keeping the ball in front of us and making them earn baskets. I thought that was the difference."
Concordia appeared to have the game well in hand when Megan Belt drilled a trey midway through the fourth quarter, extending the lead to 65-51. The Bulldogs managed to survive despite failing to score on their next seven possessions. Sadie Powell helped calm the waters when she canned a mid-range jumper to push the advantage to 67-60 with just over a minute remaining. Taysha Rushton went 4-for-6 from the foul line in the final minute while Concordia's defensive tenacity put the home team in the winner's circle.
Large advantages in turnover margin were a theme this weekend for the Bulldogs, who were plus-19 in Friday's win and then plus-seven on Saturday. Concordia can unleash the Dawgs in the form of Rushton, Abby Krieser and Mackenzie Toomey in the starting backcourt. That trio combined for five steals in the latest victory while Rushton provided the scoring (24 points) that the Bulldogs sorely needed. Concordia shot 36.8 percent (25-for-68) from the floor and held Dakota State to 35.9 percent (23-for-64).
Krieser (11) and Toomey (10) joined Rushton in double figures in the scoring column. Both Rushton and Toomey were named to the All-Cattle Classic team (see below). Powell made her biggest contributions on the boards as she grabbed 11 rebounds. Belt chipped in with eight points off the bench. From an offensive standpoint, there is room for growth.
Said Olson, "We have a really good group that's tough-minded that finds ways to win in different ways. I think we have a lot to work on, but I like where we're at. We're sitting 2-0 this weekend with wins over good teams. I like where we're going."
The Trojans slipped to 0-3 with all three defeats coming at the hands of GPAC opponents. Dakota State was forced to go with a smaller lineup after the 6-foot-1 Elsie Aslesen (former Bulldog) went down hard the day before against Briar Cliff. Courtney Menning earned All-Cattle Classic honors after tallying 14 points on Saturday. Teammate Sidney Fick added 11 points and 12 rebounds.
Next up will be the start of conference play. The Bulldogs will head to Sioux City, Iowa, next Saturday (Nov. 12) to play Briar Cliff (2-1), a team that was present at Friedrich Arena for the Cattle Classic. Tipoff from the Newman Flanagan Center is set for 2 p.m. CT. The two sides split last season's two meetings with the home team winning in both cases.
2022 All-Cattle Classic Women's Team
Ashtyn Arnold, Bellevue
Courtney Menning, Dakota State
Taysha Rushton, Concordia
Konnor Sudmann, Briar Cliff
Mackenzie Toomey, Concordia