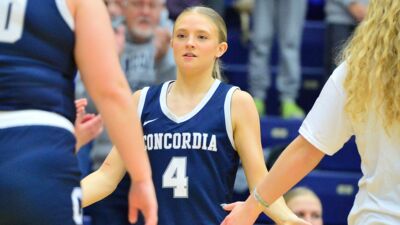 2022-23 NAIA Women's Basketball All-Americans
SEWARD, Neb. – For the second-straight March, Concordia University Women's Basketball standout Taysha Rushton has been selected as an All-American. Rushton made the list of 2022-23 NAIA Honorable Mention All-Americans announced on Tuesday (March 21) by the NAIA. The Bulldog Women's Basketball program has had a player earn some form of All-America accolades in 16 of Drew Olson's 17 seasons as head coach. According to available records, Rushton is the program's 13th player to garner multiple All-America awards.
Other multiple-time All-America honorees coached by Olson have included Taylor Cockerill, Kristen Conahan, Philly Lammers, Bailey Morris, Tracy Peitz, Katie Rich, Whitney Stichka, Melissa Tinkham and Quinn Wragge.
The Midland, Texas, native Rushton is also a three-time First Team All-GPAC honoree and has led Concordia to national tournament appearances in each of her first three seasons. In those three seasons, Rushton has played in 92 games and has accumulated 1,408 points, 275 rebounds, 253 assists and 150 steals. Rushton will enter year four ranked No. 14 on the program's all-time scoring list. Her 217 3-point field goals are the fifth most in school history behind only Kristen Conahan (323), Melissa Tinkham (266), Andrea Janssen (247) and Brenleigh Daum (232). In perhaps Rushton's best performance this past season, she rattled off 26 points and seven rebounds in the NAIA national tournament first round win over Columbia College (Mo.).
Said Olson after the win over Columbia, "She's a big-time player and she's always going to respond really well." Over her three seasons as a Bulldog, Rushton has posted respective scoring averages of 14.4 in 2020-21, 17.7 in 2021-22 and 14.0 in 2022-23. Her efficiency increased this past season as she shot 42.5 percent from the floor, 41.1 percent from 3-point range and 78.5 percent from the foul line.
Concordia women's basketball all-time All-Americans
Grace Barry (2020-2nd)
Lynda Beck (1992-1st)
Taylor Cockerill (2019-HM; 2021-WBCA 1st, NAIA-HM)
Kristen Conahan (2012-2nd; 2013-1st)
Sarah Harrison (2003-1st; HM-2005)
Mary Janovich (2017-HM)
Trish Kindle (1993-2nd; 1994-HM)
Amber Kistler (2012-1st)
Hayle Kobza (2000-HM; 2001-HM)
Philly Lammers (2017-2nd; 2018-1st; 2019-1st; 2020-1st)
Bailey Morris (2014-1st; *2015-1st)
Teresa Noffke (1989-HM)
Allison Nyland (1996-HM)
Tracy Peitz (2014-3rd; 2015-2nd)
Shelly Poppe (1987-3rd)
Elizabeth Rhoden (2003-2nd)
Katie Rich (2011-HM; 2013-HM)
Taysha Rushton (2022-HM; 2023-HM)
Kari Saving (2005-2nd)
Stacy Scheer (2010-HM)
Stephanie Schilke (1998-2nd)
Whitney Stichka (2007-HM; 2008-2nd; 2009-1st)
Melissa Tinkham (2008-HM; 2009-HM)
Rachel Witzel (1997-3rd)
Quinn Wragge (2017-HM; 2018-3rd)
*National player of the year