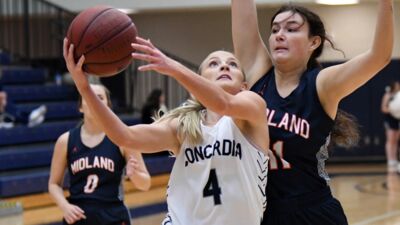 2021-22 NAIA Women's Basketball All-Americans
SEWARD, Neb. – One of the nation's best pure scoring guards, Taysha Rushton was recognized on Friday (March 25) as a 2021-22 Honorable Mention All-American by the NAIA. The NAIA All-America list includes first, second and third teams and a group of honorable mentions. The Concordia University Women's Basketball program has had a player earn some form of All-America accolades in 15 of Drew Olson's 16 seasons as head coach.
As a second-year player in 2021-22, Rushton averaged 17.7 points (fifth most among GPAC players), 3.0 rebounds, 2.6 assists and 1.7 steals per game while shooting 38.3 percent from the field, 33.0 percent from 3-point range and 76.3 percent from the foul line. Rushton's 32 points in the season opener versus Bellevue University represented a career high for a single game. The native of Midland, Texas, reached the 20-point mark nine times this past season while leading the Bulldogs to the program's 11th straight national tournament appearance.
Over 60 career games played at Concordia, Rushton has totaled 959 points, 161 rebounds, 154 assists and 99 steals. Rushton already ranks 12th in program history with 145 career 3-point field goals. She's twice been named First Team All-GPAC. According to available records, Rushton is now the 25th player in program history to earn at least one All-America award.
Concordia women's basketball all-time All-Americans
Grace Barry (2020-2nd)
Lynda Beck (1992-1st)
Taylor Cockerill (2019-HM; 2021-WBCA 1st, NAIA-HM)
Kristen Conahan (2012-2nd; 2013-1st)
Sarah Harrison (2003-1st; HM-2005)
Mary Janovich (2017-HM)
Trish Kindle (1993-2nd; 1994-HM)
Amber Kistler (2012-1st)
Hayle Kobza (2000-HM; 2001-HM)
Philly Lammers (2017-2nd; 2018-1st; 2019-1st; 2020-1st)
Bailey Morris (2014-1st; *2015-1st)
Teresa Noffke (1989-HM)
Allison Nyland (1996-HM)
Tracy Peitz (2014-3rd; 2015-2nd)
Shelly Poppe (1987-3rd)
Elizabeth Rhoden (2003-2nd)
Katie Rich (2011-HM; 2013-HM)
Taysha Rushton (2022-HM)
Kari Saving (2005-2nd)
Stacy Scheer (2010-HM)
Stephanie Schilke (1998-2nd)
Whitney Stichka (2007-HM; 2008-2nd; 2009-1st)
Melissa Tinkham (2008-HM; 2009-HM)
Rachel Witzel (1997-3rd)
Quinn Wragge (2017-HM; 2018-3rd)
*National player of the year