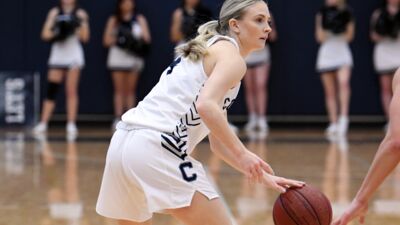 YANKTON, S.D. – A close opening quarter gave way to a blowout GPAC road victory on Wednesday (Jan. 5) in Yankton, S.D. Following a one-game absence, star guard Taysha Rushton provided a scoring jolt while helping the 22nd-ranked Concordia University Women's Basketball team put Mount Marty away early in the second half. The Bulldogs defeated the Lancers by a final count of 83-58 inside Cimpl Arena.
Head Coach Drew Olson's squad has run its conference win streak to five while moving to 7-3 in league play (10-6 overall). This one was much less dramatic than this past weekend's 76-70 overtime triumph over Doane to open the calendar year 2022.
"It was great to see Taysha back. You can see the difference she makes on our team," Olson said. "I feel like we still have to get back into a rhythm. Offensively there were times when we were really good and times when we were really bad. We are working on showing growth in terms of the little plays like the 50-50 balls that we should come up with or defensively when we let the ball go over the top. Hopefully we learn from it today and show it on Saturday."
Concordia brushed off a 13-11 deficit late in the first quarter by dominating the second quarter and then opening the second half on an 8-0 run. Rushton and Kayla Luebbe served as the ringleaders offensively and the Lancers (27 turnovers) struggled to handle the ball on the other end. Rushton piled up 11 of her game high 27 points during a third quarter surge that put the Bulldogs up by 29 (66-37).
The potential is there for Concordia to be truly special when Rushton is rolling like this. She nailed 4-of-6 shots from 3-point range and knocked down 9-of-11 free throw tries on the night. The 27-point outburst marked her second highest scoring total of the season. Off the bench, Luebbe (13 points on 6-for-8 shooting) and Kendal Brigham (10 points) also cracked double figures while 11 Bulldogs registered in the scoring column.
Mount Marty (2-15, 1-9 GPAC) turned it over exactly 27 times in both defeats this season that came at the hands of Concordia. For the Bulldogs, Mackenzie Toomey (game high four steals) was as pesky as ever. In two separate instances, Toomey swiped a steal and immediately went to the rack for layups. Toomey and company limited the Lancers to 38.0 percent (19-for-50) shooting. Aubrey Twedt and Carlie Wetzel notched 10 points apiece for the host.
Meanwhile, Concordia shot 48.3 percent (29-for-60) from the floor and 78.3 percent (18-for-23) from the foul line. Abby Heemstra contributed nine points and three rebounds while Taylor Farrell added eight points and three assists. Rylee Pauli led the team with six rebounds and Bailey Conrad paced the victors with four assists. Toomey posted six points in addition to the four thefts.
The Bulldogs will be back at home on Saturday to host Dakota Wesleyan (14-3, 6-3 GPAC) at 2 p.m. CT. In action on Wednesday, the Tigers saw their 11-game win streak come to an end on Wednesday. They were defeated, 52-49, by No. 23 Briar Cliff. Concordia is 7-1 at home this season and has won 11 of the past 13 meetings with Dakota Wesleyan.
Said Olson, "I'm excited about Saturday. It's going to be a fun game. Dakota Wesleyan is playing really well. They're very well-coached. I know our kids will be up for it."