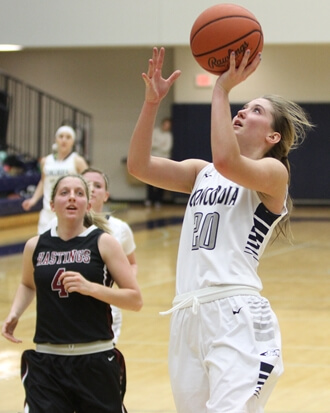 Rich leads offense as Concordia routs York College
Concordia University cruised to a 100-68 women's basketball win over York College on Wednesday evening in Seward. The Bulldogs led by 19 at the half and continued to pour it on in the second half to pick up the convincing victory. Concordia improved to 9-7 on the year with the win, while York slipped to 4-11 with the loss.
Concordia got off to a nice start on both ends of the floor in the opening half. The Bulldogs were 17-of-32 (53.1 percent) from the field and 6-of-7 (85.7 percent) at the foul line. Defensively, Concordia limited the visiting Panthers to 11-of-34 (32.4 percent) shooting in the opening 20 minutes. The Bulldogs took a 46-27 lead into halftime.
"We were ready to go tonight, and we wanted to get off to a fast start," said Bulldog sophomore Katie Rich. Our defense and rebounding helped our offense, and we started the game pretty well tonight."
The Bulldogs continued to put on an offensive show in the second half, scoring 54 points. Concordia was 16-of-37 (43.2 percent) from the field and 18-of-21 (85.7 percent) from the foul line in the second half.
For the game, Concordia was 33-of-69 (47.8 percent) from the field, 10-of-28 (35.7 percent) from deep and 24-of-28 (85.7 percent) from the charity stripe. The Bulldogs held a 44-40 rebounding advantage and forced 22 York College turnovers in the game.
Katie Rich (Tilden, Neb.) led four players in double figures with 19 points. Rich was perfect on the evening, going 6-of-6 from the field and 6-of-6 at the foul line. Treva Nutter (Thedford, Neb.) added 15 points, three assists and two steals. Amber Kistler (Minatare, Neb.) delivered 13 points and six boards, while Kat Ommen (Jefferson City, Mo.) poured in 12 off the bench.
York College finished 24-of-63 (38.1 percent) from the field in the loss. The Panthers were just 3-of-17 (17.6 percent) from long range and 17-of-26 (65.4 percent) at the foul line. Lorena Medeiros had 16 points for the Panthers.
Concordia returns to GPAC play this Saturday with a home contest against Dordt College. Tip is scheduled for 5 p.m. at the Health, Human Performance and Athletic Center. With their 9-7 overall record (2-4 in GPAC play), the Bulldogs will look to build some momentum following a very difficult schedule over the past few weeks. Concordia has played three top-10 teams in the past four games. Dordt College will bring a 10-5 overall record with a 1-4 mark in conference play into Saturday's matchup.
"We just need to stay confident, communicate and play together," remarked Rich. "We're a young team. If we do those things, we have a chance to put things together here in January."