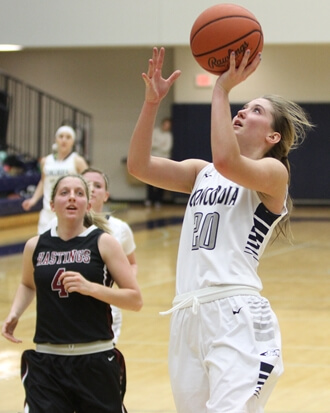 Rich, Kistler and Conahan pick up GPAC honors
The 2010-11 GPAC Women's Basketball All-Conference Team was announced on Wednesday. Concordia's Katie Rich was a second team selection, while Amber Kistler and Kristen Conahan were honorable mention selections for the Bulldogs.
Rich, a sophomore from Tilden, played in 26 games this year for Concordia. Despite missing several games early in the season due to injury, she led the team with 12.5 points per game and 6.7 rebounds per game. Rich also totaled 60 assists. She was one of the top defenders on this year's team and finished with 55 steals on the year.
Kistler (Minatare, Neb.), a transfer from Western Nebraska Community College, appeared in all 32 games this season with 30 starts for the Bulldogs. She was second on the team with 10.7 points per game and also chipped in with 4.2 rebounds per game. She dished out 64 assists and was right behind Rich with 54 steals defensively.
Conahan (Omaha, Neb.) enjoyed a solid freshman season for Concordia. She played in all 32 games with 11 starts and took over starting point guard duties for the final stretch of the season. Conahan connected on a team-best 77 3-pointers this year and was third on the team with 10.6 points per game. She finished the season with 56 assists and a team-best 72 steals.
Concordia was 15-17 overall this season with a 6-12 record in the Great Plains Athletic Conference.