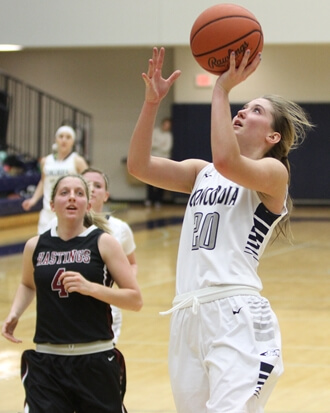 Reserves shine as Bulldogs continue mastery of York
YORK, Neb. – The third-ranked Concordia University women's basketball team dominated from start to finish as it dipped outside of league action to hand host York College a 112-45 drubbing inside the Freeman Center on Thursday night. The Bulldogs jumped out to a 26-5 lead and cruised to their seventh-straight victory while improving to 12-0 versus York in head coach Drew Olson's nine seasons.
Olson's squad moved to 12-1 overall and 7-0 on the road. Nine of the team's dozen wins have come by a margin of 10 points or more.
Two-consecutive blowout wins have seen Concordia shoot just under 50 percent in both outings. Now Olson hopes that continues against the titans of the GPAC.
"I hope it's a sign of things to come," Olson said. "When we get a 20-point lead it's definitely more relaxed and there's not any pressure to make the shot. I hope that seeing the ball go in will carry over to Saturday."
Concordia spread the sugar around on the way to eclipsing 100 points for the second night in a row. All 13 Bulldogs who saw action registered in the scoring column with six reaching double figures. Seven players knocked down at least one trey on an evening when Concordia's 48.7 percent shooting dwarfed York's 21.2 percentage.
The Bulldogs led 52-27 at halftime and then began the second half with a 30-5 run that crushed any faint hopes the Panthers (4-6) had at the break. Included in that mammoth spurt were back-to-back triples from Laurel Krohn, who again provided solid minutes off the bench after posting 11 points at Nebraska Wesleyan on Wednesday. She put up 12 more points on Thursday and has gone 6-for-9 from 3-point range over her last two games.
"Laurel is very confident right now," Olson said. "I hope she can keep it going. We plan on giving her more minutes. She's earned it.
"I thought Alayna (Daberkow) was awesome. She's been so good rebounding the ball."
A total of 66 points came from the Concordia bench. Daberkow, another top reserve, came up just short of her second career double-double, finishing with 11 points and nine rebounds. Senior Ashley Kuntz chipped in 13 points and five rebounds, while the usual suspects, All-Americans Bailey Morris and Tracy Peitz, added 14 and 13 points, respectively.
York, a member of the Midlands Collegiate Athletic Conference, never settled in offensively. The Panthers committed 33 turnovers and got little production outside of leading scorer Cory Minjarez (17 points).
Concordia entered the night ranked second among all NAIA Division II teams with a plus-10.2 turnover margin. The Bulldogs were plus-17 on Thursday while totaling 16 steals – four from Morris.
The 112 points were the most for Concordia since a 121-72 trouncing of Johnson & Wales (Colo.) on Nov. 9, 2012. The Bulldogs have reached the 100-point plateau a total of 14 times during Olson's tenure.
The Bulldogs get back to conference action on Saturday when they host Mount Marty (7-5, 2-4 GPAC) inside Walz Arena at 2 p.m. Fans are encouraged to wear 'ugly' Christmas sweaters as part of Saturday's holiday-themed game. It will be Concordia's final home game prior to the Christmas break.