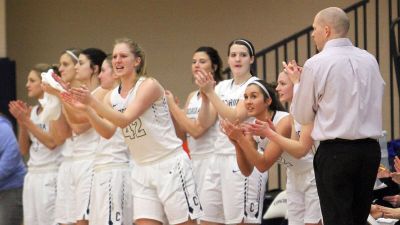 SEWARD, Neb. – Conference titans will collide on Tuesday when second-ranked Concordia and eighth-ranked Dakota Wesleyan meet up in the GPAC tournament championship game for the second year in a row. Tipoff from Walz Arena is set for 7 p.m. The Bulldogs made their way to the title clash by topping Briar Cliff, 80-64, in the quarterfinals and No. 13 Morningside, 106-86, in the semifinals. Meanwhile, the Tigers' postseason run has included wins over Midland, 72-43, and No. 10 Northwestern, 73-58.
GAME INFO
Tuesday, Feb. 27 – 7 p.m.
No. 8 Dakota Wesleyan (27-5) at No. 2 Concordia (31-1)
Seward, Neb. | Walz Arena
Admission: $8 for adults, $3 for students (GPAC students free with ID)
Webcast: Concordia Sports Network
Radio: 104.9 Max Country
Live stats: Dakstats
Twelfth-year head coach Drew Olson's squad has a chance to do something no other conference rival women's basketball program has accomplished – sweep GPAC regular-season and postseason titles in back-to-back years. Concordia has already locked up consecutive regular-season championships, which hadn't been done by the program since the 1996-97 and 1997-98 seasons. Two other Olson teams have swept GPAC titles: the 2011-12 and 2016-17 editions. Olson has guided his teams to seven total GPAC titles (four regular season, three tournament).
Head coach Jason Christensen's squad stands in the way of another run at a championship. The Bulldogs swept two regular-season meetings from the Tigers, winning by scores of 70-66 in Mitchell, S.D., and 55-42 in Seward. The latest matchup was an ugly one from an offensive perspective. Both teams endured a five-point quarter during the second half. Dakota Wesleyan shot just 30.8 percent and committed 22 turnovers. The Tigers will have to clean up their play and also attempt to contain Philly Lammers, who has been on a tear in postseason play. In the quarterfinal and semifinal rounds combined, Lammers has totaled 43 points, 20 rebounds, nine steals, five assists and three blocked shots.
Dakota Wesleyan is seeking its first-ever GPAC tournament championship. The Tigers' lone conference title during the GPAC era was a regular-season championship in 2001-02. Matchups between Concordia and Dakota Wesleyan provide an intriguing contrast between the Bulldogs' speed and athleticism and the Tigers' physicality and size. DWU features starters Amber and Ashley Bray, twin sisters who both stand at 6-foot-1. Christensen can also bring 6-foot-4 Jessica Mieras and 6-foot Sarah Carr off the bench. The Brays are neck-and-neck in the race for the title of team's leading scorer. They are also a significant reason why the Tigers rank third nationally in rebound margin (+12.1).
Last year's GPAC title game resulted in a memorable classic. Concordia survived two potential Dakota Wesleyan game-winning buzzer beater attempts in overtime. The Bulldogs escaped with a 78-77 win to secure a perfect 17-0 home mark in 2016-17. The home win streak has now grown to 35.
Concordia will learn of its national tournament draw on Wednesday when the NAIA releases the bracket for the 2018 event, which will take place March 7-13 at the Tyson Events Center in Sioux City, Iowa. The Bulldogs have locked up the 17th national tournament appearance in school history courtesy of their GPAC regular-season title.
2018 GPAC Women's Basketball Tournament
Quarterfinals – Wednesday, Feb. 21
No. 1 Concordia 80, No. 8 Briar Cliff 64
No. 5 Morningside 69, No. 4 Hastings 67
No. 3 Dakota Wesleyan 72, No. 6 Midland 43
No. 2 Northwestern 75, No. 7 Dordt 64
Semifinals – Saturday, Feb. 24
No. 1 Concordia 106, No. 5 Morningside 86
No. 3 Dakota Wesleyan 73, No. 2 Northwestern 58
Championship – Tuesday, Feb. 27
No. 3 Dakota Wesleyan (27-5) at No. 1 Concordia (31-1), 7 p.m.
Projected lineups
Concordia (31-1)
G – MacKenzie Helman: 4.5 ppg, 2.9 apg, 2.2 rpg, 1.7 spg, .345 fg%, .343 3-pt fg%
G – Dani Hoppes: 10.2 ppg, 1.7 spg, 1.5 rpg, .399 fg%, .376 3-pt fg%, .632 ft%
G – Mary Janovich: 9.4 ppg, 2.8 apg, 2.4 rpg, 1.9 spg, .511 fg%, .446 3-pt fg%, .853 ft%
F – Quinn Wragge: 13.1 ppg, 5.5 rpg, 1.9 apg, 1.5 spg, .618 fg%, .812 ft%
F – Philly Lammers: 13.1 ppg, 8.3 rpg, 2.5 spg, 1.2 bpg, .505 fg%, .725 ft%
Dakota Wesleyan (27-5)
G – Kynedi Cheeseman: 13.9 ppg, 3.6 rpg, 2.9 apg, 1.2 spg, .412 fg%, .337 3-pt fg%, .831 ft%
G – Chesney Nagel: 3.5 ppg, 4.8 rpg, 3.0 apg, 1.2 spg, .315 fg%, .263 3-pt fg%, .694 ft%
G – Rylie Osthus: 9.9 ppg, 5.4 apg, 4.4 rpg, 1.5 spg, .478 fg%, .333 3-pt fg%, .723 ft%
F – Amber Bray: 14.5 ppg, 6.6 rpg, 2.1 apg, .563 fg%, .533 3-pt fg%, .864 ft%
F – Ashley Bray: 14.4 ppg, 5.5 rpg, 2.1 apg, .552 fg%, .473 3-pt fg%, .883 ft%