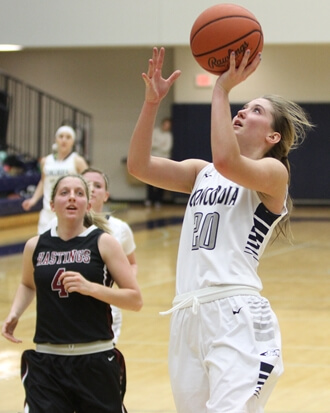 Quarterfinal clash features Concordia-Jamestown rematch
SIOUX CITY, Iowa – The third-ranked Concordia University women's basketball team will challenge No. 10 University of Jamestown (N.D.) for the second time this season when the two squads meet in the national quarterfinals on Saturday. The contest is slated to tip off at 3 p.m. CDT inside the Tyson Events Center in Sioux City, Iowa.
GAME INFO
No. 3 Concordia (33-2) vs. No. 10 Jamestown (26-6)
Saturday, March 14 | 3 p.m. CDT
Sioux City, Iowa | Tyson Events Center
Live webcast: NAIAnetwork.com (fee required)
Live stats: Dakstats
Tickets: available at arena ticket office or via tysoncenter.com
The Jimmies, champions of the North Star Athletic Association, reached the quarterfinals with wins over both No. 22 St. Thomas (Fla.), 69-62, and No. 5 Cardinal Stritch (Wis.), 58-53. Junior forward Jessica Buck, who entered the tournament averaging 16.8 points, has totaled 31 points through two national tournament games.
Meanwhile, Concordia has rolled to the quarterfinals with victories over Bryan College (Tenn.), 76-35, and No. 14 College of Saint Mary, 92-82. The 92 points broke the program record for the highest scoring output in a single national tournament game. In the latest win, two-time GPAC player of the year Bailey Morris poured in 34 points, eclipsing 2,000 for her career. The 34 points are the most by an individual in a single game so far at the 2015 national championships.
In their second game of the season, the Bulldogs rolled up a 90-72 win at Jamestown on Nov. 1, 2014. Morris posted 22 points and Becky Mueller followed close behind with 21. Concordia held the Jimmies to 36.2 percent shooting and flustered them into 35 turnovers.
Morris and company know they will need another stellar effort to sending Jamestown packing.
"They're a tough team, very well-coached, great discipline," Morris said. "They have some really good players. We've gotten better since we played them and they've gotten better since they played us. It's going to be a tough game tomorrow. That's what you expect at the national tournament so we'll be ready to go."
Morris and fellow first-team all-GPAC performer Tracy Peitz dominated on Friday, but Olson believes his team can sharpen up some key areas for Saturday afternoon's tilt.
"We lost shooters at times. When 44 (College of Saint Mary's Deaundra Young) was out of the game we allowed them to attack the basket and get to the free throw line," Olson said. "Our miscues let stay around and chip back into the game. We have to be a little bit sharper tomorrow."
Jamestown has fallen victim to four GPAC squads this season: Briar Cliff, Concordia, Dakota Wesleyan and Morningside. Concordia's only two losses came to Morningside during the regular season.
The Bulldogs are now 20-13 all-time at the national tournament. Olson improved to 9-6 in his seven appearances, breaking Todd Voss' former program coaching record of eight national tournament wins.