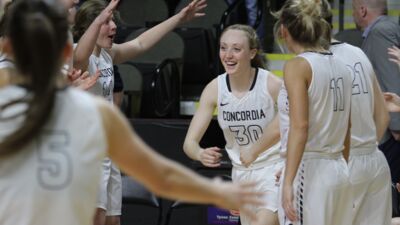 Following practice on Sunday (March 10) at the Tyson Events Center, senior Quinn Wragge sat down to reflect upon her four-year journey as a member of the Concordia University women's basketball program.
As a senior in this environment, every game could be your last game. How does that impact the way you approach each game?
The main thing is that it's so much more meaningful. I want to take the time to walk around and enjoy it and remember these moments and really cherish it. In the second round (versus Cardinal Stritch) we were really close and I was thinking, 'I don't want this to end right now.' I want to keep going. It heightens those emotions. It makes me really competitive and want to keep going.
Only a handful of teams have the opportunity to still be playing at this point in the season. How do you try to soak this up and not take it for granted when it's the third year in a row reaching the national semifinals?
When you get on the court in this atmosphere, it's crazy. You have to take a deep breath and look around. I'm so appreciative of this team and this program to be in this position for the last three years. I try to take time in the locker room with our devotions and our team and try to enjoy those moments without getting too far ahead of myself.
What's it like being the only senior on the team in this situation when most teams have multiple seniors going through it together?
It is different. They're all thinking they're going to be back here next year. I'm the only one going through that experience as a senior, but it's been good. I love this team so much and I love the girls I'm surrounded by. Sometimes I feel like they give me a little too much attention because they're like, 'Oh my gosh, you're leaving.' I'm thankful for it. I'm not the only leader on this team. There are so many girls who have been put in positions to step up. That's been a cool part of it.
It means a lot to be in the top five of this program's all-time scoring list. How do you put that into words what it means to you to be in that top five?
This season I haven't really been thinking about that a lot. Then I saw the names of the other four girls that are up there. I've heard about those girls and I've seen them in the Hall of Fame. I've seen how good of players they were. That was a really cool moment for me. I've looked up to those people. It's kind of surreal to see my name up there with them.
What was your impression of Concordia during your high school years and how has your experience here matched or perhaps exceeded what you thought it would be like?
I had super high hopes for college and was really excited about it. When I met the team and Coach Olson, I came away feeling like they all really cared about each other. That was the main thing I picked up on. I came here and that has rang true throughout my whole time at Concordia. Everything is a lot bigger than basketball. It's been everything that I wanted. Then from a campus perspective, it's been awesome. I love Concordia and every part of it. I've loved meeting the people and making those relationships. I knew that God was telling me I needed to go here. I'm here for a reason.
This is the third year in a row you have been here in the semifinals. Is there anything you can put your finger on that makes this team unique from the past few you have been part of?
I really do feel like this team is different. I don't know if I have a good word for it. I just really think that this year has been defined by how different it actually has been. This season hasn't been perfect for us by any means. We've ebbed and flowed this season. We've had times where we've been really good and times where we would go back to practice and say we need to start over and get back our focus. We've been able to adapt through everything. We play zone all the time and then we go man the whole game (versus Indiana Tech on Saturday). Just that ability to do whatever it takes to get it done has been unique.
Your shooting technique is also unique. How did that come along for you?
I get a lot of questions about that. I think the main thing that happened was when I was shooting around when I was young. My dad was a basketball coach and of course he was coaching me. I think I was using two hands too much and he was not having that. My way of fixing it and getting out of the gym – because he wouldn't let me leave – was to just take that hand off. From then on it was just a one-handed shot. He liked that better than the two-handed shot.
Your brother Grant has been at Concordia now for a couple years. What influence did you perhaps have on him coming to Concordia and how cool has that been to have him at the same school?
I've loved it. I have bragged on Concordia and love the basketball program. He saw me do that for two years. I think him being around it and coming to the games and everything made him think, 'Yeah, that's what I want to do too.' He had the opportunity to come play. For me it's awesome. I love having him here and knowing that there is someone who is always in your corner. I feel like we never see each other even though we're on the same small campus. We have to kind of seek each other out, but it's been a really special thing for the past two years.
The national semifinal game is coming up Monday night. You've been in plenty of these games now in your career. What is it like as you're getting ready an hour or two hours before tipoff? How do you prepare yourself mentally?
I definitely do get nervous. If I said I didn't I would be lying. It's exciting – it's nervous excitement. I think it's good to have some nerves. It gets you ready. I've always been even-keeled and that calm player. I don't get too high or too low. That's what coach will tell us to be like. When you come off an emotional win or whatever, you have to put those aside and get focused for the next game.
For Coach Olson it's his fifth time taking this program to the semifinals. What have you noticed about him that has made this program continually successful even as the names and the faces change on the roster?
The thing that comes to me right away is that he just expects it. We have expectations that we are a team that should go to the final four. We expect that from ourselves and we hold ourselves to that standard. That's not the only goal that we have. He encourages us to have fun and we work our butts off to get here. We do have that expectation, but we know we have to earn it. The other thing is he loves these big games and it makes us love them too. He's never one to shy away from competition. We know we're going to be playing a good team. He's ready for it and that trickles down. We want that challenge. That's been huge.