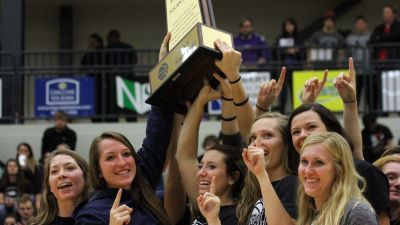 #CIT2018
Hosted by Concordia University, Wisconsin in Mequon, Wis. (R. John Buuck Field House)
CIT links
CU-Wisconsin tournament page
Advance tickets (available until 12 p.m. Jan. 24)
Live webcasts for CIT games
Radio coverage: 104.9 Max Country
Game recaps/interviews
Info for CUNE fans attending CIT
Tickets
$20 advanced weekend pass | $25 weekend pass purchased on site | $15 day pass | children under six are free
2018 Concordia Invitational Tournament Schedule
Friday, Jan. 26
1 p.m. – Nebraska vs. Ann Arbor (women)
3 p.m. – Nebraska vs. Ann Arbor (men)
6 p.m. – Wisconsin vs. Chicago (women)
8 p.m. – Wisconsin vs. Chicago (men)
Saturday, Jan. 27
12 p.m. – Women's consolation game
2 p.m. – Men's consolation game
4 p.m. – Dance/Cheer competition
5:30 p.m. – Women's championship game
7:30 p.m. – Men's championship game
Watch Party at Bottle Rocket
Bottle Rocket Brewing Co. in Seward will host a watch party for all Bulldog games during CIT. The R. Bar of Staplehurst will be serving food on both days. Bottle Rocket Brewing Co. is located at 230 South 5th Street in Seward.
CIT dominance
Since seizing the program's first CIT title in 1983, the Bulldogs have been utterly dominant in this annual event. CUNE's 27 all-time CIT titles are far away the most in the tournament's history, which dates back to 1973 on the women's side. The Bulldogs have come out on top in 26 of the last 31 CITs. Head coach Drew Olson's program owns an eight-game CIT win streak during which each of the victories have come by double-digit margins. At last year's event in Seward, CUNE made it an anticlimactic run by pummeling both CU-Wisconsin, 107-65, and CU-Ann Arbor, 89-62. For the second year in a row, Quinn Wragge took home MVP honors. Wragge became the sixth player in school history to earn multiple CIT MVP awards, joining Bailey Morris (2014, 2015), Whitney Stichka (2006, 2008, 2009), Sarah Harrison (2002, 2004, 2005), Stacey Miller (1997, 1998) and Lynda Beck (1990, 1991).
Undefeated roll continues
The perfect season rolled through last week with the Bulldogs (21-0, 13-0 GPAC) earning lopsided wins over College of Saint Mary, 86-57, and Dordt, 107-68. At 13-0 in conference play, CUNE holds a 2.5-game lead over second-place Northwestern (10-2) atop the GPAC standings. The win at College of Saint Mary clinched the program's 23rd 20-win season all-time. During Olson's 12 seasons, the Bulldogs have reached the 20-win mark 10 times. In the victory over Dordt, senior Dani Hoppes became the third Bulldog this season to eclipse 1,000 career points. Hoppes, who totaled 20 points and six steals versus Dordt, tallied 436 points in two seasons at Midland and has since added 565 points in two seasons at CUNE.
Up next
On paper, this week's biggest threat to the Bulldogs' unblemished record is 11th-ranked Hastings. CUNE and the Broncos (18-3, 9-3 GPAC) will square off inside Lynn Farrell Arena at 6 p.m. CT on Wednesday. With three conference defeats, Hastings likely is in a must-win scenario in regards to its hopes of winning the conference regular-season title. The Broncos are arguably the top defensive team in NAIA Division II, sporting national rankings of first in scoring defense (51.0) and 10th in field goal percentage defense (.354). Sophomore guard Shandra Famer (15.1 ppg) looks like an All-American candidate at the point guard spot.
The women's CIT field
Concordia University, Nebraska
Head coach: Drew Olson, 12th year
Record: 21-0
Conference: Great Plains Athletic Conference (NAIA Division II)
Location: Seward, Nebraska
Top player: It seems to change every game. Quinn Wragge (13.8 ppg) has been the team's most consistent and efficient scorer (.626 field goal percentage) while Philly Lammers (12.7 ppg, 8.6 rpg) stars as one of the nation's most dominant post players. In four career CIT games, Wragge has totaled 71 points while reeling in two CIT MVP awards.
Key stat: It's difficult to find a more impressive small college women's basketball team. On the national leaderboard, CUNE ranks second in 3-point field goals per game (11.4), second in scoring (90.8), third in steals per game (15.6), fifth in scoring margin (+26.2), fifth in turnover margin (+8.7) and 11th in field goal percentage offense (.451) – all while playing a schedule rated as the most difficult in all of the NAIA.
CIT titles: 27 (most recent: 2017)
Concordia University, Ann Arbor
Head coach: Thad Sankey, 5th year
Record: 15-7
Conference: Wolverine-Hoosier Athletic Conference (NAIA Division II)
Location: Ann Arbor, Michigan
Top player: Senior guard Kari Borowiak has been a dependable scoring option throughout her Cardinal career. She's averaging a career high 20.2 points per game this season while distributing 5.9 assists per outing. She enters the week with 1,725 career points.
Key stat: The fortunes of the program have been improving steadily over the past few seasons under CUNE alum Thad Sankey's direction. The Cardinals have gone from 6-24 in 2014-15 to a combined 33-20 over the past two seasons. Led by Borowiak, Sankey looks to have his best team yet.
CIT titles: 2 (most recent: 2013)
Concordia University, Chicago
Head coach: Rusty Rogers, 4th year
Record: 14-2
Conference: Northern Athletics Collegiate Conference (NCAA Division III)
Location: River Forest, Illinois
Top player: Senior guard Taylor Jacobsen can fill it up. She averages 20.4 points per game while shooting 50.6 percent from the floor. She has totaled 30 points on two different occasions this season.
Key stat: The Cougars enter the week riding a school record nine-game winning streak. At 14-2 overall, CUC has nearly matched its win total from last season when it went 15-11. The Cougars have been fairly dominant, winning games, on average, 81.9 to 62.9.
CIT titles: 4 (most recent: 1986)
Concordia University, Wisconsin
Head coach: Stacey Brunner-Jones, 14th year
Record: 12-5
Conference: Northern Athletics Collegiate Conference (NCAA Division III)
Location: Mequon, Wisconsin
Top player: Senior post Audrey Scharmer averages a double-double (13.6 ppg, 10.2 rpg) as a force inside for the Falcons. Not just a low post scorer, Scharmer makes 80.6 percent of her free throw attempts.
Key stat: Should CUNE and CUW meet up on Saturday, it would be a clash of styles. The Falcons prefer to slow the pace. CUW and its opponents average a combined 120.6 points per game. It limits its foes to 56.5 points per contest and 37.3 percent shooting.
CIT titles: 3 (most recent: 2007)