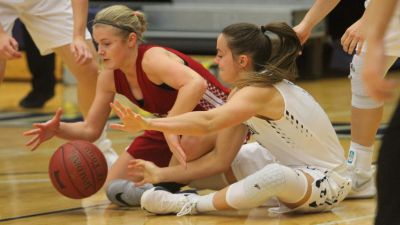 SEWARD, Neb. – A new season and new squad opened up on Friday night (Nov. 3) at the 18th annual Cattle Classic, but the Concordia University women's basketball team was up to its old tricks. The third-ranked Bulldogs hit visiting Viterbo University (Wis.) hard with their pressure defense and raced out to an 18-0 advantage in a contest that was put away quickly. The defending GPAC champions won in a boat race, 101-43.
The season opener did nothing to damper the huge expectations that greet the program in its 12th season being led by head coach Drew Olson. At least for 40 minutes on Friday, Concordia looked like a team deserving of the top spot in the conference's preseason poll.
"I was looking for us to play really hard and continue to focus on our defensive pressure," Olson said. "I thought we did a great job of that. We did kind of speed them up more than what they wanted to and caused a lot of turnovers. There are some little things that we can work on, but overall it was really good."
Seven-and-a-half minutes elapsed before Viterbo even scored its first points of the game. By that point it was essentially over. Like a lot of nonconference visitors, the V-Hawks were unaccustomed to the relentless zone press featured by the Bulldogs. The result was 37 Viterbo turnovers and many races to the other end for transition buckets.
Friday also offered a first look at Waverly High School product Taylor Cockerill, who was much too quick for any Viterbo guards to hang with. Cockerill went for 14 of her game high 20 points in the first half while showing the ability to score off the dribble and to drain outside jumpers. She and sophomore MacKenzie Helman (five points, five assists, two steals) will make for a lethal duo at the point guard spot.
Concordia's defensive pressure provides such margin for error that it shot 39.6 percent (38-for-96) from the floor and still made it look like the Golden State Warriors were playing against their local YMCA. All 12 Bulldogs who suited up got a chance to contribute. Returning All-American Philly Lammers notched six points, 11 rebounds and five steals. Off the bench, Sidney Pollman lit it up with five 3-point field goals on her way to 17 points.
"Coach Olson always says, 'Shooters shoot,'" Pollman said. "Brenleigh (Daum) always tells us, 'Just keep chucking.' If you're not shooting well, you just have to keep chucking so I just kept chucking."
The list goes on. No Bulldog got more than 19 minutes of playing time, allowing for plenty of balance. Junior Quinn Wragge topped the starting five with 13 points. Off the bench, sophomore Colby Duvel (eight points, 10 rebounds) just missed a double-double. Collectively, Concordia picked up 24 steals and went 17-for-50 from 3-point range. This was another move towards developing depth behind a much accomplished group of starters. Said Olson, "I think it's a good step for them growing up a little."
The V-Hawks (0-3) shot just 28.1 percent from the floor. They were paced by the seven points and 10 rebounds by top player Alyssa Nilssen.
A tough test awaits at 3 p.m. CT on Saturday when the Bulldogs will conclude the Cattle Classic by hosting fifth-ranked University of St. Francis (Ill.) in a showdown between top-five teams that both reached the 2017 national semifinals. In Friday's action, the Fighting Saints were upset by Doane, 63-61. St. Francis is coached by Steve Brooks, who previously won two national championships leading the Indiana Wesleyan University women's basketball program.