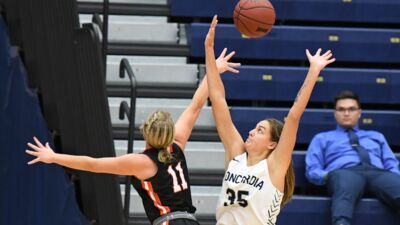 SEWARD, Neb. – An improved Doane team and a lethargic first half made for a survival Saturday for the 22nd-ranked Concordia University Women's Basketball team. Eventually the Bulldogs exerted some degree of control of overtime while knocking off the rust from a layoff of 12 days without a game. Concordia held the Tigers to a 31.3 shooting percentage and exhaled with a 76-70 New Year's Day victory inside Friedrich Arena.
Head Coach Drew Olson's squad has won each of its last four outings within conference play and has moved to 9-6 overall (6-3 GPAC). The latest wasn't a thing of beauty, but it was a win the Bulldogs had to have at home.
"I thought our team showed a lot of heart and toughness – just found a way to win," Olson said. "That's what really matters. When you're not at your best and you don't have everyone, you can still find a way to win. I think that's a great sign. First game back (from break), we're going to be a little rusty. Doane played us really tough and hit some big shots when they needed it."
With star guard Taysha Rushton sidelined, Sadie Powell helped save the bacon. She struck for career highs in points (21) and rebounds (10) while supplying production at those moments when it felt like pulling teeth. Credit to Doane for making Concordia sweat, especially considering the lopsided nature of recent series meetings. A layup by the Tigers' Mak Hatcliff forced the overtime session after the Bulldogs had led by eight points (55-47) in the fourth quarter.
Finally, in the closing minute of overtime, the Bulldogs put Doane (8-8, 2-6 GPAC) away thanks to a series of defensive stops and clutch free shooting. Rylee Pauli, Kendal Brigham and Bailey Conrad each went 2-for-2 from the charity stripe over the final 66 seconds. Meanwhile, Powell notched six of her 21 points in overtime. She was also a major factor in the OT win over then 12th-ranked Northwestern.
What fueled her on Saturday? Said Powell, "My mindset and determination. With any team we have to be ready to go. I was just being aggressive and taking it to the hole."
There wasn't a lot of flow on a day when Concordia was whistled for 22 fouls. Free throw shooting allowed Doane to hang tight from wire-to-wire. The Tigers made 23-of-28 shots from the foul line and got a game high 24 points from impressive freshman Mak Hatcliff, the GPAC's leading scorer. Hatcliff and company made it a challenge for the Bulldogs to put the ball in the bucket. The Tigers even supplied regular full-court pressure.
Concordia finished at 37.7 percent (26-for-69) from the floor. Double figure scorers included Taylor Farrell (11), Conrad (10) and Pauli (10). Conrad added six assists. As the starter in place of Rushton, Mackenzie Toomey used her nonstop motor to fill the stat sheet with nine points, nine rebounds and four steals. Off the bench, Brigham chipped in with nine points. The Bulldogs trailed by as many as seven points in the first half.
"I thought Toomey played great," Olson said. "She played really hard. We have to keep her out of foul trouble, but she made a big impact. Bailey Conrad really stepped up and looked to score a little bit more. A lot of people stepped up. Willy (Farrell) hit some shots, Kendal hit some shots and Sadie was awesome."
The Bulldogs will return to action on Wednesday for a trip to Yankton, S.D., and a 6 p.m. CT matchup with Mount Marty (2-14, 1-8 GPAC). In this season's first meeting, Concordia routed the Lancers, 88-53, in Seward. The Bulldogs have won each of the past 11 get-togethers with Mount Marty.