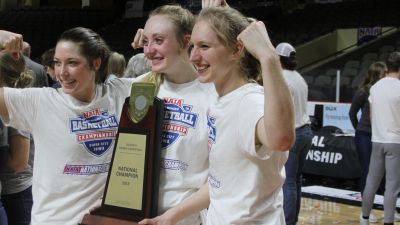 Two days prior to the most anticipated game of the 2019-20 regular season, Philly Lammers hoists Grace Barry onto her back so that the star point guard can reach up and touch the rim (well, almost). This occurrence takes place just before an afternoon practice on a mid-February day inside Walz Arena. At this point, only a few games remain in the regular-season career of Lammers – and what a career it's been.
During a matter of a few shorts minutes on this particular day, Lammers will go from playfully messing around with teammates to recording a quick TV interview to locking back in on the task at hand. Hastings is coming up and the Bulldogs must win this game if they are going to extend their run as GPAC champions.
Said Philly a day before that matchup, "Losing is not the norm and it's not something we accept. If that does happen, we always try to fight back even harder."
The image of Philly holding Grace up on her shoulders provides a bit of symbolism. Of course the Millard West High School alum is physically strong. It's one of the signatures of her game. She's also capable of putting a team on her back, like she did late in the fourth quarter in the Feb. 12 win over then second-ranked Hastings and as she did in the national semifinals versus Northwestern a year ago. There are many other examples.
Fiercely competitive, humble, mild-mannered and intrinsically motivated to pursue perfection. It doesn't matter what it is, Philly wants to be great at it – and she usually is. Her recognition as the NAIA Liston Award winner for women's basketball confirms her placement among the greatest student-athletes in the entire country. On the court, she's nearing 2,000 career points and this week reached 1,000 career rebounds. She's also on the cusp of achieving status as a four-time NAIA All-American.
"I haven't spent much time dwelling on that because there's still a task at hand," Lammers said. "There are still things to be accomplished and goals to be met. Reflection can happen after the season."
Lammers' pursuit of the program all-time scoring record (currently 2,054 by Bailey Morris) figures to become a storyline as the season motors into the postseason. For now, it's worth taking a look back at how Philly got to this point and how she put herself in the conversation as perhaps the most accomplished player to ever lace 'em up for Concordia women's basketball.
Philly's first real exposure to Concordia and head coach Drew Olson's program came during the summer after her junior year of high school. Lammers and her traveling team the Nebraska Lasers paid a visit to Walz Arena for scrimmages. At the time, Philly thought nothing more of it than a chance to play basketball on that singular day. Olson couldn't help but take notice of her.
"I know almost all of the Lasers players because we had recruited a bunch of them," Olson remembers. "I saw this strong, physical and incredible post player. I was just like, 'Who is that?' Even though she was at Millard West, she had only been there for a year so I hadn't seen her play. She wasn't getting a ton of looks (from colleges) and she didn't have 'great' numbers her first year at Millard West so I didn't know anything about her. When I saw her I just knew she was going to be really, really good."
And so the pursuit of Lammers was on. These days, there is a lot about Bulldog women's basketball that sells itself. She became a buyer.
Says Lammers, "One thing that really drew me to Concordia was the effort that Coach Olson and the rest of the staff put into the recruitment process. I could really tell that I was somebody he really wanted here. He made me feel like I was wanted and that I would be a big part of the team. That was something that attracted me here. Other than that, the girls I met when I was playing open gym were always super nice and very helpful."
The numbers Lammers has produced have been remarkably similar over the balance of her four years with the Bulldogs. She immediately stepped into a starring role as a freshman and garnered first team All-GPAC honors. Her steadiness and consistency has been a critical part of the team's sparking 132-10 record over the past four years. She's even-keeled, but also can be feisty and isn't afraid to speak up in the huddle when she has an opinion on what is or is not working.
There's an appreciation between star player and coach that figures to live on forever. Says Lammers of Olson, "He's been a huge part of it obviously, from the very beginning, before I even got here. He's there to talk me through rough times and those down times when you're in season. He's there to challenge me and to push me to my limits. He's been amazing."
The type of success Philly has enjoyed has made her confidence soar since her first collegiate season in 2016-17. She says she's understood her role better and better as time has gone on. When something like foul trouble or an off shooting game come about, she knows how to handle it. Based on her track record, it won't be long before she bounces back.
Olson has seen growth in how she handles the few instances when things don't go her way – emphasis on the word "few." Philly entered Concordia ready to be an immediate difference maker. She was arguably the GPAC's most dominant player, even as a freshman.
"With most freshmen it's not for sure, it's not a guarantee," Olson said. "Looking through the past few years, I knew Quinn (Wragge) was going to be a stud. I knew Philly was. I had a good feeling TC (Taylor Cockerill) was going to be. Then there are other players like Bailey Morris. I thought she could be good, but I didn't know she would be that good. With Philly I thought she was going to be big time."
Olson's evaluation of Philly was spot on. This 2019-20 season, Barry and Lammers form perhaps the best point guard-post duo there is at this level. The combo carried the offensive load in last week's memorable win over Hastings. Lammers recorded a double-double with 19 points and 11 rebounds in just another night at the office for her.
Says Barry, "It's awesome to play with a post as skilled and athletic as Philly. By having such as strong post presence, our team is able to succeed at an even higher level. It allows our team to dominate both offensively and defensively."
You just can't have a Philly story without mentioning it. The All-American will never live down a moment that happened at the 2017 national tournament. With her teammates giggling around her in the hotel room in Sioux City that evening, Philly had heard enough. "Can you guys be a little quieter? I have a game tomorrow!"
It was another illustration of the focus Lammers puts into being great. Even the freshman version of Philly understood the importance of a quality night of rest. She puts a lot of thought into everything she does.
The things she thinks about are more aligned with team goals. As of this very moment, there is still more to Philly's narrative as a Bulldog. She may end up as the school's all-time leading scorer but even if she comes up short of that, she will always have much to be proud of. She's been the program's top player over a four-year period that has signaled an unprecedented run of team success.
Says Philly, "Now we've set a standard that everyone is trying to match. That's a legacy that we would love to be able to leave behind."
Thankfully, Philly possesses the strength to carry such a weighty legacy upon her shoulders. She may act like it's nothing, but we know better than that.