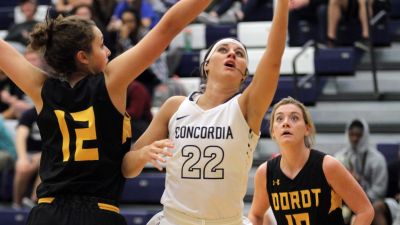 SIOUX CITY, Iowa – This time out on the road, the second-ranked Concordia University women's basketball team easily avoided the upset push from a combatting home underdog. A hot start by senior Brenleigh Daum and another smothering defensive effort spurred the Bulldogs to a 106-67 win at Briar Cliff on Wednesday night (Feb. 7).
Twelfth-year head coach Drew Olson's squad is on a mission to wrap up a second GPAC regular-season title in a row. At 26-1 overall and 16-1 in conference play, Concordia needs one more win to clinch at least a share of the GPAC title and two more to lock up an outright championship.
"I couldn't stress it enough tonight. The more we looked for steals and were aggressive, we were the better basketball team," Olson said. "When we sit back on our heels and get a little passive, that's when we're not very good. Our kids realized it was OK to gamble and miss. Hopefully our kids continue to get better at that."
The Bulldogs unleashed their full arsenal at the Newman Flanagan Center. Daum (5-for-7 from 3-point range) and Mary Janovich (4-for-6 from 3-point range) put on an outside shooting display. When things are clicking like they were on Wednesday, the opposition has little chance of keeping up. Concordia shot 47.9 percent from the floor, 45.5 percent from beyond the arc and 91.3 percent from the free throw line.
Just when the Chargers (9-18, 6-11 GPAC) had sprung to life in the third quarter, the Bulldogs went on a soul crushing 15-0 run that turned a 14-point game into an insurmountable 74-45 advantage. Janovich buried a pair of treys during the splurge that put the contest out of reach. The lead kept growing despite 22 Bulldog giveaways. It just didn't matter. Concordia hammered Briar Cliff in points off turnovers, 42-19.
It seems as though Daum has a beef with the Chargers. Whatever the case, Daum has poked holes all over their zone defense. She piled up a game high 21 points on Wednesday after going off for a career high 26 points in the 95-57 win over Briar Cliff on Jan. 10. She was one of six Bulldogs to knock down at least one trey on the evening.
"Hopefully she thinks everybody is Briar Cliff from here on out," Olson joked in a postgame radio interview. "She played fantastic. With her it's about that preparation going into games, getting in the extra shots. Her practice yesterday, defensively, was phenomenal. It came through again today. When she slows herself down, she can make a ton of shots."
Daum paced a squad that had five players reach double figures in scoring, including Quinn Wragge (15 points, four rebounds), Janovich (14 points in only 14 minutes), Taylor Cockerill (13 points, 6-for-6 foul shooting) and Philly Lammers (10 points, nine rebounds, two steals). Fourteen Concordia players found their way into the scoring column.
The Chargers played shorthanded with their second and third leading scorers sidelined in the form of Logan Ehlers (10.8 ppg) and Taylor Wagner (8.7 ppg). Without them, Briar Cliff shot 41.0 percent (25-for-61) from the floor and committed 30 turnovers. Off the bench, Alyssa Carley topped the team with 13 points. Taylor Vasa blocked three shots.
The Bulldogs will head back to Sioux City, on Saturday for a matchup with No. 14 Morningside (18-9, 11-6 GPAC). Tipoff from the Rosen Verdoorn Sports Center is set for 2 p.m. CT. The two sides also met inside Walz Arena on Jan. 6 with the result being a 95-64 Concordia win. The Mustangs slipped to 9-3 at home this season after Wednesday's 92-77 loss to 10th-ranked Dakota Wesleyan.