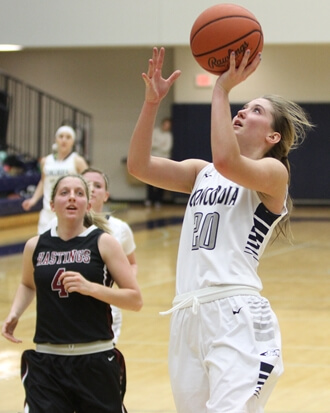 Outside shooting lifts Doane College to 87-72 win over Concordia
Doane College hit 13 3-pointers and upset Concordia 87-72 on Wednesday evening in Crete. The Tigers improved to 2-7 overall and 1-1 in GPAC play with the victory. Concordia slipped to 5-4 overall and 1-2 in GPAC play with the loss.
The host Tigers jumped out to a big lead in the first half. Doane hit several 3-pointers and took advantage of multiple Concordia turnovers to start the game. The Tigers led by as many as 21 in the opening 20 minutes. Concordia used a 7-0 run to pull within 14 at 38-24, but Doane quickly built the lead back to 19. The Bulldogs closed the first half on a 5-0 run, and Doane settled for a 49-35 halftime advantage.
Katie Rich (Tilden, Neb.) scored 14 points, and Kristin Miller (Jefferson City, Mo.) added 13 for the Bulldogs in the first half. The Bulldogs shot 47 percent from the floor but did not connect on any 3-point field goals in the opening half. Doane went 53 percent from the field and hit seven 3-pointers in the first 20 minutes.
Doane again extended the lead early in the second half. The Tigers hit four more 3-pointers early in the half, and Doane reclaimed a 20-point lead at 58-38. Concordia would get no closer than 14 the rest of the way, and the Tigers pulled away for the win.
Rich and Miller each finished with 20 points on the night to lead Concordia offensively. Rich was 5-of-11 from the field and 10-of-14 at the foul line. Miller was 7-of-12 from the field and 6-of-8 at the foul line. Miller also added a game-high nine rebounds. Treva Nutter (Thedford, Neb.) also reached double figures with 14 points for the Bulldogs.
Cheryl Braithwait had a huge night for Doane in the win. Braithwait scored a game-high 25 points and was 9-of-13 from the field in the game. She hit 4-of-6 from long range and was 3-of-4 at the foul line. Kalen Carlson and Kristine Ortmeier added 13 and 12 points, respectively, for the Tigers in the win.
Concordia continues GPAC play on Saturday with a home contest against Dakota Wesleyan. Tip is scheduled for 2 pm at the Health, Human Performance and Athletic Center.