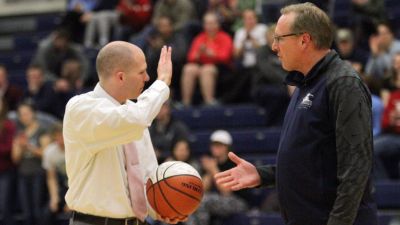 Back on July 11, 2006, Concordia University named Drew Olson as head coach of its women's basketball program at the youthful age of 25. Said then athletic director and men's basketball coach Grant Schmidt at the time, "We want a winner. As a player, he certainly was. The only thing he is lacking is experience. We're willing to look beyond that because we feel so strong about his other qualities."
Schmidt proved spot on. Less than 12 years later, Olson claimed the 300th win of his career. He's won more than 76 percent of his games, guided the program to nine national tournament berths, 14 national tournament wins, three national semifinal appearances and six GPAC championships (three tournament, three regular season). According to those who have played for him, coached him or worked for or alongside him, his contributions go far beyond the hundreds of wins.
President Brian Friedrich described Olson as faith-filled, humble, invested, intelligent, intense, fun and purposeful. There are many more words to describe him from some of the people who have been impacted personally and professionally by him (read below).
Significant wins in Olson's career
Win No. 1: 56-51 at York on 11/2/06
First CIT title: def. CU-Ann Arbor, 75-55, on 1/27/08
First national tournament win: def. Union (Ky.), 84-65, on 3/13/08
100th win: def. Bethany (Kan.), 72-47, on 12/31/10
Clinched first GPAC title: def. Hastings, 70-54, on 2/14/12
Won first GPAC tournament title: def. Morningside, 73-66, on 2/28/12
Advanced to first national semifinal: def. Grand View (Iowa), 80-68, on 3/10/12
200th win: def. Doane, 62-54, on 12/3/14
Won second GPAC tournament title: def. Morningside, 80-72, on 3/3/15
Program's first national title game appearance: def. Briar Cliff, 72-62, on 3/16/15
Clinched GPAC regular-season title: def. Briar Cliff, 90-70, on 2/11/17
Third GPAC postseason title: def. Dakota Wesleyan, 78-77 (OT), on 2/28/17
Third national semifinal appearance: def. Jamestown (N.D), 74-59, on 3/11/17
300th win: def. Briar Cliff, 95-57, on 1/10/18
Thoughts on Coach Olson ...
BRIAN FRIEDRICH, Concordia University President
Faith-filled Christian, humble, invested, intelligent, intense, fun, purposeful!
There are many words that describe Drew Olson and each of them distinguishes another layer of the amazing son, father, friend, coach and human being he is. In 2006, when then athletic director Grant Schmidt recommended that we hire Drew as the next head coach of the Bulldogs, the decision was a no-brainer, that is, unless we wanted a head coach with extensive experience and credentials as a collegiate women's basketball coach. Drew had neither. However, he had what mattered most—ability, vision, passion, faith in Jesus and a desire to be excellent in every aspect of his service to Concordia and our students. He has returned Concordia's investment in him at a greater and more consistent rate than the Dow Jones average during the last ten years.
It has been a thrill to watch Drew grow and develop as a student-athlete when he majored in math and played basketball and tennis for the Bulldogs and now as the head coach of one of the finest women's basketball programs in the NAIA and beyond. I have always been proud of and thankful for Drew whether it was watching him visit with his mother, Olinda, after games or encouraging our son, Phil, when he was in grade school and serving as a Bulldog ball boy or coaching the Bulldogs to the 2015 NAIA II championship game. However, my proudest moment was in 2016 when Drew spoke to the Seward Rotary Club. The Bulldogs were in the midst of a long winning streak. I was confident he was going to spend most of his time talking about the team's record and extensive successes. He surprised me and spent most of the time talking about values, his values and his team's values. In rank order, he talked about the values of "faith in God, importance of family, priority of academics and then basketball and everything else." Drew's teams, as Drew himself, are a reflection of his values and the way in which, game after game, season after season he lives them out.
Drew has created a system, developed a staff and put in place a structure that allows his teams to succeed year after year at the highest level. His win-loss record is impressive. Winning 300 games in 12 years is an amazing accomplishment. However, both pale in comparison to the lifelong impact he has had upon the hundreds of players who have played for him who will, in turn, affect their families and communities for the future.
Drew is not caught up in the hype of headlines or the thrill of winning. After a game, win or lose, he can be found with his wife M'Leigh and their children, being husband and dad—where his record is even more impressive. It is my hope and prayer that I will someday have the opportunity to congratulate Coach Olson on his 1,000th victory as head coach of the Bulldogs. At the rate he is going, it likely will be sooner rather than later.
DEVIN SMITH, Concordia University Director of Athletics
The Concordia women's basketball program has excelled mightily under the direction of Drew Olson. Each year, we continue to see this championship program being refined by your personal value system that perfectly aligns with Bulldogs Athletics: Family, Christ-centered, Excellence, Teamwork and Passion. It is easily noticed that you genuinely care about every single student-athlete as if they were one of your own children. You have an incredible way of personally connecting with our student-athletes with your deliberate instructional style, yet inspiring a free-flowing style of play that is contagiously fun to be a part of and watch. Drew, you are extremely self-driven, obviously enjoy your craft and successfully utilize this role to impact the lives of students. We are so proud of you, your current and former staff members and all the Bulldogs who have helped us to get to this point over the years. Athletic Leadership sees that under your guidance the Concordia Nebraska women's basketball program consistently strives for excellence within the finest of details. Congratulations Drew and we look forward to continuing to serve alongside you!

ANGELA MULLER, Concordia University Associate AD
I once read that successful coaches all possess three major qualities – character, commitment and communication. Drew possesses all of these in addition to demonstrating so much more with his leadership. His ability to learn and develop, the respect and genuine care he displays for others and his consistency with fundamentals have elevated him to an elite level in his personal and professional life. Since meeting Drew through his interview process at CUNE, I am refreshed by his ability to listen and show others their value. His team culture is that of family and his clear expectations are unwavering. We have seen Drew make decisions of all magnitudes, and he does so by staying true to his personal values and family philosophy. We are blessed by having Drew in the Bulldog Family and we truly look forward to watching the women's basketball team each and every time they take the floor.

GRANT SCHMIDT, former Concordia University men's basketball coach (1989-2012)
Drew is a blessed and special man!
I made a mistake not recruiting him out of high school because I was convinced he was going to follow his brother's example and go to Doane or go to Hastings. So I focused on other recruits. Little did I know that God had other plans and wanted Drew to be a Bulldog!
Once he transferred from Hastings it was clear that he was one of the most intelligent, insightful and passionate players that I had the privilege of coaching. He didn't always agree with me, but he was faithful and supportive with his words and actions.
Little did he know but he made it very clear to me, as a player, that he had all the qualities of an excellent coach. All I needed was an opportunity to hire him. His faith, his commitment and his passion all outweigh his great ability as a leader and a coach. This was an easy decision for me regardless how old or experienced he was. I knew he was right for Concordia! The rest is history.
BAILEY MORRIS, 2014-15 National Player of the Year and 2015 graduate
Coach, congrats on 300 wins! I feel honored to have been a part of so many of them during my time at Concordia and can't wait to watch you get 300 more.
Coach Olson has had an incredible impact on my life, probably more than he even realizes. As a player, he set goals for me that I would've never set for myself and then gave me everything I needed to reach them. He saw the best in me and got the best out of me and I won't ever be able to thank him enough for that. Everything I earned as a player is a direct result of his belief in me and his willingness to let me push the boundaries of my game. Now that I'm a coach, he's my go-to. If I ever have questions, doubts or need advice, he's the first person I reach out to. The coolest part is that he doesn't care that I'm coaching at another school in the conference. He helps me because he wants to see me succeed as a coach, and that means a lot to me. I'd run through a wall for that man.
One of his best attributes as a coach is the way he builds the culture at Concordia and his ability to get his players to buy in. Every player in that program plays for a purpose higher than basketball and when they step on the court, it shows. His teams are hard to beat because he preaches team over self and his players buy in to that. He's clearly a great coach, but he'll have so much more success because of who is as a person. Girls want to play for him!
WHITNEY (STICHKA) DABERKOW, played at Concordia from 2004-09
Coach Olson is an excellent coach because of his dedication, hard work and ability to produce winning seasons year after year. His former players look back on their careers so fondly because of the success he helped us achieve and the fun we had playing for him. He has created a family mentality around the basketball program, which is why so many alumni are proud to call themselves Bulldogs today. I wish him the best for this season and look forward to many more wins!
KRISTEN (CONAHAN) VOGT, played at Concordia from 2010-14
Wow, 300 wins. That's unbelievable. Coach Olson always inspired me because of his competitive drive. His will to win always made me want to improve and to put in the extra time in the gym to be the best I could be for my team. No matter your role on the team, he expects 100 percent from you and to put the team first. That's why Bulldog basketball is a successful program. It takes the whole team to do their part and Coach Olson knows how to get the best out of each person. That's something I have always admired about him – how team oriented he is. Congrats, Coach O! Keep it up!!

MARY JANOVICH, current senior on Concordia women's basketball team
Congrats Coach – what an achievement this is! I am blessed beyond belief to have been/still be a part of this journey with you.
I have always appreciated the persistence he has put into this program and especially me as a person. I know I was not the most easy recruit (or the most fun), but he stuck with me for some reason and I'm sure glad he did. I know we don't always agree and occasionally butt heads, but he still supports and encourages me every single day to be the best that I can be, on and off the court. What I admire most about Coach Olson is how he molds each team, each year, differently. He has the same values every single year, but takes the time to get to know us as people, not just players, and takes those values to another level to build team chemistry – and it's incredible how he does it. He makes us want to play for so much more than just basketball, and it takes a special person to do so. The success he has had over the years is more than deserved, and I cannot wait to see what the rest of this season has in store for all of us. Congrats again, Coach!