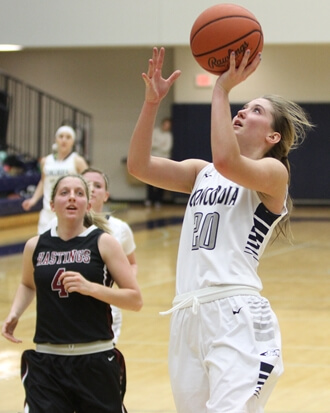 Olson leaps to top of Concordia women's basketball coaching wins list
SEWARD, Neb. – With Wednesday's 63-59 win at Mount Marty, Drew Olson surpassed Carl Everts as the winningest coach in the history of Concordia women's basketball. Now in his ninth season at the helm of the program, Olson owns an overall record of 196-75 (.723). The 2012 GPAC coach of the year has guided the Bulldogs to two regular-season conference championships, a GPAC tournament title, six national tournament appearances and a trip to the national semifinals in 2012.
In his first eight years, Olson has averaged nearly 24 wins per season while leading Concordia to five years of 25 or more victories. His 2011-12 squad went 34-3 overall, won GPAC regular season and tournament titles and went to the final four of the national tournament. During Olson's tenure, the Bulldogs have risen as high as No. 1 in the national poll and have placed in the final top 10 four times. The program has an active streak of 40-straight top-25 appearances.
"I'm very blessed to have had so many great players and so many fun kids to coach," Olson said after Wednesday night's victory.
In terms of winning percentage, Olson ranks second only to Todd Voss, who went 108-32 over four seasons as head coach from 2002-06. Olson is the only Bulldog women's basketball coach to reach 100 GPAC victories. He currently sports a conference record of 105-47.
A 2003 Concordia graduate, Olson starred for three seasons while playing point guard for head coach Grant Schmidt. The Omaha native piled up 1,123 points and powered the Bulldogs to two national tournament appearances. Olson went on to serve three seasons as an assistant men's basketball coach at Bellevue University before taking over the Concordia's women's basketball program.
Schmidt remains Concordia's winningest basketball coach when factoring in both the men's and women's programs. Schmidt went 445-276 (.617) over 23 years as Bulldog head men's basketball coach.
Concordia women's basketball winningest coaches
1. Drew Olson (2006-- ) – 196-75 (.723)
2. Carl Everts (1981-92) – 195-127 (.606)
3. Mark Lemke (1992-98) – 119-63 (.654)
4. Todd Voss (2002-06) – 108-32 (.771)
5. Micah Parker (1998-02) – 80-41 (.661)