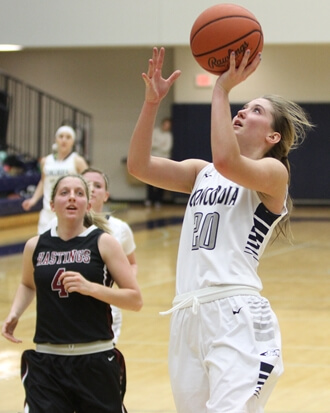 Olson becomes program's winningest coach as Bulldogs grind out road victory
By Taylor Mueller, Athletic Communications Assistant
YANKTON, S.D. – Even if it was not always pretty, it was a special night for ninth-year head coach Drew Olson.
After a rough first half start, the Bulldogs were able to pull together and garner not only their fifth win of the season, but Olson's 196th career victory as the Concordia head coach. With the win, Olson passed Carl Everts to become the winningest Concordia women's basketball coach in school history. Concordia's 63-59 decision moved the team to 5-0, 1-0 GPAC, as they notched their seventh-straight victory over Mount Marty.
The victory was certainly not a given from the opening tip, however, as the Bulldogs found themselves in a slugfest with the host Lancers.
Both teams struggled to find the bottom of the net early, as Concordia managed just a 21-percent field goal percentage. After missing the previous two games due to injury, it was sophomore Becky Mueller who provided much of the heavy lifting early on, scoring seven points to equate for nearly a third of the team's first half points. All-Americans and Bailey Morris and Tracy Peitz combined for just one point in the first half, as the Bulldogs headed into the locker room clinging to a 22-19 lead.
"We started very stressed and tense for some reason," Olson said. "There wasn't a lot of flow to the game. Once we settled down and played more loose, especially in the second half, it started to get back closer to normal. It still wasn't great basketball, but we'll take the road win."
The Lancers were not going to spoil Olson's record setting day if Morris had anything to say about it.
Morris did not stay quiet for long, scoring on a layup to answer an early Mount Marty bucket as the second half began. The basket began a 15-point second half performance and would be all she needed to get back in the zone as she knocked in consecutive 3-point buckets with 17:18 left to play.
"Bailey was the difference," Olson said. "Every time Mount Marty would get close, she made a big play. She would hit a three or make a drive."
Peitz was finally able to get on the board as well when she dropped her first bucket with 12:59 remaining to put the Bulldogs up 42-39.
Concordia gradually began to extend its lead, increasing it by as much as 12 points in the second half. A late Mount Marty run made things interesting down the home stretch, but it was not enough as Concordia stifled any hopes of a comeback.
"Defensively, we did a great job," Olson said. "We were getting them to play out of rhythm. Mount Marty's great at the dribble drive and we were not allowing them in the lane. It wasn't typical Concordia pressure causing turnovers, but we were happy to get them out of rhythm."
Morris led all scorers in the game with 16 total points to go along with a team high seven assists. However, it wasn't all offense for the 5-foot-4 reigning GPAC player of the year as she remained active on the defensive end of the court by hauling in six boards, collecting two blocks and swiping three steals. Mueller pitched in with 13 points while Peitz made her defensive presence known with two blocks. Senior Kelsey Hizer led the team with seven rebounds.
As Olson headed to the locker room after the game, he was met by an ecstatic women's basketball team who greeted him with congratulatory signs and a refreshing Gatorade bottle shower.
"I'm very blessed to have had so many great players and so many fun kids to coach," Olson said.
Olson's Bulldogs now prepare for a showdown as they host second-ranked Morningside on Saturday at 2 p.m.