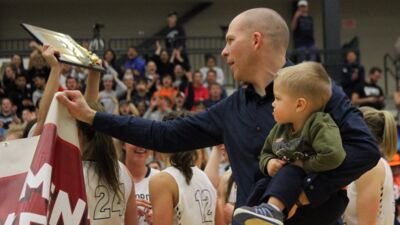 Currently in his 15th season as Concordia University Women's Basketball Head Coach, Drew Olson claimed the 400th win of his coaching career on Wednesday (Feb. 3), as the Bulldogs defeated Dordt. According to NAIA records, Olson entered the 2020-21 season with the 14th most victories among active NAIA women's basketball coaches. Without a doubt, his impact has gone beyond the on-court results. Current and former student-athletes reflected on what has made Olson successful and a pillar of athletics at Concordia (see commentary below).
Some of Olson's notable accomplishments, in addition to the 400 wins, include:
· 2019 NAIA Division II National Champions
· 12 GPAC Championships (six regular season; six postseason)
· 12 national tournament appearances (24 national tournament wins)
· Five national semifinal appearances (two national runner-up claims)
· Has coached players to 16 All-America awards and one National Player of the Year honor
· 2019 NAIA Phyllis Holmes National Coach of the Year
· 2018 United States Marine Corps/WBCA NAIA National Coach of the Year
· Three-time GPAC Coach of the Year; four-time WBCA regional Coach of the Year
A select number of Concordia Bulldogs who were instrumental in pushing Olson from 300 to 400 wins were asked for their thoughts on their head coach and the impact he had on their basketball, professional and personal lives.
Grace Barry | Concordia career: 2018-20
The lessons I have learned from Coach Olson are endless. He taught me both the power of meticulous detail on the fundamentals and the power of being creative within the game. He created a culture where athletes could enjoy playing basketball while also cultivating a competitive and driven environment. In addition, Coach Olson leads by example and instills in his players to keep one's priorities straight: God, Family, School, Basketball and then everything else. One of the greatest aspects I took away from playing for Coach Olson was when we had a tough practice or a bad game he would always say "Go home, move on, and come back ready to work tomorrow." I believe when Coach Olson said that it was more than just a lesson for basketball but a life lesson. I believe what makes Coach Olson a great coach is not only his understanding of the game of basketball but his willingness to teach his players about life.
Coach Olson has been incredibly successful because of his will and commitment to win. When it comes down to it, he is going to do whatever it takes to win, whether that be having grueling practices where he is getting after everyone, doing individual workouts with every player, having the tough but necessary conversations, or thinking completely outside the box. In addition, his ability and willingness to listen to his players and work with his players is uncanny. I can remember numerous different conversations Coach Olson and I had that were tough to have but were necessary to help our team develop into a national championship level team. Overall, he has an uncommon commitment to challenge and aid his players to become the best players they can possibly be. He does all of this while also demonstrating a genuine love for his team and his players. One day I hope to be half the basketball coach he is.
Taylor Cockerill | Concordia career: 2017-present
When being recruited to play basketball at Concordia, Coach Olson's understanding and passion for the game was apparent. He has always been easy to talk with and he truly cares about each of his players. Not only is he an amazing coach, but he is an even better person off the floor. The countless card games, competitive 1-on-1 games, and the daily fun battles are just a few of the memories that will stay with me for the rest of my life. I have learned so much from Olson and feel blessed to have won a National title while playing for him. It was a moment I will truly never forget. Thank you Coach for everything you have done for me and this program! Congratulations on 400 career wins!!
Philly Lammers | Concordia career: 2016-20
What makes Coach Olson successful? Well, the fact that he is a complete nerd when it comes to basketball probably helps. I don't know if there is anything about the game that he doesn't like. But the stats, figuring out how to motivate his players, and what needs to be tweaked to improve his team – that he loves. He'll spend so much time analyzing games and thinking about his game plan, even if everything is seemingly going great at the time. His focus and drive to get better every day is something he not only teaches his team, but practices himself. That is something from my time at Concordia that continues to motivate me. Coach also always saw his players as people to get to know. He understood that we were all different, had different abilities and roles that we could fill. I think the fact that he cares about his team like a family lets him connect and understand his players, which gives him an insight to the game. He was always willing to take the time to talk or workout which showed me more than anything the importance of investing time into people and the importance of relationships. In all reality, there's really no way to concisely sum up four years of experiences and takeaways from Coach Olson. I know that I'll be drawing from my time at Concordia in many different situations and in many different ways whether I realize it at the time or not. And that the 4th key to success is always to have fun.
Quinn Wragge | Concordia career: 2015-19
He was a great coach to learn from, but an even better person to be around. He always challenged me to be better in every aspect of my life, but especially on the court. His dance moves were always a great reminder to not take yourself so seriously, haha!
I took a number of lessons from Olson during my time at Concordia, but here are some that still ring true in my life today! God, Family, School, Basketball. I still try to live my life according to these priorities! Olson was a coach who was constantly trying to improve and better himself. As I have started my own coaching career I realize what an important part of success this is for any team. I am lucky to have witnessed one of the best.
Leave people and things better than you found them – one of his famous expectations. It is one of my favorite things I took with me from Concordia. Huge congrats to Coach Olson on 400 wins, but I know many more are to come.