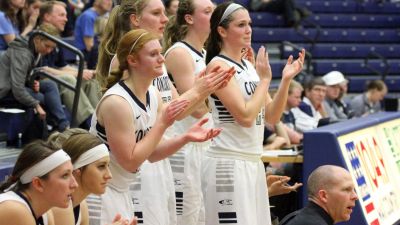 SEWARD, Neb. – Time for round two. After upsetting 16th-ranked Hastings on the road, fifth-seeded Northwestern (19-10) will serve as Saturday's opponent in the semifinals of the GPAC tournament. Tipoff from Walz Arena is set for 3 p.m. CT. The second-ranked and top-seeded Concordia University women's basketball team will put its unblemished 15-0 home record on the line.
Saturday's game can be seen live on the Concordia Sports Network. Tyler Cavalli will call the play-by-play for 104.9 Max Country radio.
Eleventh-year head coach Drew Olson's squad raced out to a 25-11 first quarter lead and then cruised to an 88-69 conference quarterfinal win over Midland on Wednesday evening. The combination of Dani Andersen (19 points, 5-for-9 3-point shooting) and Philly Lammers (19 points, eight rebounds) proved too much for the eighth-seeded Warriors (15-15) to handle. Quinn Wragge (10 points, nine rebounds) came up just short of a double-double. The Bulldogs limited Midland to just 33.9 percent shooting.
Concordia is one win away from reaching 30-win mark for the third time under Olson and for the fifth time in school history. The high water mark for victories in a season during Olson's tenure was produced by the 2014-15 national runner up team that went 35-3 overall. Olson also guided the 2011-12 squad, GPAC regular-season and tournament champion, to a 34-3 mark and national semifinal appearance.
The Red Raiders stand in the way of the Bulldogs' fourth GPAC tournament title.
"I think it's going to be a great game," Olson said after Wednesday's win. "They're a really scary team. They're so talented. It's been forever since we played them. The last time (Kassidy) De Jong wasn't there and they have a second semester transfer post that's playing really well. It's going to be a really tough team and probably a great game."
These two sides last met before Christmas. Without De Jong, Northwestern got steamrolled, 91-44, inside Walz Arena on Dec. 10. Lammers totaled 18 points and six rebounds while the Red Raiders struggled mightily offensively. They shot 28.1 percent from the floor and went only 1-for-16 from 3-point range. A month earlier, Concordia defeated Northwestern, 88-81, in Orange City, Iowa. All five Bulldog starters scored in double figures (17 apiece from Mary Janovich and Shelby Quinn) to help overcome 27 points from De Jong.
The Red Raiders possess the résumé of a team worthy of a top 25 ranking. They own five wins over current nationally-ranked teams: No. 10 Morningside, No. T-11 Friends University (Kan.), No. T-11 University of Jamestown (N.D.) and No. 16 Hastings (two). Northwestern did not lose a single game outside of conference play during the regular season in another show of the GPAC's power. De Jong is averaging 18.5 points (second in the GPAC) and needs just three more points to reach 1,000 for her career – and she's just a sophomore.
There's no doubt about Concordia's tournament worthiness. The Bulldogs clinched their spot in the national tournament courtesy of their GPAC regular-season championship. Based on the current top 25, their résumé includes wins over No. 8 College of the Ozarks (Mo.), No. 9 Dakota Wesleyan, No. 10 Morningside (twice), No. 16 Hastings (twice) and No. 17 Indiana Tech.
Concordia is battle tested and ready for primetime.
"We're really excited to be at this point of the season," Andersen said on Wednesday. "We just want to keep it going for our seniors and cherish every moment that we have on the court out there."
The other semifinal pairs second-seeded Dakota Wesleyan (25-5) against sixth-seeded Doane (16-15). The two semifinal winners will meet in the championship game at 7 p.m. CT on Tuesday (Feb. 28).
Projected lineups
Concordia: 29-2
G – Shelby Quinn: 6.6 ppg, 4.3 apg, 3.2 rpg, 1.9 spg, .363 fg%
G – Dani Andersen: 8.9 ppg, 1.5 spg, 1.5 apg, .377 fg%, .347 3-pt fg%
G – Mary Janovich: 11.5 ppg, 3.2 apg, 2.8 rpg, 2.5 spg, .533 fg%, .448 3-pt fg%
F – Quinn Wragge: 11.4 ppg, 6.1 rpg, 2.0 spg, .561 fg%, .745 ft%
F – Philly Lammers: 12.9 ppg, 6.8 rpg, 2.1 spg, 1.1 bpg, .585 fg%, .798 ft%
Northwestern: 19-10
G – Renee Maneman: 8.9 ppg, 7.6 apg, 4.3 rpg, 1.9 spg, .481 fg%
G – Paige Danner: 9.9 ppg, 2.4 rpg, 1.1 spg, .333 fg%, .297 3-pt fg%
G – Kassidy De Jong: 18.5 ppg, 7.6 rpg, 1.0 spg, .492 fg%, .295 3-pt fg%
F – Haley Birks: 13.0 ppg, 5.4 rpg, 1.4 bpg, 1.3 spg, .523 fg%
F – Darbi Gustafson: 12.7 ppg, 8.1 rpg, 1.0 bpg, .538 fg%, .696 ft%