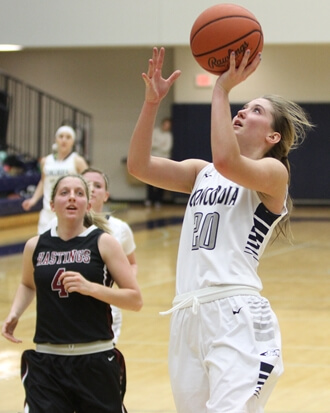 No. 9 Concordia continues feast on turnovers in perfect Cattle Classic weekend
By Leah Eklof
SEWARD, Neb. – The ninth-ranked Concordia University women's basketball team continued its early-season roll by defeating Valley City State University, 87-65, on Saturday afternoon. The Bulldogs hosted the Vikings in Walz Arena on Saturday for the final women's game of the 15th annual Cattle Classic tournament. The Vikings had previously been undefeated with a record of 2-0 in their season before meeting the Bulldogs.
Four Bulldogs reached double-figures in points to help build and then maintain a significant lead over Valley City State. Bailey Morris led the way with 18 points and five assists while Brenleigh Daum scored 16 points and dished out four assists off the bench. Senior Tracy Peitz (14 points) and freshman Jade Gottier (10 points) were also key factors. As a freshman, Daum had another great night in helping the Bulldogs to victory.
"Coming in, I wasn't quite sure if Coach was going to have me play JV or varsity, but he ended up letting me go with the varsity squad," Daum said. "He's told me that I'm a shooter and my role is to go in and score for us, so I've just been trying to fulfill that role."
Daum and the Bulldogs had the Vikings buried in a 55-27 hole at halftime. Valley City State struggled to handle Concordia's press, committing 21 turnovers and shooting just 31.8 percent over the game's first 20 minutes. Morris had four steals and Daum added three as part of another pesky defensive effort.
With the win over Valley City State as well as three over ranked opponents, Concordia improves its record to 4-0 at the end of the Cattle Classic.
"When you look at the schedule at the start of the year, you wouldn't really imagine we would be 4-0," head coach Drew Olson said. "I was really confident in our team. I know the team that we have is very good. We have players with great experience so I wasn't really too worried, but I am really happy to start 4-0. Especially when three of them are ranked and two were on the road, so hopefully this is just a good stepping stone."
When asked if she had any idea what to expect for her first conference game Daum states, "No, I really don't as a freshman, but I know we're just going to go in like we have been and play hard."
The victory also pushed Drew Olson's career record to 195-75, tying him with Carl Everts for the most coaching wins in Concordia women's basketball history.
Next up, the Bulldogs hit the road for Yankton, S.D., to play against Mount Mary College in their first GPAC game of the season. Tipoff is slated for 6 p.m.

2014 All-Cattle Classic Team
F - Hannah Dostal, Doane College
F - Morgan Stuut, Saint Xavier University
F - Tracy Peitz, Concordia University
G - Bailey Morris, Concordia University
G - Georgia Williams, Valley City State University