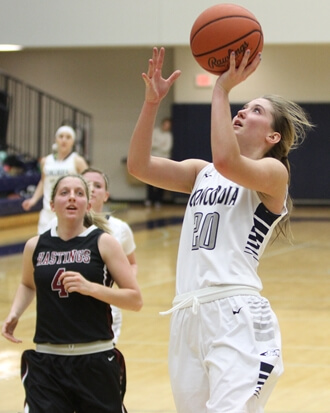 No. 3 Concordia rallies for rout at Dakota Wesleyan
MITCHELL, S.D. – Similar to last season when the Bulldogs found themselves down 17 in Mitchell, the Concordia University women's basketball team again dug itself into a hole at Dakota Wesleyan. The third-ranked Bulldogs recovered in plenty of time to pull away from the host Tigers, 100-70, on Friday evening. Concordia used a 47-33 rebound advantage to win for the ninth-straight time.
Ninth-year head coach Drew Olson's squad remained undefeated on the road (8-0) while moving to 14-1 overall and 8-1 in conference play by blowing away Dakota Wesleyan (9-5, 4-3 GPAC) in the second half.
"The second half was a great display of what we're capable of," Olson said. "Our shooting was awesome, but I was more impressed with our defense. We played smart and followed the scouting report. We got every loose ball against a team that's bigger and more physical than us."
Senior point guard Bailey Morris missed her first 10 shots from the field before splashing home a trey (2:49 mark of the first half) that ignited a personal 8-0 run and took the air out of Dakota Wesleyan. Morris' outburst slashed Concordia's deficit from 10 all the way down to two (34-32) late in the first half. Morris then ended the half with a driving layup to put the Bulldogs within one. Morris and company were just getting warmed up.
That momentum carried over into the second half when senior Tracy Peitz became the 23rd player in program history to eclipse 1,000 career points and sophomore Becky Mueller lit it up from long range. A 26-7 run, which included back-to-back Mueller triples, staked Concordia to a 69-48 advantage. The run culminated with a Morris three from ridiculous range and yet another Mueller bomb.
"When she gets going, she's the best in the league and no one can stop her," Olson said of Morris.
The run was also fueled by Concordia's nasty defense, which tightened the clamps after halftime. The Bulldogs operated at near peak efficiency in a textbook second half in which it outgunned the Tigers by a count of 64-33. After the break, Concordia went 10-for-25 from distance and 51.2 percent from the field overall while holding Dakota Wesleyan to 35.5 percent shooting.
The Bulldogs' star senior floor general finished with a game high 29 points on 10-for-24 shooting. Mueller knocked down 5 of 9 attempts from beyond the arc and racked up 19 points. Peitz added nine points and eight rebounds as 12 different Bulldogs registered in the scoring column.
Inside, senior Jericca Pearson and sophomore Alayna Daberkow both recorded six points and seven rebounds. Freshman guard Mary Janovich topped the Bulldogs with nine boards.
"I thought Alayna and Jericca battled so hard inside," Olson said. "And Mary led us again with nine rebounds. It was a great effort against some really good post players."
Morris moved up another peg on the program's all-time scoring list, passing Shelly Poppe (1,630 points) for seventh place. Morris (1,650 points) now takes aim at former teammate and current assistant coach Kristen Conahan, who's sixth with 1,656 points.
Dakota Wesleyan was led by the 23 points of Ashley Bray, who fueled the Tigers' 10-point first half lead. Katie Johnson chipped in 12 points.
Blowout wins have been the norm of late for Concordia, which has won each of its last five games by margins of at least 22 points. Eleven of its 14 wins have been by double digits. Suddenly, the Bulldog offensive attack is catching up to its already stellar pressure defense.
"We've got a lot of capable shooters who are starting to understand where the shots are coming from," Olson said. "They're more prepared to take them now and really feeding off each other."
The Bulldogs now break for Christmas before returning to action on Dec. 30 when they host No. 9 Friends University (12-2). Concordia already owns four wins over ranked opponents, including two against top 10 opponents. The Falcons and Bulldogs have not met since Nov. 17, 2000, when Concordia won by a 58-49 score.