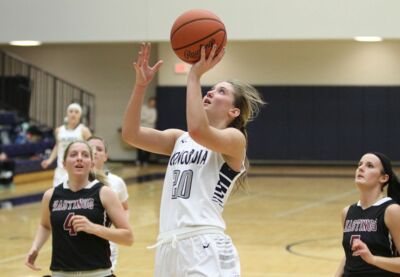 No. 3 Concordia to host No. 12 Hastings in GPAC semifinals
SEWARD, Neb. – A spot in the March 3 GPAC tournament championship game will be on the line Saturday when the third-ranked Concordia University women's basketball team hosts No. 12 Hastings in a GPAC semifinal clash. The Bulldogs got all they could handle from seventh-seeded Mount Marty in a 71-66 Concordia win in Wednesday's GPAC quarterfinal game. Tracy Peitz put up 17 points in a fine all-around performance and Bailey Morris made crucial plays down the stretch to thwart the Lancer upset bid.
Saturday's game, set for a 3 p.m. tipoff, can be streamed live via the Concordia Sports Network. Frank Greene will provide the play-by-play. The winner will play either No. 1 Morningside (31-0) or No. 19 Briar Cliff (23-8) in the title game.
Hastings (22-7) enters the weekend with a nine-game win streak and is fresh off a 70-53 GPAC quarterfinal win over Doane on Wednesday. Star Jamie Van Kirk exploded for 33 points on 11-for-22 shooting from the field. Van Kirk is the conference's second leading scorer with an average of 19.5 points per game. Van Kirk is one of several outside scoring threats for head coach Carrie Hofstetter's squad, which ranks 17th among all NAIA Division II teams in 3-point field goal percentage (.343).
After Hastings swept the regular-season series from Concordia last season, the Bulldogs returned the favor in 2014-15. Concordia has defeated the Broncos by scores of 68-65 in Hastings and 82-75 in Seward. Morris served as the catalyst in both contests, piling up a combined 59 points (17-for-27 from the field, 6-for-8 from 3-point range), nine assists, eight rebounds and four steals. On the other end, Concordia has contained Van Kirk, who had a combined 33 points in the two regular-season meetings.
Wednesday's win pushed Concordia's all-time GPAC tournament record to 18-11 and marked the seventh-straight year in which the program has moved past its opening game of the conference bracket. The Bulldogs won GPAC tournament titles in 2004, 2005 and 2012. Hastings has won the conference tournament as recently as 2010 when it finished with an overall record of 31-4.
Concordia is aiming to reach win No. 30 for the fourth time in program history and for the second time under ninth-year head coach Drew Olson. Thirty-win seasons have been recorded by Bulldog women's basketball teams in 2002-03 (36-2), 2011-12 (34-3) and 2004-05 (31-5).
Olson's squad is 14-1 at home this season and owns a 56-7 (.889) home record over the past four seasons. Meanwhile, the Broncos are 10-4 in true road games. Hastings went 7-3 in GPAC regular-season road contests.
Concordia (29-2, 18-2 GPAC)
OFF: 85.3 ppg
DEF: 62.0 ppg
Scoring leader: Bailey Morris – 18.7 ppg
Rebound leader: Jericca Pearson – 4.7 rpg
Assists leader: Bailey Morris – 5.03 apg
Steals leader: Bailey Morris – 4.20 spg
Blocks leader: Becky Mueller – 0.54
Hastings (22-7, 15-5 GPAC)
OFF: 73.6 ppg
DEF: 65.0 ppg
Scoring leader: Jamie Van Kirk – 19.5 ppg
Rebound leader: Rachel Jelden – 6.1 rpg
Assists leader: Abby Jackson – 2.86 apg
Steals leader: Jamie Van Kirk – 1.66 spg
Blocks leader: Sierra Williamson – 1.03 bpg