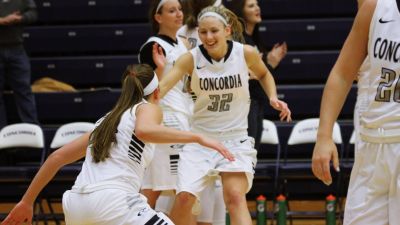 SEWARD, Neb. – The second-ranked Concordia University women's basketball team rediscovered its suffocating pressure defense while keeping the good times rolling into the new year. The Bulldogs led 50-23 at halftime and cruised to an 86-63 victory over visiting Briar Cliff on Wednesday night in their first outing since playing at the Hoop N Surf Classic in Honolulu, Hawaii.
Eleventh-year head coach Drew Olson's squad won for the 16th-straight time and improved to 16-1 overall and to a perfect 9-0 in conference play. First-place Concordia has won 77 of its last 86 home games.
There was little sign of a post-Hawaii letdown for a program with laser-like game-to-game focus.
"I was impressed with our group," Olson said. "I was kind of worried about (having a letdown) a little bit. I thought maybe it might take a quarter for us to get into our rhythm, but we came out and played really hard and very aggressive on both ends of the floor. We didn't play our sharpest basketball, but we just played more physical than them."
The numbers bare that point out. The Bulldogs pulled down 23 offensive boards that led to 24 second-chance points. Off the bench, Erin Vieselmeyer put the squeeze on four offensive boards. Those second opportunities were especially fatal for a Charger team that struggled to maintain possession.
Concordia's press didn't produce takeaways in Hawaii like normal. Order – or chaos – was restored on Wednesday. Briar Cliff committed 32 turnovers, including numerous 10-second violations in the backcourt. Standout Morgan Hansen was responsible for seven of those miscues.
It was a miserable first 20 minutes for the visitors, who shot 28 percent (7-for-25) and found themselves in a 27-point hole. Said junior guard Dani Andersen, "Every game we've done a good job of stepping on the court, going hard and having a good start."
It hardly even mattered that the Bulldogs cooled off in the second half and shot only 39.5 percent (30-for-76) for the game. Concordia's pesky press allowed it take 20 more shots than Briar Cliff (19-for-56).
"We watched a lot of film on our two games in Hawaii and what teams did against us and what we were doing wrong," Olson said. "A lot of it was just playing hard. I thought our kids came out with great focus and energy. They played like they normally do in the full-court press."
On an evening when Mary Janovich went 1-for-7 from the field, Concordia still won comfortably. Andersen poured in a game high 17 points while knocking down 6-of-8 shots from the field (3-for-5 from 3-point range). Quinn Wragge added 12 points and seven rebounds and Shelby Quinn recorded 11 points and five assists. Vieselmeyer played huge in relief. She put up a stat line of seven points, 10 rebounds and three blocks.
In its most recent outing, Briar Cliff knocked off No. 10 University of Jamestown (N.D.), 70-66. The Chargers (9-8, 4-4 GPAC) got a team high 12 points and eight rebounds from Kaylee Blake. Briar Cliff got as close as 14 points (73-59) after halftime before the Bulldogs salted the contest away.
The Bulldogs will complete this week's slate on Friday with a trip to Dordt (8-9, 0-7 GPAC) for a 5 p.m. CT tipoff. Concordia has won eight-straight meetings over the Defenders and has yet to drop a true road game this season. In the most recent matchup, the Bulldogs escaped Sioux Center, Iowa, with a 68-64 victory in December 2015.