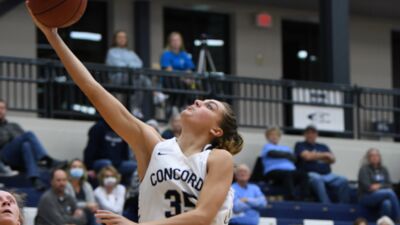 SEWARD, Neb. – A flurry to open the game allowed the 19th-ranked Concordia University Women's Basketball team to play with a double-digit lead for most of Wednesday (Jan. 12) night. The likes of Sadie Powell and Mackenzie Toomey were clear aggressors as the Bulldogs protected the home court, 87-58, while up against College of Saint Mary. A beastly 53-31 advantage on the boards characterized the night for red hot Concordia.
Head Coach Drew Olson's squad has won seven in a row within GPAC play to move to 9-3 inside the conference (12-6 overall). The Bulldogs are 9-1 at home this season.
"It was a good win," Olson said. "Without Bailey Conrad we didn't really know what to expect, but I though our team came out and played really well to start. We were a little bit sluggish in the second quarter when they went zone, but overall it was a great game. Just looking at the rebounding, you can tell how hard we played when we outrebound them by 22."
It may have looked a little sideways in the New Year's Day overtime win, but Concordia has since steamrolled its way through three-straight conference opponents. A much-improved CSM squad already owned a road win over Dordt this season. The Flames ignited a flicker of hope midway through the second quarter on Wednesday when their switch to a 2-3 zone got them within seven (24-17). A scoring drought of five minutes proved to be a minor hiccup for the Bulldogs.
Powell was terrific once again in gliding to the bucket for a game high 19 points. Concordia solved the zone while shooting 47.5 percent from the floor in a 52-point second half. CSM had not typically experienced such issues on the boards, but that area of the game was a major issue inside Friedrich Arena. Seven Bulldogs grabbed five or more rebounds, led by the career high 12 boards from Toomey. The Lincoln Southeast product also posted 13 points, five steals and three assists in what amounted to her first career double-double.
Season scoring leader Taysha Rushton also did her thing in stuffing the stat sheet with 18 points, nine assists, seven rebounds and two steals. The torrid shooting Texan was responsible for three of the team's nine made 3-point baskets. In addition, Rylee Pauli chipped in six points and seven rebounds, Taylor Farrell netted eight points, Kayla Luebbe contributed seven points, five rebounds and two blocks and Abby Heemstra supplied six points and five boards. Powell notched six boards.
Things appear to be coming together. Said Olson, "The consistency is starting to get there, which is awesome. Sadie's been phenomenal and Mackenzie Toomey over the last four games has been really, really good. It's just great to see good balance from our whole team. We like what we're doing – we're getting better every day."
The Flames (10-7, 4-7 GPAC) got a nice performance off the bench from Madelyn Turner, who turned in a team high 17 points (3-for-6 from beyond the arc). However, CSM was plagued by its 22 turnovers and rebounding woes. Twenty of the Concordia rebounds were of the offensive variety. It all added up to the Bulldogs pushing their series win streak over the Flames to 19 (dating back to the 2005-06 season).
Concordia will depart on Friday as it treks north for Saturday's matchup at Jamestown (11-8, 4-7 GPAC). Tipoff from Newman Arena in North Dakota is set for 2 p.m. CT. The Bulldogs have won each of the past 13 series meetings with the most recent one coming down to the wire. Rushton's buzzer beater lifted Concordia to a 69-67 victory on Nov. 23.