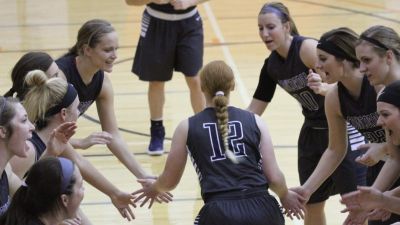 CRETE, Neb. – Though there were turnovers aplenty, Tuesday night's game was a thing of beauty in the eyes of the 14th-ranked Concordia University women's basketball team. The Bulldogs remained unbeaten in conference play with a 77-56 rout of host Doane University in a contest played inside the Haddix Center.
Eleventh-year head coach Drew Olson's squad will roll into the Thanksgiving weekend with a seven-game win streak. Concordia has improved to 7-1 overall and to 4-0 in GPAC action.
"It was a really sloppy game," Olson said. "I felt like we did a great job defensively to create some of those turnovers. I think some of our turnovers were a little bit forced and rushed. Hopefully we can cut down on those. If we can, we're going to become a great basketball team."
The Bulldogs exerted control early and overwhelmed Doane (4-4, 1-1 GPAC) by drilling seven of their first 11 3-point attempts. At one point in the first half, Shelby Quinn connected on bombs on back-to-back possessions. Then in the third quarter, Dani Andersen continued her season-long splurge by answering a Tiger run with her outside sniping.
This Concordia team is like a broken record, in a good way. Scoring balance has been a theme every time out. On Tuesday, freshman Philly Lammers led all Bulldogs with 15 points. Four teammates registered at least nine points: Quinn (14), Andersen (12), Mary Janovich (12) and Quinn Wragge (9).
"There's nothing they don't trust me to do," Lammmers said. "Every time I go in there I have confidence that they have confidence in me."
By the halftime break, Concordia had built a 49-28 advantage. The Tigers got as close as 13 points (53-40) in the third quarter, but the Bulldogs closed the period on a 13-2 run that was made possible by Andersen's long-range shooting and then capped by Quinn's three-point play.
But more than anything, this was a game about turnovers. There were a mind-numbing 70 combined by the two teams - 39 of which were committed by Doane, which was giving more than just 'thanks' this holiday week. Nine different Bulldogs swiped at least one steal, led by the five thefts from the defensively smothering Janovich.
Three days after breaking a program record with 38 points in a win at Northwestern, star Tiger guard Hanah Barnard took only eight shots from the floor. She was held to 13 points, 10 below her average.
"I was really pleased. We did a great job on (Barnard) for three quarters," Olson said. "I thought we did a great job on all their shooters. It was a great defensive effort."
A busy Thanksgiving week continues for the Bulldogs with this weekend's Bruin Thanksgiving Classic hosted by Bellevue University. As part of the event, Concordia will play No. 25 Haskell Indian Nations University (Kan.) (6-3) at 3 p.m. CT on Friday and the University of Saint Mary (Kan.) (2-4) at 1 p.m. CT on Saturday. It will be a homecoming for Shelby Quinn, who played her prep ball at Bellevue East.