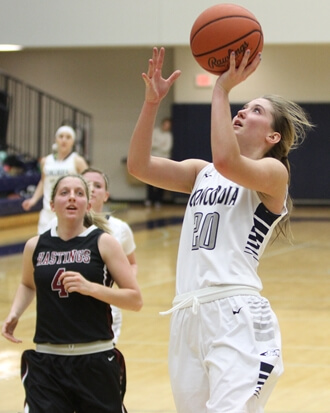 Ninth-ranked Women's basketball hosts No. 2 Morningside in top-10 clash
SEWARD, Neb. – Two perennial league powers that tied for last season's regular-season GPAC championship square off on Saturday as the ninth-ranked Concordia University women's basketball team hosts No. 2 Morningside, the league's preseason favorite. The pair of undefeated squads will tip off at 2 p.m. inside Walz Arena.
Head coach Drew Olson's Bulldogs are off to a 5-0 start that includes three victories over teams ranked inside the top 20. Concordia has already won three times away from home. In its latest outing, Bailey Morris and company held off a late Mount Marty rally as the Bulldogs opened the GPAC slate with a 63-59 victory.
Morris, who scored 15 of her 16 points in the second half at Mount Marty, tops Concordia in scoring (18.0), assists (5.4) and steals (4.0). The 2013-14 GPAC player of the year has been an even bigger pest on the defensive end this season and is a catalyst for a Bulldog squad that ranks second among all NAIA Division II teams with an average of 17.8 steals per contest.
Of course there is plenty of depth to support the All-American point guard. Sophomore Becky Mueller has nailed eight of her first 13 attempts from beyond the arc and senior Tracy Peitz, last year's GPAC defensive player of the year, has chipped in 12.8 points and 5.0 rebounds per game. Fellow seniors Kelsey Hizer (6.2 ppg, 4.4 rpg) and Jericca Pearson (7.2 ppg, 5.0 rpg) are important role players.
In terms of national rankings, Concordia checks in at No. 6 in turnover margin (plus-8.0), 21st in scoring (82.0), 31st in blocks per game (3.6), 31st in scoring margin (plus-14.2) and 35th in 3-point field goals per game (6.8).
The Bulldogs have reason to like their depth, and so does Morningside. Fourteenth-year head coach Jamie Sale has 10 players averaging five or more points per game. Only sophomore Taylor Bahensky (10.8 ppg) averages more than 10 points for a Mustang squad that has put up almost 80 points per contest through six games.
Morningside presents potential matchup problems for Concordia with the frontcourt duo of 6-foot-2 junior Jessica Tietz (8.2 ppg, 4.5 rpg) and 6-foot senior Ashlynn Muhl (7.3 ppg, 6.8 rpg). The Mustangs also have a standout freshman guard in Bellevue, Neb., native Madison Braun (9.7 ppg), who scored 17 points in a 73-45 win over Clarke University.
Prior to last season's 86-77 Morningside win over Concordia in Sioux City, Iowa, on Feb. 22, the Bulldogs had won five-straight meetings with the Mustangs. That stretch included a 90-82 overtime victory for Concordia on Nov. 16 in the 2013-14 conference opener. Senior Kristen Conahan went 8-for-14 from 3-point range on the way to a 28-point performance.
The Bulldogs and Mustangs are two of 20 remaining unbeaten teams in NAIA Division II women's basketball.
Morris, Peitz chasing milestone point totals
Bailey Morris enters the weekend 21 points shy of 1,500 for her career. In the history of Concordia women's basketball, eight players have reached the 1,500-point plateau. A total of 22 have eclipsed the 1,000-point mark that Tracy Peitz continues to chase down. The native of Hartington, Neb., sits at 913 points over 105 career games. Last season she averaged a career best 13.8 points. The program's all-time leading scorer is Sarah Harrison (2001-05), who posted 1,800 career points.
Inexperienced Bulldogs make big strides
One key to Concordia's increased depth this season has been the rise of three freshman as well as sophomore Alayna Daberkow. Freshman Mary Janovich (6.8 ppg, 1.5 spg) has started four of the first five games and fellow rookie Brenleigh Daum ranks fourth on the team with an average of 9.4 points per game. Meanwhile, Daberkow has become one of the team's top producers off the bench. She is averaging 6.4 points and 5.0 rebounds. She put up career highs of 12 points and eight rebounds in the 90-72 win at No. 7 Jamestown on Nov. 1. In addition, freshman Jade Gottier has played 11.2 minutes per game off the bench.