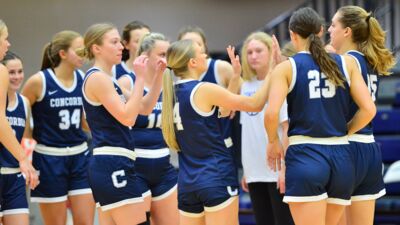 CRESTVIEWHILLS, Ky. – The defending national champions looked like it in the NAIA Women's Basketball National Championship round of 32. A Bulldog defensive effort that stifled Columbia College (Mo.) on Tuesday struggled to contain the firepower of the bracket's top seed Thomas More University, which shot 58.2 percent on its homecourt in Crestview Hills, Ky. The 98-69 victory for the Saints on Wednesday (March 8) meant the end of the line for the Concordia University Women's Basketball team.
Head Coach Drew Olson's squad concluded the 2022-23 campaign at 20-12 overall with a national tournament win over Columbia as part of the program's 22nd all-time appearance on the national stage.
"I felt really good about how we were playing," Olson said. "I know Thomas More is a good team, but I love our team. They were just way too good today. I've never seen a team shoot the way they did. We had a few lapses where we didn't close out properly but my goodness, there were so many times they hit incredible shots. We played well but it wasn't good enough because they're that good. When they play like that, nobody's beating them."
The 77-50 blowout win over Columbia ignited hopes that the Bulldogs could return to the national tournament final site in Sioux City, where they appeared as recently as 2021. But Concordia never managed to slow down Thomas More's perimeter shooting. Behind Zoie Barth's 4-for-5 performance from long range, the Saints knocked down 10 treys in the first half and another eight in the second half. Prior to Wednesday, the Bulldogs had not allowed more than 80 points in any game this season.
The 10-0 run to end the first half proved to be a backbreaker. Thomas More (28-3) enjoyed a 48-30 halftime lead and then pushed the advantage to 25 (69-44) midway through the third quarter. The Saints piled up at least 20 points in every period and got a game high 22 points from Barth in addition to 16 for Courtney Hurst and 14 for Rylee Turner. Thomas More's precision shooting even carried over to the foul line where it went 16-for-17.
Concordia exhibited its fight when it put together a 9-0 run late in the third quarter. That offensive rhythm carried over into the first few minutes of the fourth quarter when Mackenzie Koepke, Kendal Brigham and Sadie Powell each splashed home a trey. There was a glimmer of hope with the deficit slashed to 16 (75-59) with nearly eight minutes to play. An ensuing flurry for the Saints provided an exclamation point.
Coming off a 26-point outing in the first round, Taysha Rushton followed that performance up with 14 points, seven rebounds and three assists in round two. Rushton immediately gave the Bulldogs the lead with a 3-pointer in the opening minute of the contest. She was joined in double figures by Sadie Powell (11) and Mackenzie Toomey (11) while Brigham added nine points off the bench. Fifth-year player Mackenzie Koepke chipped in with five points and four rebounds as she played in a national tournament for the fourth and final time in her career. This was also the last game in Bulldog Blue for senior Taylor Farrell.
Said Olson of Farrell and Koepke, "They mean a lot to the program. It's incredible what both have gone through over the last year or two. They stayed committed. I couldn't ask them to do more than what they did. It was awesome."
Led by an influential bunch of third-year players, Concordia made strides in 2022-23 while advancing a round farther at the national tournament than it had the previous year. Rushton earned the third First Team All-GPAC honor of her career and surpassed 1,000 career points. Meanwhile, Brigham, Powell and Toomey each expanded their games and second-year performers Abby Heemstra and Abby Krieser were counted on to play increased roles, among others. Krieser thrived in the backcourt as a do-it-all guard. Watch out for freshmen Megan Belt and Kristin Vieslemeyer in future years. The returning Bulldogs will expect a lot of themselves in 2023-24.
"I loved this season," Olson said in summing it up. "They did such a great job of continuing to fight and be together. They bought into our team values of staying committed, being resilient, being selfless, trusting each other and trusting us coaches. They love each other and you could see it on the court with how hard they played for each other. It was tough to end the season because we loved being together. Our toughness was without question. We were tested throughout the year and our players continued to respond."