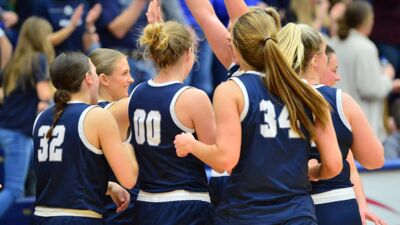 2023 WBB National Tournament Press Guide
Tournament Bracket | 2023 National Qualifiers
SEWARD, Neb. – For the second year in a row, the Concordia University Women's Basketball program will venture to Kentucky for the first round of the NAIA Basketball National Championship Tournament. As announced on Thursday (March 2), the Bulldogs will enter the 2023 tourney as a No. 8 seed and will face No. 9 seed Columbia College (Mo.) in the first round on March 7. The host of Concordia's four-team pod is No. 1 seed Thomas More University (Ky.). As a program, the Bulldogs have qualified for the 12th-straight year and for the 22nd time in history.
Thomas More Pod
--Site: Connor Convocation Center (Crestview Hills, Ky.)
Tuesday, March 7
4:30 p.m. CT / 5:30 p.m. ET – (1) Thomas More vs. (16) Point
6:30 p.m. CT / 7:30 p.m. ET – (8) Concordia vs. (9) Columbia
Wednesday, March 8
5 p.m. CT / 6 p.m. ET – Game 1 Winners
The 2022 national tournament saw Concordia qualify as a No. 9 seed while being sent to Bowling Green, Ky. The Bulldogs exited with a 62-58 first round defeat at the hands of Benedictine College (Kan.). Beginning in 2021, the NAIA basketball tournaments shifted the first two rounds to campus/host sites around the country. The 16 teams that emerge from the first two rounds advance to play at the final site, the Tyson Events Center in Sioux City, Iowa. Concordia reached Sioux City under this format in 2021 when it made its way to the NAIA national quarterfinals.
Head Coach Drew Olson will make his 15th appearance on the national stage as the leader of the program. The Bulldogs hope to be better equipped than a year ago. Concordia will lean upon the likes of five All-GPAC players: Taysha Rushton (first team), Abby Krieser (second team), Sadie Powell (second team), Kendal Brigham (honorable mention) and Mackenzie Toomey (honorable mention).
As Olson said after a recent game, "I think we've learned a lot of things about each other and how much they love playing together. It's a really competitive group that's built up a lot of confidence with some of the wins we've had. It makes a big difference when you trust each other, care about each other and love to win."
A year ago, the Bulldogs got a major boost from having played the No. 1 strength of schedule in the NAIA. Concordia will enter the 2023 national tournament with an SOS ranked No. 11. It landed at No. 37 in the final 2022-23 NAIA RPI. To their credit, the Bulldogs earned three wins over top 50 RPI opponents: No. 31 Dakota State (S.D.), No. 35 Dakota Wesleyan, No. 35 Jamestown. It also twice defeated No. 59 Morningside and won at No. 60 Northwestern.
Season Summary
Led by a strong group of second- and third-year players, the Bulldogs have taken a step forward from a year ago when they went 16-14 overall and exited the national tournament in the first round. Concordia started GPAC play at 1-3 and then recovered nicely in going 11-2 over its next 13 GPAC contests. The surge gave Olson's squad a shot at placing as high as second in the league, entering the final week of the regular season. The Bulldogs wound up settling for a tie for fifth in a conference that earned seven bids to the national tournament.
Going by the NAIA coaches' poll at the time the games were played, the Concordia has won three times on the road against top 25 foes, defeating No. 25 Morningside (Nov. 30), No. 15 Northwestern (Jan. 21) and No. 19 Jamestown (Feb. 21). Contributions were made up and down the roster in the GPAC quarterfinal victory at Jamestown, which saw five Bulldogs score in double figures. In addition, the Bulldogs once again dominated the Concordia Invitational Tournament, winning by scores of 100-49 over Concordia Wisconsin and 85-33 over Concordia Chicago in front of a packed Friedrich Arena crowd. The team's GPAC postseason run ended with a 66-57 loss at No. 18 Briar Cliff.
Individually, Taysha Rushton has enjoyed another strong season. Her shooting percentages have gone up across the board as she leads the team in scoring at 13.6 points per game. She's shooting 40.2 percent from 3-point range and has moved her career point total to 1,368 (15th most in program history). The next three highest scorers on the team sport remarkably similar averages: Abby Krieser (10.0), Kendal Brigham (9.9) and Sadie Powell (9.9). Krieser has taken her offensive game to new heights while serving as one of the top backcourt defenders in the GPAC.
Defensive tenacity has been a constant for Concordia, even when it hasn't shot the ball well. Currently, the Bulldogs sport GPAC rankings of first in field goal percentage defense (.380), first in turnovers forced per game (19.6), fourth in defensive efficiency (.843) and sixth in scoring defense (63.5). There are five Concordia players averaging at least 1.0 steal per game: Krieser (2.0), Mackenzie Toomey (1.8), Rushton (1.6), Powell (1.4) and Brigham (1.0). Unfamiliar foes will have to deal with the Bulldogs' patented full-court pressure.
One more win would give the Bulldogs 20 for the season, a mark Drew Olson has hit in 13 of his first 16 seasons as head coach at his alma mater. Last week's win at Jamestown marked No. 442 in the career of Olson. He's begun to sneak up on former Bulldog men's basketball head coach Grant Schmidt for the most wins ever by a Concordia basketball coach (or for any sport at Concordia). Schmidt compiled a record of 445-276 over his 23-year tenure. Olson played for Schmidt during the 2000-01 through 2002-03 seasons. Counting Olson's three seasons as a Bulldog student-athlete, he's been involved in 504 victories (62 wins as a player).
This will be the last dance for fifth-year player Mackenzie Koepke, who missed all of last season due to injury. Koepke was part of the 2018-19 NAIA Division II national championship team. Koepke has come off the bench to play in 26 games this season (one start). In 128 career games, Koepke has totaled 858 points, 466 rebounds, 200 steals, 123 assists and 95 blocked shots. She's one of seven players in program history to knock down at least 200 career 3-point field goals.
National Tournament Facts
· In its first 21 appearances at the national championships, Concordia has posted a record of 37-19 with seven journeys to at least the national semifinals (three national championship game appearances). The Bulldogs are 14-7 in first-round games. All of the program's national tournament berths have come since 1992 – the same year the NAIA split into two divisions for basketball. The 2019-20 season marked the final one featuring two divisions. The 2019-20 squad had garnered the No. 1 overall seed in a tournament that was shut down in the middle of the first round due to COVID-19.
· Eight of the 14 players on Concordia's national tournament roster have prior national tournament experience. That list includes Kendal Brigham, Taylor Farrell, Abby Heemstra, Mackenzie Koepke, Sadie Powell, Taysha Rushton, Hanna Spearman and Mackenzie Toomey. Koepke played in each of the national tournaments from 2019 through 2021 and is the lone player on the roster that was part of the 2018-19 national championship team. Koepke has totaled 61 career points in national tournament games. The only fourth-year senior on the roster, Farrell had her shining moment on the national stage in 2021 when she totaled 14 points on 3-for-4 3-point shooting in a 71-54 win over Loyola University of New Orleans. Rushton also played an instrumental role in that 2021 run to the national quarterfinals and has appeared in four games at the national tournament. She's averaged 14.8 points in those contests with a high of 27 in the 73-67 win over fourth-ranked Marian University (Ind.).
· Head Coach Drew Olson has been at the controls for each of Concordia's past 15 national tournament appearances (including 2023). His record at the national tournament now stands at 26-12 with five trips to the final four, including three national championship game appearances (2015, 2018, 2019). The program raised its first-ever national championship banner in March 2019 when it defeated No. 2 Southeastern University (Fla.), 67-59. Olson has won more national tournament games than any coach in school history (men's or women's programs).
· During the 2022-23 season to date, the Bulldogs have played 17 games against teams that are included in the national tournament bracket. Concordia has defeated fellow national qualifiers in Dakota State, Dakota Wesleyan, Jamestown, Morningside (twice) and Northwestern.
Olson became the program's fifth coach to lead Concordia to the national tournament when he made his first appearance in 2008. Past coaches to take the Bulldogs to nationals were Todd Voss (three), Mark Lemke (two), Micah Parker (one) and Carl Everts (one). Voss guided two squads that reached the national semifinals.