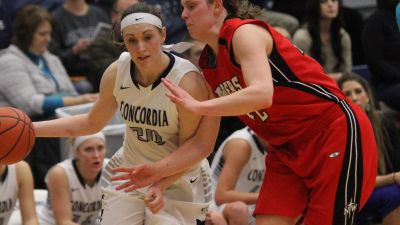 SEWARD, Neb. – A matchup featuring the league's leading candidates for GPAC freshman of the year honors saw the 14th-ranked Concordia University women's basketball team avenge a loss that occurred a month earlier. Budding freshman Quinn Wragge and senior Becky Mueller combined for 40 points to power a 71-70 win over Northwestern inside Walz Arena on Saturday afternoon.
Tenth-year head coach Drew Olson's program has toppled the Red Raiders in each of their last three meetings in Seward. Saturday's win means Concordia remains deadlocked in second place (four-way tie) in the GPAC at 21-7 overall and 13-7 in conference action.
The Bulldogs held on to beat Northwestern (14-12, 9-11 GPAC) despite a late push from the visitors.
"I'm just really proud of our toughness to find a way to win the game," Olson said. "Northwestern had a great look. We're just thankful the ball rimmed out and Quinn did a great job of going and getting the rebound. It was just a great team effort."
Though outdueled by fellow star rookie Kassidy De Jong in terms of points (32-23), Wragge got the upper hand on the scoreboard thanks to a second-straight smothering home defensive effort. Concordia bothered the Red Raiders into 33.3 percent (22-for-66) shooting and drew a key charge on De Jong with just over two minutes remaining in the game.
The Bulldogs didn't just survive 32 points from De Jong, it also survived a point-blank missed layup by Northwestern's Haley Birks that would have tied the game in the final seconds. Instead, Wragge came up with the loose ball and then sank two free throws to ice the game.
"It all started on the defensive end," Wragge said. "We were up and kind of let them get back in it. When it came down to it we had to get stops. That's what this team did."
The Red Raiders made Concordia sweat with a late 9-2 run that gave them the chance to tie. A 67-58 lead got dwindled down to 69-67 after a De Jong score in the final minute. The Bulldogs then milked the clock on the ensuing possession that resulted in a shot clock violation. Northwestern took over with 7.5 seconds left and came up agonizingly short of forcing overtime.
In a game that went down the wire, De Jong and Wragge were at center stage in a battle that will play out for another three years.
"Those are by far the two best freshmen in the league," Olson said. "Both are great players. I love having Quinn on our team. She's going to keep getting better."
It didn't take long on Saturday for Mueller to become the program's 24th member of the 1,000-point club. The native of Elkhorn, Neb., went past four digits by sinking two free throws at the 8:31 mark of the first quarter. She finished with 17 points and six rebounds and twice helped set up Wragge with baskets in transition.
Wragge recorded her fifth 20-point game of the season by continually beating the Red Raiders down the floor.
"I love it. That's one of my favorite things to do in a game," Wragge said of her work in transition. "We've got some great guards who make those passes. We're always hustling and running to get those transition buckets."
Wragged collected nine rebounds and swatted three shots to go along with her team high 23 points. Shelby Quinn added eight points, five rebounds and four assists. Erin Vieselmeyer pitched in six points and three boards off the bench.
De Jong piled up 11 rebounds to give her a double-double. The only other Red Raider to reach double figures in scoring was Paige Danner, who had 10 points.
The Bulldogs will host their final regular-season home game on Wednesday when College of Saint Mary 15-12, 9-11 GPAC) visits Seward. Tipoff from Walz Arena is set for 7 p.m. In this season's first matchup, Concordia dowsed the Flames, 73-67, in Omaha.