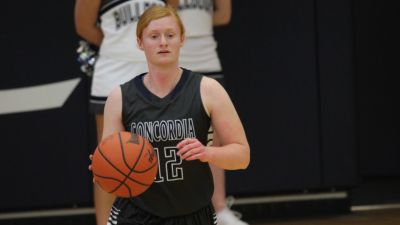 CRETE, Neb. – After two-straight losses to open up conference play, the fourth-ranked Concordia University women's basketball team solved the fourth quarter. Riding the hot hands of senior Becky Mueller and junior Shelby Quinn, the Bulldogs eked out a 71-66 win over rival Doane inside the Haddix Center on Tuesday night.
Tenth-year head coach Drew Olson's squad shook off a nine-point first-quarter deficit, as well as a strong performance from Tiger senior forward Heather Broman (game-high 23 points), in improving to 3-2 overall and 1-2 in league play.
"I thought that was the biggest thing tonight – our resiliency, our toughness," Olson said. "We had a couple moments where I felt like we could definitely fold. We went on some bad runs but we hung tough. We had some kids step up and make plays. I'm really proud of Maddie Egr and how she played, especially during those times where we were struggling. She came in and gave us a big lift."
The program's ninth-straight series win over Doane (4-4, 0-3 GPAC) was far from a breeze. Leading 63-61 in the closing minutes, Concordia fended off the Tigers on two-straight possessions. Using what worked best on this night, the Bulldogs went to the high-low game and Becky Mueller sealed off her defender and scored inside for one of the game's most crucial buckets. The Bulldogs led 65-61.
Concordia put Doane away by sinking all six free throw attempts over the last 30 seconds. Four of those came from Quinn, a junior guard from Bellevue, Neb. The veteran, who has played in each of the last 63 Concordia games, posted a career-high 18 points while going a perfect 9-for-9 from the foul line.
Mueller and Quinn were the ringleaders, but Concordia likely wouldn't have celebrated a win without the work of Egr (11 points), a freshman from Yutan, Neb., and a core of young players that showed it could make the gritty plays down the stretch in a rugged GPAC tussle.
"I think it was huge for our team. We were really confident going in," Mueller said. "Going into the break we wanted to end on a good note. It was really great for our confidence to go out in the fourth quarter, play hard and know we can finish games."
Doane showcased a dynamic duo of its own on Tuesday. Broman and senior guard Shelbi Bittinger combined for 42 of the team's 66 points. With the Bulldogs threatening to pull away in the fourth quarter, Bittinger knocked down a trey from the left wing to get the Tigers within four (63-59) with 4:16 left. It was a white knuckler the rest of the way.
But Tuesday night looked more like Bulldog women's basketball. Concordia's pressure defense forced 27 turnovers and limited its fouls to a count of 22. Olson's squad also shot a sparkling 20-for-22 (.909) from the free throw line to squash the Doane upset bid.
This was a feel-good game for a program not used to starting conference play with back-to-back losses.
"We just needed a win in general to give us the confidence that we're doing the right things and feel good about ourselves going into this Thanksgiving break," Olson said. "It was really important just to find a way. Doane fought hard and really made us work for it."
Mueller, who entered the night averaging 16.0 points per game, finished with a team high 21 points. The Bulldogs shot 41.4 percent compared to 40.4 percent shooting by Doane.
The Bulldogs have the rest of Thanksgiving week off before returning to action on Wednesday, Dec. 2 when they host Nebraska Wesleyan (3-2, 2-1 GPAC). Tipoff is slated for 6 p.m. from Walz Arena.