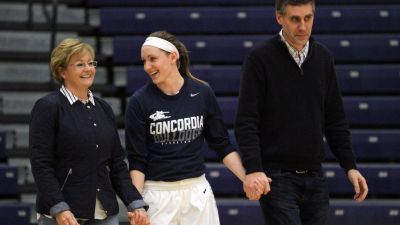 SEWARD, Neb. – A strong defensive effort kept GPAC leading scorer Deaundra Young contained and the Bulldogs shook off a prolonged scoring drought in racking up another home win (70-9 at home since the start of 2011-12). The latest outing for the 13th-ranked Concordia University women's basketball team completed a perfect three-game homestand by way of a 74-62 victory over visiting College of Saint Mary on Wednesday night.
The Flames (15-13, 9-12 GPAC) managed to shoot only 34.3 percent from the floor and the potent one-two punch of Quinn Wragge and Becky Mueller proved difficult to handle. They lifted 10th-year head coach Drew Olson's squad to records of 22-7 overall and 14-7 in the GPAC (three-way tie for second).
"Deaundra Young didn't want to step out on the perimeter. Either Quinn or Becky was going to get a lot of threes," Olson said. "Thankfully it was Becky and she knocked them down. Quinn hit one early. I just think it was kind of a matchup nightmare for them because we have so many shooters."
Young had just two points in the first quarter and finished with 16 points (6-for-13 from the field) and 11 rebounds. The Bulldogs hounded the star 6-foot-2 post by sandwiching her between two defenders, often denying her the ball. It made for a relatively quiet night for Young, who scored 41 points in this season's first meeting, a 73-67 Concordia win in Omaha on Jan. 13.
It was a freshman who upstaged Young. Wragge hustled all over the place in tracking down a career high 18 rebounds (10 offensive). Wragge's relentlessness on the boards helped Concordia get off to a fast start and build a double-digit first-quarter advantage. She ended up with a game high 18 points and two blocked shots to go along with her 18 rebounds.
Though the Bulldogs seemingly had control early, they failed to score over the final 6:15 of the second quarter and saw a 27-12 lead evaporate. Concordia's scoring drought lasted nearly eight minutes before Mueller drilled a trey early in the third frame. Order was quickly restored and Mueller and company owned an eight-point lead going into the fourth quarter. The Bulldogs put out the Flames with a back-breaking 7-0 run highlighted by a cold-blooded triple from Jade Gottier. The game was all but over at 69-52 less than a minute later when Erin Vieselmeyer scored inside.
It was an appropriate final regular-season home game for Mueller, a three-year starter, who poured in 17 points and made four shots from beyond the arc.
"It's definitely fun. It brings back memories from all three years," Mueller said. "It's bittersweet because it's exciting to see what we've done but at the same time, this could have been our last game here. That's sad, but we're going to keep fighting and hopefully we'll get another game here (in the GPAC tournament)."
After going 4-for-21 from 3-point range in the first half, Concordia heated up and knocked down 7-of-15 attempts from beyond the arc over the game's final 20 minutes. The Bulldogs also used an advantage at the free throw line and on the boards (57-43) in earning the regular-season sweep of College of Saint Mary, a first-year member of the GPAC.
Few teams have had an answer for Mueller and Wragge lately. They combined to score 98 points over the past three games – all home GPAC wins. Wragge has been especially impressive during the second half of her rookie season.
"Quinn's phenomenal. She could go for days," Olson said of her rebounding efforts. "Her motor's nonstop going after every rebound. She was fantastic."
The Bulldogs will close the 2015-16 regular season with a trip to No. 10 Briar Cliff (20-8, 13-8 GPAC) on Saturday. Tipoff from the Flanagan Center is slated for 2 p.m. In this season's first meeting, Concordia held off the Chargers, 77-75, in Seward.