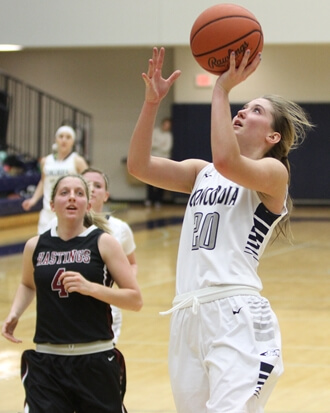 Morris surpasses 1,500 points in victory over Briar Cliff
SEWARD, Neb. – It took nearly 30 minutes for Bailey Morris to record her first points of the game and the Bulldogs went just 6-for-35 from 3-point range on Saturday afternoon. However, those recipes for disaster failed to stop the ninth-ranked Concordia University women's basketball team from claiming a 69-59 win over visiting Briar Cliff inside Walz Arena.
The win pushed head coach Drew Olson's squad to 7-1 overall and 2-1 in conference play.
"Briar Cliff went with a 2-3 zone and we got great looks. We just couldn't throw it in the ocean," Olson said. "Hopefully we'll be better next game.
"Yes we did get the win, but it doesn't feel as good as it could."
Every Bulldog not named Brenleigh Daum struggled shooting the ball in the opening 20 minutes. It was Daum's white-hot outside stroke that kept Concordia afloat during a first half in which it shot only 29.7 percent. After missing her first 3-point attempt, Daum then nailed three in a row and five out of six shots from beyond the arc during an 18-point first half.
Daum passed the torch to fellow freshman Mary Janovich in the second half. Though Morris went 2-for-16 shooting, she dropped 10 dimes, including several to Janovich, who put up 11 of her 12 points after halftime. Morris twice fed Janovich on run outs in the final minute-and-a-half to help sew up the win.
The Chargers (3-3, 1-1 GPAC) led by as many as six points after Jessi Corrick knocked in two of her team high 17 points with a pair of free throws late in the first half. Daum and Laurel Krohn followed with back-to-back triples to make it 31-all at the break. That spurt spilled over into second half as Concordia jumped out to a 38-33 lead after Janovich's three-point play.
Briar Cliff would grab one-point leads of 41-40 and 43-42, but the Bulldogs then went on a game-defining 11-0 run that included a Morris bucket. Her first two points of the contest pushed her career scoring total to 1,500, making her the ninth player in program history to reach that point figure.
Sophomore Becky Mueller joined Daum and Janovich as Bulldogs with 10 or more points. Mueller posted 13 points despite going 0-for-8 from the 3-point arc. Mueller also added a game high eight rebounds to aid a 47-37 Concordia advantage in the rebound category.
In addition to eight points and 10 assists, Morris also plucked six steals. The 5-foot-4 point guard entered the day ranked No. 4 nationally with an average of 4.29 steals per game. Backing Morris was senior Tracy Peitz, who had eight points, seven rebounds and two steals.
Lexi Henschke chipped in 13 points for the Chargers, who hold a conference win over Doane. Briar Cliff shot 39.6 percent and committed 24 turnovers as the Bulldogs defeated the Chargers (receiving votes in the national poll) for the third-straight time.
The Bulldogs will play one last time before the Thanksgiving holiday when they travel to No. 5 Hastings (4-3, 2-2 GPAC) for a 6 p.m. tipoff on Tuesday. The Broncos swept the season series last year on the way to tying with Concordia, Morningside and Northwestern for the GPAC regular-season title.