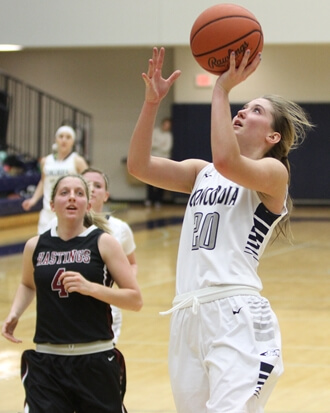 Morris powers first win at Northwestern in 10 years
ORANGE CITY, Iowa – For the first time in more than 10 years, the third-ranked Concordia University women's basketball team came out of Orange City, Iowa, with a victory. The Bulldogs ended the decade-long drought by getting another dominant performance from senior guard Bailey Morris, the catalyst of the 83-57 win at Northwestern on Saturday.
With the regular-season sweep of the Red Raiders (16-10, 10-8 GPAC), ninth-year head coach Drew Olson's squad bumped its winning streak to 22 (second longest in program history) while improving to 27-1 overall and 18-1 in conference play. Concordia will have a shot for at least a share of the conference regular-season title when it meets first-place Morningside (28-0, 18-0 GPAC) in one week in Sioux City, Iowa.
On Saturday Concordia kept its unblemished mark (13-0) away from home intact with Olson's first win at Northwestern as either coach or player.
"I went crazy (afterwards) but I don't think our players understood why at first," Olson said. "But overall they know it's a big win for us and our program."
Northwestern cut a 12-point first half deficit down to five early in the second half. That's when Morris heated up. She took over the contest with 23 of her 29 points in the second half almost exactly a year since hanging a program single-season record 45 points on the Red Raiders in Seward. Morris drained 11 of 23 shots from the field and pulled down seven rebounds.
"Bailey realized she could shoot it. They just kept backing off of her," Olson said. "They were so worried about her getting into the lane with her quickness. She started making shots and it gave her more confidence. She was fantastic. Her second half was awesome."
A 22-7 run turned a five-point lead into a 20-point advantage (62-42) with 9:06 left. Morris notched 12 points during the spurt and assisted on two other buckets, including one by Becky Mueller on the break. Concordia shot 50 percent (19-for-38) and outscored the host Red Raiders 50-32 over the game's final 20 minutes.
On the defensive end, the Bulldogs hounded Northwestern, holding it to 32.7 percent shooting for the game. The Red Raiders got only 25 combined points by players not named Karen Ettleman (17 points) or Paige O'Neal (15 points). Head coach Chris Yaw's team made only two of its 12 attempts from 3-point range.
Senior Kelsey Hizer received praise from Olson for her work on Ettleman in transition. Hizer is arguably the top defensive player for one of the nation's most terrifying presses.
"Our defense, especially in the second half, was probably the best it's been in the half court," Olson said. "I thought Kelsey did a great job on Ettleman in transition. She usually gets a ton of points by getting out and running. Then in the half court we were talking and switching and keeping things in front of us and our posts did a good job clogging the lane."
Morris was joined by Tracy Peitz (14 points, nine rebounds) and Becky Mueller (10 points) as Bulldogs to reach double figures in scoring. Jericca Pearson chipped in six points and four rebounds off the bench.
Prior to Saturday, Concordia's most recent win at Northwestern had come on Feb. 5, 2005, when the Bulldogs authored a 67-63 victory in Orange City. The Red Raiders had won nine-straight home meetings with Concordia.
Just two games remain on the regular-season slate for the Bulldogs. Olson's squad will travel to Grace University for a 7 p.m. contest on Wednesday before gearing up for the showdown with No. 1 Morningside next Saturday. In this season's first meeting with Grace, Concordia won, 102-31, in Seward on Nov. 18.