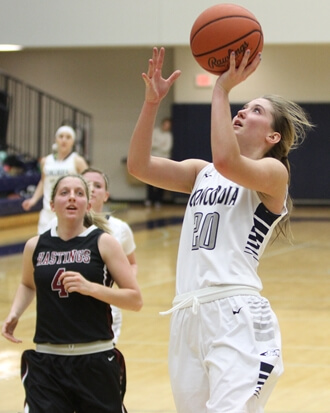 Morris, Peitz combine for 46 in 15th-straight win
SEWARD, Neb. – Despite an extended first half field goal drought, the third-ranked Concordia University women's basketball team continued its winning ways. After trailing at the break, the Bulldogs used another big second half to claim an 82-75 victory over No. 17 Hastings inside Walz Arena on Wednesday night.
The win gave ninth-year head coach Drew Olson's squad its eighth of the season over a ranked opponent. The Bulldogs, winners of 15 in a row, moved to 20-1 overall and 13-1 in conference action in the process of earning a regular-season sweep of the visiting Broncos (13-7, 7-5 GPAC).
Hastings couldn't find an answer for All-Americans Bailey Morris and Tracy Peitz, who combined for 46 points and 18-for-23 shooting from the field. They were the catalysts for an offensive attack that blistered the nets by making 20 of 24 second half shot attempts.
"Our second half was great," Olson said. "We had really good spacing and we were attacking the basket. I thought we had some silly turnovers at the beginning against man-to-man after playing against zone teams the past couple games."
When Concordia needed big buckets, Peitz rammed into the paint with her devastating drives and delivered. She put up 12 second half points (18 for the game), including some crucial buckets after Morris went to the bench with four fouls. With the Bulldogs down 59-55 midway through the second half, Peitz went to work in scoring 10 of Concordia's next 11 points.
"We knew Bailey was out because of foul trouble and she's a very aggressive offensive player," Peitz said. "I guess someone had to take over and I was feeling good at the time."
Once Morris returned to the court late in the contest, the offense flowed at its highest precision all night. Morris racked up a game high 28 points of her own, but it was her passing that helped Concordia seal up win No. 20. She assisted on three crucial buckets in the final four minutes as the Bulldogs built a lead as large as nine.
The Broncos got back within 77-73 with 1:09 left following a deep Jamie Van Kirk trey and Abby Jackson score in the paint. But the Bulldogs ran in five of the game's seven points to send Hastings to its second defeat in a row.
"Tracy's been here before where something seems to click that we need her to take over," Olson said. "She really did that tonight. But I thought everyone stepped up and helped us get stops. I thought Mary did a nice job handling the ball. A lot of people stepped up and made plays."
With its star senior duo leading the way, Concordia shot a season best 63.5 percent from the field. Sophomore Becky Mueller got into the act by connecting on 6 of 9 shots for 13 points. Morris' line included eight assists, five rebounds and a pair of steals.
Defensively, Concordia held Hastings to 43.6 percent shooting. Defensive stops paved the way for a Bulldog team that strangles its opponents in the second half. Olson again commended senior Kelsey Hizer, who helped keep Van Kirk (19 points) from tearing Concordia apart. Olson's says the Bulldog defense is markedly better with Hizer in the game.
Hastings led by as many as 10 points in the first half and took a 37-31 advantage to the locker room. The Broncos built a lead by holding Concordia without a field goal for a stretch of 6:21 of game time early in the game.
The Bulldogs have the weekend off before returning to action on Wednesday, Jan. 28 when they travel to Crete to take on Doane (12-10, 8-4 GPAC). The Bulldogs recovered from a 12-0 deficit to win the first meeting with the then 21st-ranked Tigers, 62-54, on Dec. 3. Concordia has won each of the last seven meetings with Doane.
Morris watch
Bailey Morris began the day ranked fourth in program history with 1,748 career points. By the end of the night she moved up to second, blowing past both Whitney Stichka (1,765) and Kari Saving (1,773) as she continues to hunt Concordia's career scoring record. At 1,776 points, Morris needs 25 to pass Sarah Harrison (1,800) at the top of the heap.
In addition, Morris added two steals on Wednesday to pull into a tie for third-place in program history in that category. The native of Clay Center, Neb., has 350 career thefts.
Concordia career scoring leaders
1. Sarah Harrison – 1,800
2. Bailey Morris – 1,776
3. Kari Saving – 1,773
4. Whitney Stichka – 1,765
5. Stephanie Schilke – 1,736