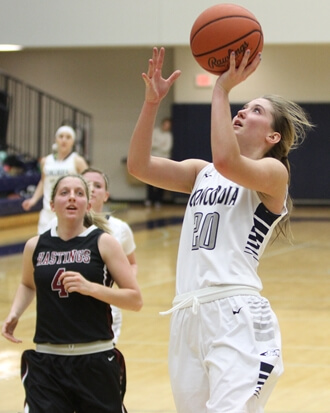 Morris, Peitz boost Concordia to quarterfinals
SIOUX CITY, Iowa – The stars twinkled under the bright lights of the big stage for the third-ranked Concordia University women's basketball team. Senior All-Americans Bailey Morris and Tracy Peitz combined for 55 points in leading a 92-82 second-round victory over No. 14 College of Saint Mary in Sioux City, Iowa, on Friday afternoon.
One day after opening the tournament with a 41-point victory margin over Bryan College (Tenn.), ninth-year head coach Drew Olson's squad steamrolled its way to the quarterfinals for the second time in four years. The Bulldogs will enter Saturday's 3 p.m. CDT matchup with No. 10 University of Jamestown (N.D.) sporting an overall record of 33-2.
"I was really proud of our effort," Olson said. "That's a really good team with a dominant post player – probably the best post player in the country. We did a nice job against her. Overall it was a very good performance.
"Tracy Peitz was phenomenal. She just caused so many matchup problems for them. Her performance was great and obviously Bailey stepped up in a big way."
Morris and Peitz were catalysts on both ends. Already the program's all-time leading scorer, Morris racked up 34 points to eclipse 2,000 in her historic career. The senior point guard grabbed the baton from Peitz, who notched nine of Concordia's first 12 points to gain an early lead.
Morris picked up her second foul before even scoring a point. The two-time GPAC player of the year briefly went to the bench, then returned to the floor and torched the Flames by scoring 13-straight Concordia points during a run that gave her team a 26-14 lead. She showcased her versatility, filling it up from deep, from mid-range and with the dribble drive. Her 20 first-half points were already a national tournament career best.
"Bailey's a killer. She has that killer instinct that she's going to go score when the team needs her to," Olson said. "She did a great job today."
An 8-0 late first-half run gave College of Saint Mary short-lived hope. Concordia led 45-34 at the half and quickly drove the advantage to 17 after a 6-0 run to begin the second was capped by Jade Gottier's trey. The advantage grew as large as 28 points during an impressive second-half frenzy that featured a 24-8 spurt.
A late Concordia lull provided CSM a chance to sneak back within eight, but it was simply too late. Even the unstoppable force inside of Deaundra Young (21 points and 15 rebounds) failed to prevent the Bulldog locomotive.
Concordia hurled in a program national tournament record 92 points by bumping up its shooting percentage from 35.1 on Thursday to 43.7 on Friday. In addition to dominant efforts from Morris and Peitz (21 points, six rebounds and four steals), senior Jericca Pearson added 10 points and eight rebounds while freshmen Mary Janovich and Brenleigh Daum chipped in eight and seven points, respectively.
Young's 21 points topped a group of six double-figure scorers for the Flames, who are set to join the GPAC beginning with the 2015-16 athletics season. Young went 6-for-8 from the field and 9-for-10 from the free throw line. As a team, CSM shot 43.6 percent from the field and committed 20 turnovers to Concordia's 10.
Morris' 34 points are the most in a single game by any player at the 2015 national tournament. She also added eight rebounds, three assists and a pair of steals in 32 minutes of action. She now sits at 2,008 points over 133 career games.
"It's a pretty cool feeling," Morris said of reaching the milestone. "What makes it cooler is that my teammates helped me get there and of course, Coach helped me get there. I'm just excited about how our team's playing in this tournament. There are some team goals that are a lot more important (than 2,000 points)."
With Friday's win, Olson surpassed Todd Voss for the most national tournament coaching victories in Concordia women's basketball history. Olson is 9-6 over seven national tournament appearances. As a program, the Bulldogs are 3-4 in their first seven national quarterfinal games.
The Bulldogs will take on Jamestown (26-6) for the second time this season. The Bulldogs cruised past the Jimmies, 90-72, in Jamestown on Nov. 1. Four of the Jimmies' six losses have come at the hands of GPAC opponents.
"They're a tough team, very well-coached, great discipline," Morris said. "They have some really good players. We've gotten better since we played them and they've gotten better since they played us. It's going to be a tough game tomorrow. That's what you expect at the national tournament so we'll be ready to go."