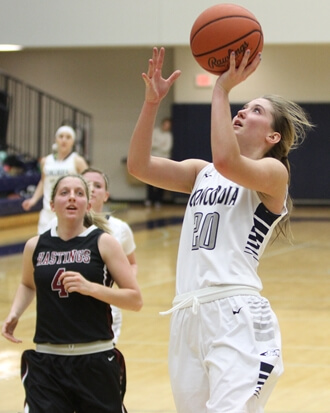 Morris nets second OWH honorary captain award; Peitz named to first team
SEWARD, Neb. – Already a two-time GPAC player of the year and NAIA Division II national player of the year, Concordia University women's basketball star Bailey Morris has been tabbed honorary captain of the NAIA All-Nebraska team by the Omaha World-Herald. In addition, senior Tracy Peitz received first team All-Nebraska recognition and both freshman Mary Janovich and sophomore Becky Mueller garnered honorable mention.
Morris ended her career with a school record 2,054 points over 136 career games. On program career lists, Morris also ranks second in steals (394) and fourth in assists (502). The 5-foot-4 point guard averaged 18.5 points, 5.17 assists and 3.78 steals per game as a senior. Her 45 points on Feb. 15, 2014, in a win over Northwestern remain a program record for the highest individual single-game scoring output.
"She's someone who's always wanting to get better and better," Bulldog head coach Drew Olson told the World-Herald. "I haven't had a player like her. Her scoring, her leadership, we're definitely going to miss her."
Morris career achievements
School record for career scoring (2,054 points) and single-game scoring (45 points)
2014-15 NAIA Division II national player of the year
Two-time GPAC player of the year
Two-time first team NAIA All-American
Two-time Omaha World-Herald NAIA All-Nebraska honorary captain
2015 national tournament first team all-tournament
Seven-time GPAC player of the week
2014-15 Capital One academic all-district
Led Concordia to four-year record of 119-21, first-ever national title game appearance, two total national semifinal trips, four-straight national tournament berths, two GPAC regular-season titles and two GPAC tournament trophies
Peitz, a two-time Daktronics-NAIA Scholar-Athlete, earned a reputation as one of the top defensive players in the GPAC with the ability to dominate on the offensive end. The native of Hartington, Neb., amassed 1,277 career points and 594 career rebounds. As a senior, Peitz posted averages of 11.9 points, 4.8 rebounds and 2.3 steals and a shooting percentage of 60.2 from the field. She is a two-time NAIA All-American (one second team; one third team honor).
Janovich received the distinction of first-ever GPAC freshman of the year at Concordia. The jet-quick guard from Gretna, Neb., is averaged 9.8 points and 2.1 steals while playing a key role in the team's forcing of nearly 27 turnovers per game. Mueller again served as one of the Bulldogs' top outside shooting threats. The native of Elkhorn, Neb., is averaged 10.3 points per game and nailed 59 treys.
Concordia women's basketball has captured each of the last four Omaha World-Herald All-Nebraska honorary captain choices. Prior to Morris' back-to-back awards, Kristen Conahan (2012-13) and Amber Kistler (2011-12) received the same recognition.
Omaha World-Herald NAIA All-Nebraska
First Team
G, Bailey Morris, Sr., Concordia, 18.5
G, Jamie Van Kirk, Sr., Hastings, 19.4
F, Tracy Peitz, Sr., Concordia, 11.9
F, Hannah Dostal, Sr., Doane, 14.7
C, Deaundra Young, Jr., CSM, 20.9
Second Team
G, Tiffany Anzalone, Sr., CSM, 13.5
G, Cory Minjarez, Sr., York, 19.7
G, Michaela Barry, So., Hastings, 12.6
G, Felicia TeKolste, Jr., Nebraska Wesleyan, 17.4
C, Taylor Shepard, Sr., Midland, 10.9
Honorary captain: Bailey Morris, Concordia
Honorable mention: Shelby Allberry, Peyton Hagen, Tiffani Lewis, Justice Ross, College of St. Mary; Mary Janovich, Becky Mueller, Concordia; Hanah Barnard, Shelbi Bittinger, Heather Broman, Doane; Karen Orozco, Grace; Abby Jackson, Sierra Williamson, Hastings; Jamilah Johnson, Jaylan Spencer, Sammi Licari, Midland; Courtney Cook, Nebraska Wesleyan; Brittany Harward, Shelbie Hess, Karlee Stuart, Peru State; MacKenzie Eller, York.