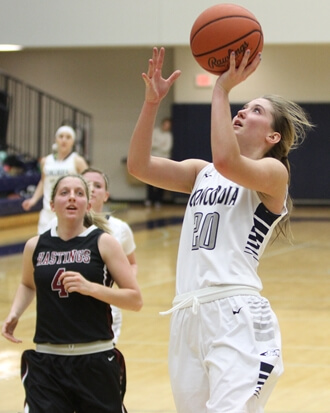 Morris nets eighth career GPAC player of the week award
SEWARD, Neb. – For the third time this season, and for the eighth time in her career, senior All-American Bailey Morris has been named the GPAC/Hauff Mid-America Sports Women's Basketball Player of the Week, as announced by the league on Tuesday. The native of Clay Center, Neb., received the same honor once as a sophomore and four times as a junior.
In addition to Morris' three conference player of the week awards this season, freshman Mary Janovich garnered the same distinction on Dec. 9.
Already the program's all-time leading scorer, Morris padded her career total with 45 points over last week's pair of road wins. The Concordia star point guard racked up 29 points while making seven 3-point field goals on Feb. 14 to end a drought of 10 years since the Bulldogs last defeated Northwestern on the road. In 55 minutes of action last week, Morris dished out nine dimes and committed only three turnovers.
With seven steals for the week, Morris moved up to No. 2 in program history with 379 career thefts. The record of 409 steals is held by Andrea Janssen, who played from 1986-90. Morris also ranks fifth on the school career assists list with 454 dimes.
Last season's GPAC player of the year, Morris tops the conference in both assists (4.93) and steals (4.32) per game while ranking third in scoring (18.6) points per contest. At her current scoring rate, Morris will need five more games to crack 2,000 career points.
Morris and the Bulldogs (27-1, 18-1 GPAC) carry a 22-game win streak (second longest in program history) into this week's action. Concordia will play at Grace University at 7 p.m. on Wednesday before shifting focus to Saturday's showdown at No. 1 Morningside (28-0, 18-0 GPAC). Head coach Drew Olson's squad can claim at least a share of its third GPAC regular-season title in four seasons by knocking off the Mustangs.
2014-15 GPAC women's basketball players of the week
Feb. 17 – Bailey Morris, Concordia
Feb. 10 – Karen Ettleman, Northwestern
Feb. 3 – Paige O'Neal, Northwestern
Jan. 27 – Bailey Morris, Concordia
Jan. 20 – Hannah Dostal, Doane
Jan. 13 – Karen Ettleman, Northwestern
Jan. 6 – Jamie Van Kirk, Hastings
Dec. 23 – Jamie Van Kirk, Hastings
Dec. 16 – Kaylee Blake, Briar Cliff
Dec. 9 – Mary Janovich, Concordia
Dec. 2 – Bailey Morris, Concordia
Nov. 25 – Ashlynn Muhl, Morningside
Nov. 19 – Lexi Ackerman, Morningside