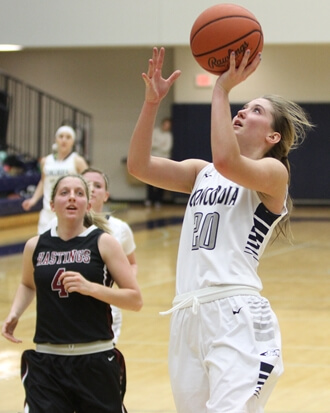 Morris garners GPAC weekly honor, nears scoring record
SEWARD, Neb. – For the seventh time in her career, senior All-American guard Bailey Morris has been named the GPAC/Hauff Mid-America Sports Women's Basketball Player of the Week, as announced by the league on Tuesday. The native of Clay Center, Neb., received the same honor once as a sophomore, four times as a junior and now twice as a senior.
Her selection marks the third time this season a Concordia player has collected the honor. In addition to Morris' two player of the week awards, freshman Mary Janovich earned the distinction on Dec. 9.
In last week's only contest for the third-ranked Bulldogs, Morris totaled 28 points on 10-for-12 shooting from the field to power an 82-75 win over No. 17 Hastings on Jan. 21. She also added eight assists, five rebounds and a pair of steals in 32 minutes of action.
With her 32nd career game of 20 or more points, Morris pushed her career scoring total to 1,776, moving her past both Whitney Stichka (1,765) and Kari Saving (1,773) for second on the program's all-time list. Morris needs 25 points to eclipse Sarah Harrison (1,800) for the most in the history of Concordia women's basketball. Morris also ranks third in school annals in steals (350) and sixth in assists (425).
Among GPAC players, Morris ranks first in both assists (5.19) and steals per game (4.38) and third in scoring (18.4). Only one player in NAIA Division II has totaled more than Morris' 92 steals. She also ranks in the top 10 nationally in assists.
Morris will make her push for the scoring record this week as the Bulldogs (20-1, 13-1 GPAC), winners of 15 straight, play at Doane on Wednesday before shifting focus to the two-day Concordia Invitational Tournament in Ann Arbor, Mich., on Friday and Saturday.
WHERE MORRIS RANKS (program all-time lists)
Scoring
1. Sarah Harrison (2001-05) – 1,800
2. Bailey Morris (2011-15) – 1,776
3. Kari Saving (2001-05) – 1,773
4. Whitney Stichka (2004-09) – 1,765
5. Lynda Beck (1988-92) – 1,720
Steals
1. Penny Jacobsen (1982-86) – 409
2. Andrea Janssen (1886-90) – 378
3. Bailey Morris (2011-15) – 350
3. Amy Scheil (1985-89) – 350
5. Kristen Conahan (2010-14) – 291
Assists
1. Andrea Janssen (1986-90) – 672
2. Trish Kindle (1990-94) – 577
3. Amy Weisbrook (1995-99) – 511
4. Elizabeth Rhoden (2000-04) – 492
5. Penny Jacobsen (1982-86) – 426
6. Bailey Morris (2011-15) – 425
2014-15 GPAC women's basketball players of the week
Jan. 27 – Bailey Morris, Concordia
Jan. 20 – Hannah Dostal, Doane
Jan. 13 – Karen Ettleman, Northwestern
Jan. 6 – Jamie Van Kirk, Hastings
Dec. 23 – Jamie Van Kirk, Hastings
Dec. 16 – Kaylee Blake, Briar Cliff
Dec. 9 – Mary Janovich, Concordia
Dec. 2 – Bailey Morris, Concordia
Nov. 25 – Ashlynn Muhl, Morningside
Nov. 19 – Lexi Ackerman, Morningside